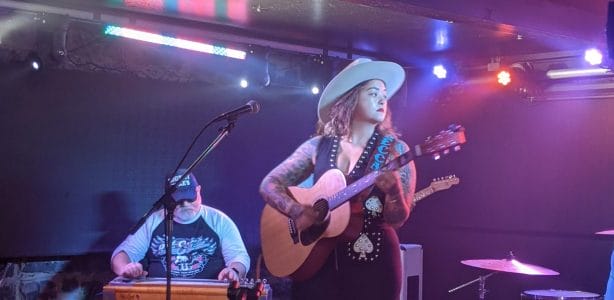 By Avery Goodstine, contributor
At the Golden Pony in early June, Rebecca Porter and her band took the stage in front of a crowd of Porter's friends and family, JMU students, members of the LGBTQ+ community, even complete strangers — all in their best honky tonk get-ups.
From above the crowd, it looked like a sea of cowboy hats, while closer to the floor, it sounded like a stampede with all the boot shuffling. One woman donned flared jeans covered in cow print, while another was singing along in the front row in a wheelchair.
People ordered drinks, laughed, talked, sang along with Porter and acted like they were at any honky tonk show.
But this wasn't just any gig.
A videographer filmed Porter and the band as well as crowd reactions for the music video of Porter's song "Honky Tonks Ain't for Heroes."  With help from some grant money she received for the production, Porter will release the music video at the same time as the single on Aug. 28, prior to the release of her second EP releasing Sept. 22.
The song's theme is about challenging stereotypes about what country music is about … and who country singers are.
"Honky tonks are for everybody. Country music is for everybody," Porter said. "You don't have to look, be, act a certain way."
Even the bartenders, Kelly and Alma, who already worked at the Golden Pony, were hand-picked by Porter to work the event to cater toward the "women and nonbinary and femme focused" atmosphere Porter wanted to create to reinforce that honky tonk ethos.
"It's just a place where you can come and, like, be whoever you are … You know, whatever that means, like, in your most fabulous or most basic way," Porter said.
Porter is almost evangelical about that message. She also embodies it. Her mother grew up in the Shenandoah Valley and her father is of Chamorro heritage — the indigenous people in the Mariana Islands. And while she might look different from nearly all the artists featured on the Country Music Awards, she sounds every bit as honky tonk as the Faith Hills, or the Tim McGraws or the Judds of Nashville.
And for Porter, 33, the path to being on a stage in front of nearly 70 people with a videographer recording her performance, has been an unusual journey whose most recent stretch has coincided with her becoming a mother and a living through a global pandemic.
In fact, she didn't really showcase her singing and songwriting talents until the COVID-19 pandemic. Since then, Porter has written 35 original songs and has been a co-writer on eight more. During the pandemic, she pushed herself to embark on a solo music career — something that hasn't been easy as a woman of color in the country music scene.
Porter's a bit less than the average height of a female with slightly longer than shoulder-length, straight, dark brown hair. During her music video, she lit up the stage in a form-fitting black two-piece outfit detailed with silver studs and white spades. Of course, a white cowboy hat and red boots also aided with the classic country look.
She also has a scar on the bridge of her nose — faint but still visible. It serves as a physical connection to her early years in Guam. But it also, in many ways, represents the pain and healing she often sings about, including her journeys through relationships, motherhood and music, itself. 
'… You can sing?'
Porter was born on a U.S. military base in Guam. Her father was in the Marine Corps and is of Chamorro heritage — the indigenous people in the Mariana Islands. Joining the military came with the family name, for the men at least. Porter's paternal grandparents had 11 children, eight boys and three girls. All the boys joined some branch of the military, and Porter remembers a picture of all the boys in their dress blues being a source of family pride.
Porter moved to the U.S. with her parents when she was four, so her memories of time in Guam are limited. She said she remembers her mother and Grandma Gogue baking fresh goods every day to sell in a small store the family owned.
Porter was just learning how to walk when she fell off a chair, and her face smacked the table, gashing her nose. Porter's mother took her to a doctor on the military base in Guam to get it stitched up.
"The doctor was, like, fresh out of school, and I was just a screaming toddler," Porter recalled. "And he was terrified, and they put, like, a couple stitches across and then just put a butterfly bandage, which I was, like, pulling the band aid off as soon as they put it on."
To her mother's dismay, this left a scar — perhaps the most prominent connection Porter has to her childhood in Guam. It's a horizontal mark, slightly lighter than her skin tone, right between her eyes.
After the move to the U.S., Porter's parents divorced, causing an even larger separation between her and her Chamorro heritage, although she now has the word "Chamorro" tattooed across her fingers.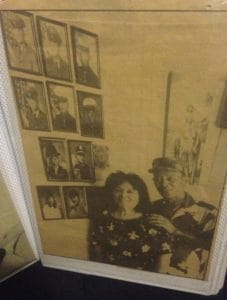 Once in the U.S., Porter lived in Quantico. When her father was discharged from the Marine Corps, the family moved to the Shenandoah Valley where her mother's family was from, and after her parents' divorce, Porter stayed in the Valley with her mom. This area turned out to be her childhood home.
"Physically I am so different from the area that I grew up in," she said. "So that's been a personal struggle, like, identifying so much with the area that I grew up in but physically, not being a representation in other people's eyes … or being treated like I don't belong or that I am almost, like, foreign to this area."
Finding community through music became a way to combat this feeling of otherness, which comes naturally as she's been involved with music from early childhood.
Porter grew up going to church where her mother and grandmother played instruments and sang during services. As part of her private school elementary curriculum, she sang in the choir, although that stopped in middle and high school.
Porter took on responsibilities helping with her younger siblings, leaving far less time for extracurricular musical activities. Despite this, music remained an escape for her.
In 7th grade English class, the teacher, Mrs. Riddle — whom Porter fondly remembers — supported Porter's poetry that she submitted for every prompt. In fact, her support was so influential that Porter made an effort to find and reconnect with Mrs. Riddle on Facebook but has been unsuccessful in her attempts.
Later, during Porter's senior year of high school, a friend who was on the student council recommended Porter to sing at graduation. Leading up to the ceremony, Porter and a boy in her class who played piano practiced together before putting on a show in front of the whole graduating class in their high school gymnasium.
"So many people were like, you can sing? … Why have you held this back?" Porter said laughing.
From start to finish
Since her school days, Porter sang in multiple cover bands for more than a decade. She would write songs occasionally, but always as an aide to another musician. She grew accustomed to the title of "co-writer" and putting lyrics over prewritten music.
While those gigs were fun, they didn't give Porter the opportunities she truly wanted in the music industry. However, amid the COVID-19 pandemic and figuring out life as a first-time mother, Porter used music as her outlet and basked in her newfound solo music path.
That started with teaching herself guitar.
After taking a few lessons here and there but never truly sticking with it, Porter propped her phone up, sat down, and queued up as many YouTube videos as it took for her to become comfortable with the instrument.
From start to finish was her goal, and she wanted to do it all by herself. Porter wanted to write her own songs and play them on her own guitar. She didn't want to have to rely on anyone else. Her first recordings of her own songs include just single strokes on her guitar, but it was the beginning of something bigger.
Porter said her husband and friends were immensely supportive and urged her to keep going. So she did.
She also found community online through Apple Music Country's show, "Color Me Country Radio with Rissi Palmer." The show is about people of color in the country music scene, a theme Porter strongly identified with.
"The first episode I listened to, I cried for half the episode," Porter said, because of how much it paralleled her own experiences. And little did she know after listening to that first episode that Palmer would be instrumental in getting Porter's first music video produced.
Since Porter started singing country music, she has experienced micro aggressions, such as people commenting about how her looks don't fit their ideas of a traditional country singer. After playing a set with a cover band, people approached her and made remarks like "you don't look like you sing country music," and "I didn't expect you to sound like that."
She remembered a specific time in her early 20s when a potential boyfriend showed his mom Porter's music, and the mother said, "It just really sounds like you're trying to sound like someone you're not."
Last year, Porter was playing in a record shop in Raleigh, North Carolina, when a man asked if she knew any Hawaiian songs.
"I don't think people have malicious intentions," Porter said. "They just don't understand the words, and I don't have to be this one singular thing."
Porter certainly isn't and her music isn't either.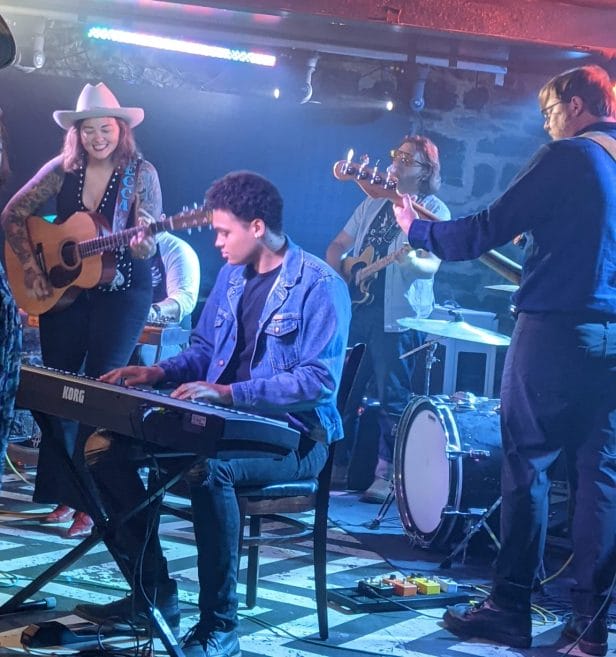 Marriage, motherhood, tattoos and musical therapy
Like country music itself, Porter combines a number of influences in both the sounds and her lyrics. 
Her maternal grandfather played the dobro — a guitar-like instrument made with steel that sits in one's lap when it's played — and they would often go to bluegrass jams.
Porter remembers visiting a little building on the side of Route 11 during the winter with her grandfather. There was one small wood stove burning with people packed together, and they were all there to play bluegrass.
Porter also had gospel influences because that was all her mother would play, unless it was one of her three exceptions: Celine Dion, Whitney Houston, or Dolly Parton — and Dolly was always on.
As Porter got a bit older, she found more music online. One day someone sent her the soundtrack to the 1987 film "Dirty Dancing," which introduced her to areas of blues and Americana styles of music. One of Porter's closest friends, Kenique Brown, described Porter's music as sassy country with soul[RA1] .
In the lyrics, Porter writes about who she is, her upbringing, and the area she lives in. But while Porter has written songs about the Shenandoah Valley, the river, and the Blue Ridge Mountains, she doesn't play them in front of people because of how personal they are to her.
Instead, she shares songs about being a mother, her relationships, and her philosophy of acceptance for everyone.
Porter has one song, "The Lonely Song," that she wrote on one of her hardest days of being a mother — after she had been crying on her bathroom floor for hours feeling like she didn't know what to do and she wasn't doing anything right.
But the song, like all great pieces of art, taps into a universal experience of being human — not just the specific challenge of frustrated new mother. Lyrics like, "The voices in my head won't leave me alone, please believe that you're not alone," let people connect to the song in their own way.
Porter used music as a personal escape for herself during the pandemic. It was therapy for her. Now, music is how she connects with others, and she's seen that firsthand when people come to her shows and connect with her on social media letting her know how her music has impacted them.
Another place Porter has found solace with is the tattoo community. Porter has inked her arms, legs, and her back. Some of them have meaning, like the word "Chamorro" tattooed across her knuckles, the shapes of Virginia and Guam on her side, words from her favorite poem on her arm, and several personal mantras. When she started getting her half sleeve done, she let go of the idea that every tattoo has to have a specific meaning and she sees them more as beautiful pieces of art.
Her tattoos also serve as a connection to her husband, Chris Porter, who goes by Porter.
One particularly meaningful tattoo she has is a rose on her left thumb that Chris Porter tattooed on her for their one-year anniversary. She tattooed the same thing on him as well.
In fact, the two met at Alley Cat Tattoo in Harrisonburg where Chris Porter was working as an artist and tattooed the guy Rebecca was dating at the time. Then, when it came time for Rebecca to get her first tattoo, Porter was the one to do it. Ever since then, she's gotten a tattoo every year around her birthday.
After getting to know each other in the tattoo chair over the course of six years, Porter finally asked Rebecca if she wanted to go to Fear Forrest, a Halloween event in the city. Rebecca said she didn't think anything of it at the time because they were friends and had hung out and gotten drinks plenty of times before. This time was different though.
As they were pulling up to Fear Forrest, Rebecca thought, "Oh crap, is this a date?" She remembered having read in Cosmopolitan magazine that if the other person pays for you, it's a date.
"So we got up to the ticket counter and he's like, alright, I got this, I'll be right back, and he went to pay, and I was like, oh, this is a date."
After three or four very awkward dates, the two finally became an item. They will have been married for six years in October.
The Porters' son Ripley was born in September 2019, just six months before the pandemic began. The plan was for Rebecca to go back to work as a pharmacy technician, but two days after Ripley was born, Rebecca knew she couldn't leave him.
That decision turned out to be a smart move for their family in the long run, although it didn't come without mental challenges for Rebecca. She dealt with guilt after leaving her job because she felt as if she had "escaped" being an essential worker during the pandemic.
Meanwhile, Porter continued working as a tattoo artist and was in close contact with people every day. Each night after work, Porter would come in through the basement door, put all his clothes in a trash bin to be washed the next day, and go straight upstairs to shower before coming into contact with anyone in the house.
Since Ripley was born, her friend Kenique Brown said Rebecca has "learned to become human" because she was so focused on learning how to become a good mom. Specifically, Brown has noticed this change in Rebecca's clothing as she's started to wear more bright colors and clothing that's more form-fitting.
Rebecca said she loves sharing her stories and experiences and is open about her struggles.
"Sharing my experience doesn't mean I'm condemning," she said. "I love the Shenandoah Valley, and I love being a part of this area and being a different representation of what it means to be a member of this community."
Packin' the Pony
And on June 5 — the day of the music video shoot — the community showed its love back.
Earlier during the day, people volunteered to highlight 20 seconds of a specific part of their life as part of the video. One couple sat in their backyard with their cat. Some people chose to walk through the Edith J. Carrier Arboretum. One person had just graduated from JMU and showed up for the shoot in their cap and gown. Others included an EMT and a drag performer. All those visual vignettes combined to highlight the idea that honky tonks truly are for everyone.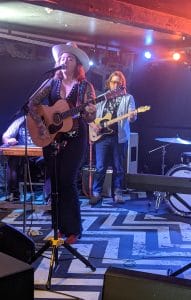 Of those who showed up that evening at the Golden Pony, Rebecca said about half of the people she'd never met before. Seeing so much support from the community made Rebecca feel like she was achieving some of what she's trying to do through her music: creating a safe and loving atmosphere for everyone, regardless of whether each person fits a certain mold that others have created.
She credits some of this to the owner of the Pony, Paul Somers, who, she said, has created a country music space for people to feel welcome when they may not feel welcome elsewhere.
When Rebecca was crowdfunding to raise money in preparation for the release of her new EP, Somers and the Pony staff pledged to match crowd donations of up to $1,000, which he did. And without that donation from the Pony, Rebecca wouldn't have reached her donation goal.
The support doesn't stop there. Last year, Rebecca applied for a grant to help fund the production costs of "Honky Tonks Ain't for Heroes" as well as other touring costs. The grant was through Rissi Palmer's "Color Me Country Radio" — the same podcast that brought Rebecca to tears.
When Rebecca decided she wanted to make a video for the song, her friends also encouraged her to apply for a grant from the Arts Council of the Valley, which she received shortly before filming began. And again, inclusiveness was an overarching goal.
"Everyone is welcome here," Rebecca said. "And we've always been here."
The "always" she said, is an allusion to famous country stars, like Willie Nelson, who epitomize country music, but who've also always supported many kinds of other artists.
"You know, we're not just like, suddenly appearing or … being beamed out of the sky," Rebecca said. "We've always been here. And even though you may not be aware of it, it's not this new thing."
---
Thanks for reading The Citizen, which won the Virginia Press Association's 2022 News Sweepstakes award as the top online news site in Virginia. We're independent. We're local. We pay our contributors, and the money you give goes directly to the reporting. No overhead. No printing costs. Just facts, stories and context. We value your support