By Rachel Petterson, contributor
If your wallet were stolen today, you could expect a call from the Harrisonburg Police Department's new Victim Services Unit tomorrow asking if you would like help canceling your cards. If you witnessed a traumatic crime and were wondering what comes next, the phone call would help clear things up. If you called 911 because you were experiencing domestic abuse but didn't know whether you'd press charges, you would get the call too, and if it wasn't a good time to talk, you could call back once you were alone.
Since early May, the HPD's goal has been for every victim or witness of a reported crime to get one of these call from Tinangeles Abreu, the victim services liaison coordinator and, for now, the only member of the new Victim Services Unit. Abreu was hired in January and works part-time for the department to connect crime victims and witnesses with community resources and involved parties at the police department, and to help them understand the legal system as they navigate the aftermath. 
Abreu spent her first four months on the job in training, establishing protocols at the police department and making connections with the community. Now, the program is fully up and running. In an interview with The Citizen, Abreu and HPD Lieutenant Chris Monahan explained that this is only just the beginning of their plans for the unit.
"The big picture is we want to make sure we're getting the appropriate resources to the appropriate people. So whether you're a victim of a crime or you're a witness of a crime, we want to make sure you have access to the resources that are available to you in the community, and that you have a point of contact within the police department to get those resources," Monahan said.
Abreu describes her role as "an extension of the police officer" and wants to make sure victims do not feel forgotten.
Because other responsibilities can make it difficult for officers to follow up with victims in a timely manner, Abreu prioritizes prompt, proactive contact.
"I would immediately be coming in, contacting them, checking how they're feeling, how they're doing, also assessing what resources they're going to need and be able to offer those for them right away," she said. "That way they don't feel like they're not being listened to."
While the Rockingham County Commonwealth Attorney's office has an established victim/witness program, Director Nicole Terrell said it does not reach everyone who might need its services. 
"The majority of the cases that we deal with are cases that have been charged, that we have a suspect for," Terrell said. "Which is kind of why the police department started their program because they will initially reach out to all victims as reports come in, and then feed them to us as services are needed and as investigations progress."
Terrell, who was involved with the creation of the HPD's Victim Services Unit from the beginning, expects to see an influx of new clients to her program as a result of the new initiative.
"This is not a situation where we're going to have multiple programs stepping on each other's toes," she said. "It's going to be a situation where we have multiple programs working in conjunction with each other to fill those gaps together."
The HPD's new program was spearheaded by Chief Kelley Warner, and is modeled after similar ones in other jurisdictions, such as the Abington Township Police Department in Pennsylvania where Warner previously worked. Abreu spent considerable time training earlier this year, including a course on victim services at the Southern Police Institute in Louisville, Kentucky.
"You have to learn how to talk to different types of victims," explained Abreu, who has to be careful not to slip into a therapist role.
Sometimes, that means stopping a conversation if a victim or witness shares information that should be shared with the investigating officer instead, or if they need immediate mental healthcare or other services.
This is part of why Abreu likes to have community resources on-hand. "We have such a small window so that somebody who was suicidal or anything like that–I need to have resources available immediately right away and put them in contact or coordinate with them as soon as possible," she said.
"She's the coordinator, but she's not trained in all these different fields, so she's not the one going to be the one trying to provide the care. She's going to be the one trying to get them the appropriate resource," added Monahan, "She's solely there for the services aspect, not the investigative aspect."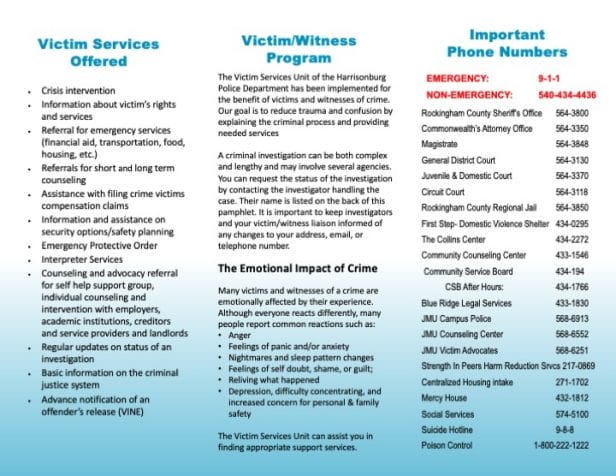 Since starting in January, Abreu has spent significant time forming connections with different agencies and organizations in the community, familiarizing herself with points of contact, intake requirements and insurance practices. Many of these are listed on a pamphlet that HPD hands out to crime victims as well.
"We have a small, short window and someone can be agreeable now and not agreeable later," Abreu said. "So I try to be like, 'Let me get this situated for you. Let me get this scheduled for you. What is your situation?' Kind of take that bridge gap before they change their mind."
One local resource is the Rockingham-Harrisonburg CSB (RHCSB), which provides publicly-funded mental health services. Adam Yoder, the director of RHCSB's community recovery services, said that, while he was not aware of HPD's new program, he has had positive experiences with the Commonwealth Attorney's victim advocates. 
Yoder reacted positively to the idea of the HPD's new victim services unit.
"We would want good connection, yes, between them and us so there can be a warm hand-off or at least accurate information of how they can receive services from us, so that's great," he said.
Maria Simonetti, executive director of The Collins Center, said that some of the organization's staff have been in contact with Abreu, and that she hopes to meet her soon as well.
She explained that The Collins Center, which serves people who have experienced sexual harm and child abuse, has a mission to "promote work through collaboration." The organization already works closely with the HPD's Major Crimes Unit as well as the Commonwealth Attorney's victim/witness program.
"The more the merrier," said Simonetti, referring to the new program.
Sherron Ashby, a domestic violence attorney with Blue Ridge Legal Services (BRLS) also sees the utility in the new program. BRLS provides legal assistance to low-income clients on various matters, including family disputes and domestic violence. Ashby noted that the HPD's new program could connect anyone who calls 911 for domestic violence with BRLS, regardless of whether they plan to press charges.  
"A lot of times there are people who, for whatever reason…don't want to go forward with prosecution," Ashby said.
These can include victims who financially rely on perpetrators, worry about caring for their children if a perpetrator is prosecuted, or otherwise feel relunctanct about pressing charges.
"There's a lot of psychology behind being ready to hold somebody accountable," she said.
---
Abreu had an extensive background related to this role before she began. After completing the paralegal studies program at JMU, she worked as a paralegal in Harrisonburg for 13 years, in addition to practicing in Florida and New York. She worked on cases related to criminal defense, civil immigration, custody – "You name it, I've done it," she said.
"I have an empathetic feel to the victim, the suspect, the witness," she added. "So having that experience with them helps me actually educate them, explain to them 'Well, this is how the system works. This is what can happen when you do that. If you're able to cooperate or if you're able to accept these services, you may feel like you have nobody but you do. There's people out there that you can speak to.'"
One goal of a victims services program is to prevent re-victimization. Abreu gave the example of domestic violence: "[It helps them understand] 'I don't have to stay in this abusive relationship where I'm getting hurt. I can have help or resources that can relocate me and my children and move away from this person that is my partner,'" she said
---
When someone affected by a crime gets a call from Abreu, she will have gathered any resources she anticipates might be needed and will be prepared for a conversation, but also knows that not everyone will be ready to talk.
"I start letting them know: 'Did you know that victims have rights?'" she explains: "You're able to know what's going on, you're able to have a voice, you're able to be part of the investigation."
"I'm an ear, I listen. I take notes and see where else I can get them any resources that they may need," and of course she asks, "Is there anything I can help you with?"
Her role can also include helping victims work out the logistics of recovery. For example, Abreu explained, if someone has their belongings stolen from a car, she would help them figure out what all was lost, canceling any stolen cards; ordering new ones, etc. She may also help make appointments for services the victim might want.
"If they're not ready to talk…I still will follow up with them, try to stay connected with them," Abreu said. She usually follows up a couple of days to a week after the first call, trying to strike a balance so the victim doesn't feel bombarded – or forgotten.
Along the way, she stays in contact with the officer(s) who took the report and/or is in charge of investigating the incident.
After the initial call, Abreu gives victims/witnesses her direct number so they can call her back. "I try to minimize them having to feel like, 'I'm calling the police or the police are calling me,' because we want to be as discreet [as possible]," she said.
This is why, she and Monahan explained, they have created a business card with a QR code to their website in addition to an information pamphlet, so that victims can receive a small card at the scene of an incident that they can easily carry with them. 
Abreu, whose parents are immigrants and who speaks Spanish, said being bilingual will be very helpful in connecting with as many people as possible in Harrisonburg.
She believes she can serve as a more approachable presence in the police department: "You'd be surprised how that waiting room up there gets busy, like, 'Is the victim services here? I just have a question!'"
"I'm very grateful for this unit because, thanks to this, we're bringing more awareness, more knowledge, more connections, opening the doors," Abreu continued. "And me coming from immigrant parents and everything… 'I'm telling you, it's okay!'"
Some people from other countries, she and Monahan noted, are reluctant to report crimes because of their immigration status.
"That's certainly not the case. Here at HPD, we're never even going to ask anybody's status," said Monahan. "So that's something that she can tell them, and they're going to believe what she says based on who she is."
---
Eventually, the HPD plans to expand the new program.
"Once we get comfortable moving forward with everything we're going to be having additional volunteers come in and help out with what she does, and [Abreu is] going to be the coordinator," Monahan said.
Abreu has not been at the site of incidents yet, but having more people in the unit would allow for that to happen if needed in the future, he added. And rather than always making all the calls, she would coordinate volunteers to help with that task.
Monahan cannot say yet whether any more paid positions would be added to the unit.
Abreu is happy with how things have gone so far, and is excited to see the program develop.
"We've gotten such great feedback," she said. "We've gotten people that come in person. That person has told other people [and] based on this, we've had people report crimes that didn't feel comfortable before them because they didn't know."
She has also gotten feedback from victims who say the program offered reassurance and helped them understand what occurs after a crime is reported.
Abreu wants people to feel like she has their back.
"We want to be able to not have revictimization, so educating them on that, helping them, be that–just a shoulder– being that comfort next to them, [so] that they feel comfortable like, 'Okay, she's with me, she's accompanying me,' or 'she let me know–I'm not scared.'" 
---
Thanks for reading  The Citizen, which won the Virginia Press Association's 2022 News Sweepstakes award as the top online news site in Virginia. We're independent. We're local. We pay our contributors, and the money you give goes directly to the reporting. No overhead. No printing costs. Just facts, stories and context. We value your support.