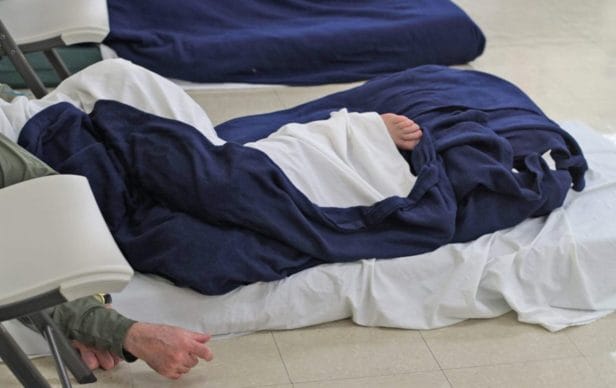 Correction: In an earlier version, the title for Catherine Hughes was incorrect. She is Sentara RMH's vice president of operations.
By Sukainah Abid-Kons, contributor
As Open Doors prepares to set up temporary facilities for another shelter season starting in November, Sentara RMH Medical Center has confirmed that it will work with the nonprofit organization to provide space for people to stay during the coldest nights.
Through the partnership, which began during a cold stretch in December 2022, Sentara provides space in the atrium of one of its office buildings to hold up to 10 beds for those seeking shelter at night.
Katie Robinson, the community health project manager for RMH, said Open Doors and Sentara have been working together for years, well before the shelter expansion project began. Robinson said medical center personnel have recommended Open Doors as a resource for patients who are experiencing homelessness. Additionally, the hospital has provided "charity care" for those who didn't have the proper insurance or financial means traditionally needed to seek healthcare, as well as helping people who are qualified for Medicaid get enrolled.
So working together to shelter individuals, Robinson said, just seemed like "the right thing to do for the community."
Robinson said the end of some Covid-era policies and accommodations allowed Sentara to partner with Open Doors in this way.
During the summer of 2020, Open Doors partnered with JMU to use space on campus to provide overnight shelters, and during the winter of 2020-2021, the organization took over the former Red Front grocery store building, which allowed for sheltering around 70 people per night.
Once the owners of the old Red Front building decided to end that arrangement, however, Open Doors returned to using the rotating-shelter approach once again last fall and operated it at churches and houses of worship across Harrisonburg. With this change, the total capacity dropped sharply.
"When they needed to move back to a rotating schedule for thermal-sheltering post-COVID, they were really only able to accommodate about 40 guests per night," Robinson said.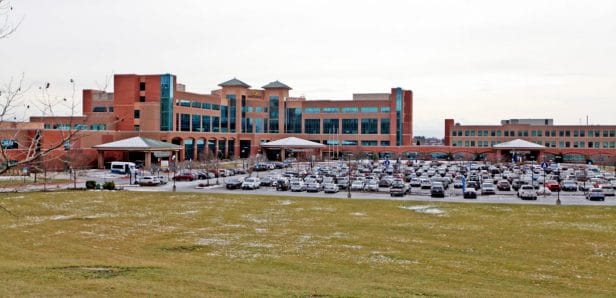 Robinson said she heard about this at a Homeless Services Planning meeting, in which homeless service providers discussed plans for the city's upcoming permanent shelter. During the meeting, Nathaniel Riddle, Open Doors' executive director, mentioned that Open Doors was looking for what he referred to as the "E2 Shelter," short for "Emergency-Emergency Shelter," which would serve as an overflow shelter during nights when there was inclement weather or extremely cold temperatures (usually classified as 20F).
Robinson said she brought the proposal to Sentara's leadership, and they quickly identified space that could be used for the shelter.
After deciding that the atrium area of Robinson's office building would be the most convenient, they started taking steps to open the space up for guests. Sentara and Open Doors worked together to obtain the appropriate permits from the city, through which they were approved to shelter up to 10 people per night for a total of five nights.
The operation quickly came together, and Open Doors was able to send over members of their team to make sure that the temporary shelter had operators with experience. Sentara also used some of its other resources to help the project run, such as providing hot meals for the guests and collecting donated clothing from the community, allowing them to provide those who stayed in the shelter things like socks and coats.
Nate Riddle, Open Doors' executive director, said that the additional services that Sentara provided beyond the space were also incredibly helpful as the organizations worked to pull together this service without much notice. 
"We were a little nervous about how we were going to pull together 10 extra meals with short notice, and Sentara's internal kitchen staff stepped up there as well and provided meals for the shelter," said Riddle.
Catherine Hughes, Sentara RMH's vice president of operations, said that as a healthcare provider campus, Sentara also looked at the benefits that both the guests and the community could see through providing extra shelter space. 
"As a healthcare provider for Rockingham [County], we certainly don't want folks harmed by the weather," Hughes said. The National Healthcare for the Homeless Council found that about 700 unhoused people die each winter as a result of hypothermia.
"What we also feared would happen was that people would end up coming to the emergency department, not necessarily because they had an emergency, but to get out of the cold."
Such situations can ultimately overwhelm emergency departments and ERs, making it more difficult to see patients in a timely manner.
Both Robinson and Hughes said that they thought the shelter last year was successful, and both also noted that they felt that opening Sentara's doors was the right thing to do.
Now, as Open Doors prepares for this upcoming thermal season, Sentara is also making preparations to organize where and when they can offer additional shelter to those who need it. Riddle said that Sentara and Open Doors started working to make sure that the emergency shelter could operate again as soon as they suspected that Open Doors would have another thermal season to operate.
"We will continue to keep that secondary shelter as an option, and we'll staff that and open it up when [weather] conditions get bad," Riddle said. He added that when Open Doors started planning their shelter rotation schedule for the 2023-24 shelter season, the organization views the Sentara emergency shelter as a "vital part of the plan."
Sentara was on board right away, and the emergency shelter will be available to house an additional 10 people during inclement weather once again.
Riddle said Sentara has been "nothing but happy to do it again" as the two organizations prepare for the upcoming winter together.
Hughes echoed that, adding that she is also looking forward to the future and finding "even more ways" for Open Doors and Sentara to collaborate and give back to the community.
---
Thanks for reading The Citizen, which won the Virginia Press Association's 2022 News Sweepstakes award as the top online news site in Virginia. We're independent. We're local. We pay our contributors, and the money you give goes directly to the reporting. No overhead. No printing costs. Just facts, stories and context. We value your support.