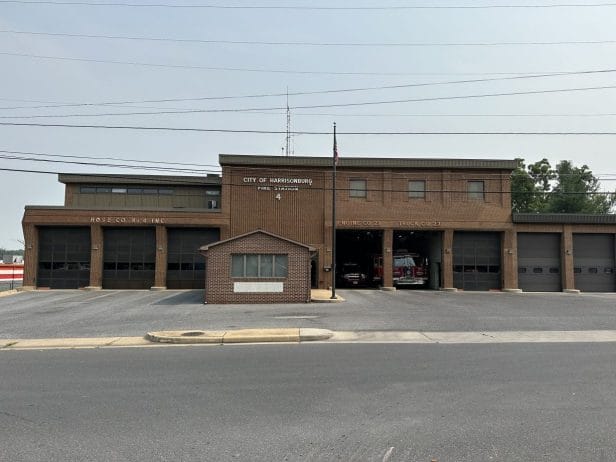 By Bruce Stambaugh, contributor
Hose Company No. 4, the oldest fire department in Harrisonburg and Rockingham County, is in a quandary.
Having served the city as a volunteer department since 1890, Hose Company No. 4 has been told to vacate its only city station, Station 4, on East Rock Street by Sept. 1, and is still looking for a place to house its firefighting equipment. A series of events have led to this dilemma for Hose Company No. 4.
The Harrisonburg-Rockingham Emergency Communication Center, where all city and county 911 calls are received, uses a Computer Assisted Dispatch (CAD) system to help reduce response times. CAD dispatches the closest available staffed ambulance and fire engines.
"We love volunteers," said Rockingham County Fire Chief Jeremy Holloway. "But we also focus on response time."
"With the opening of Station 10 on N. Valley Pike," Holloway continued, "we reassigned and increased our firefighters and medics from Station 4." Station 10 houses an ambulance, an engine, and a brush fire truck and has five firefighters/EMTs available 24/7, according to Chief Holloway.
Station 4 is owned and operated by the city and holds an engine, a replacement engine, a battalion chief, and the city incident command center, according to Harrisonburg Fire Chief Matt Tobia.
"The city intends to demolish the current Station 4 and replace it with a one-story, more modern building," Tobia said. "With the county no longer staffing the station for Hose Company No. 4, Holloway notified the city that the county no longer needed the space."
Volunteers for Hose Company No. 4 live close to Station 4, but it is not staffed by Hose Company No. 4 members around the clock. With improving emergency response times in mind, the city notified the volunteers in March that they would need to vacate the station. Sept. 1 is the deadline for Hose Company No. 4 to remove their equipment.
Hose Company No. 4 Fire Chief Jay Ritchie said his department is still looking for an alternative location in the city despite accepting Chief Holloway's offer to house a pumper in one bay at Station 10.
According to Holloway, the county built Station 41 on Port Republic Road in 2019 to house Hose Company No. 4 fire and rescue equipment. Both county and Hose Company No. 4 volunteers respond out of that station.
Holloway also said the Port Republic station has space for Hose Company No. 4 to house equipment and a community room for fundraising and meetings. In addition, sleeping quarters are available for Hose Company No. 4 volunteers to stay overnight.
Libby Clark, president of Hose Company No. 4, said they are grateful for Chief Holloway's offer and will place an engine at Station 10. However, that still didn't satisfy their desire for a station in the city.
"There are no sleeping quarters for Hose Company No. 4 members," Clark said. She added that it is also farther from where the volunteers live, which would hinder their response time. Clark continued, "We need to be located in the city to respond to areas west and south of the city."
Chief Holloway said that the county is pursuing property in the Dayton area to cover those areas and drastically reduce the response time west and south by having a staffed station.
"Building a station in the Dayton area is in the county Capital Improvement Plan," Holloway said. "We hope to have it operating in two or three years."
"The CAD system is designed to reduce response time to each emergency no matter where it is," Tobia said. "Under this system, a county ambulance and city fire truck might be dispatched to an emergency regardless of location."
Personnel from Hose Company No. 4 shared their frustration and hurt with the requirement to leave Station 4. Clark related her frustration by citing the comments of the city's attorney, Chris Brown, at the June 29 court hearing that ruled against Hose Company No. 4 to remain in Station 4.
"Brown said Hose Company No. 4 was rent-free at the Rock Street station all those years," Clark commented. "Hose Company No. 4 has responded to thousands of calls over all those years without one penny of compensation."
Hose Company No. 4 training officer Bill Purcell was more expressive.
"It's a slap in the face to a group of people who only have the safety of the citizens in mind," Purcell related.
"For 133 years, members of Hose Company No. 4 have given up sleep, family gatherings, health, their lives, and have only committed to the good of our community," Purcell continued. "Our 133 years of service should serve as some equity to help us build a station on the city's westside."
"Let's make this a positive where there is a win for everyone," Purcell said. "Let's work together to be better."
When asked if he felt it was the end of an era in the city for Hose Company No. 4, Ritchie said, "I hope not."
Both Tobia and Holloway expressed their gratitude and appreciation for the volunteer departments.
"Given their company's admirable service history to the city, we want an amicable ending," Tobia said. "We rely on the county fire department and the volunteer departments, and vice versa. We want to be respectful of them but not bound by history."
"Change is hard, sometimes even a grieving process," Tobia said. "We value them as responders and memorialize them in their service to the community."
Holloway echoed Tobia's sentiments.
"We love our volunteers," said Holloway, who is also a volunteer with Grottoes Volunteer Fire Department. "Rockingham County supports volunteers and provides the best services possible for its citizens."
Holloway reflected on Hose Company No. 4's current situation, "What is the right thing to do sometimes is not the most popular."
Editor's note: This story was updated on Tuesday, Aug. 1 to clarify that Hose Co. 4 will place an engine at the new Station 10.
---
Thanks for reading The Citizen, which won the Virginia Press Association's 2022 News Sweepstakes award as the top online news site in Virginia. We're independent. We're local. We pay our contributors, and the money you give goes directly to the reporting. No overhead. No printing costs. Just facts, stories and context. We value your support.