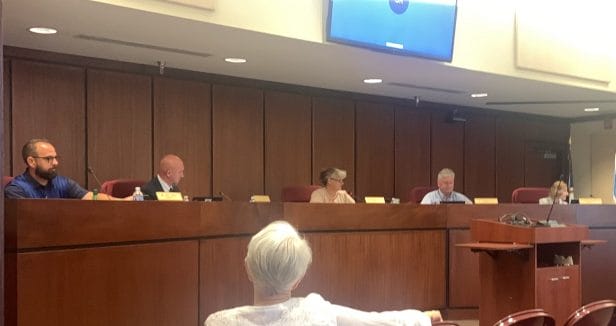 By Eleanor Shaw, contributor
The Rockingham County Public School school board on Monday will choose from three candidates who are vying to fill a vacant seat on the board for the rest of the year — and the trio of contenders have spent this week undergoing a public job interview for the post.
Hollie Cave, a mother who homeschools her children, and Paula Lam, a small business owner and an administrator at JMU, are seeking to replace longtime board member Dan Breeden, who resigned last month. And both Lam and Cave are running in the November election for the next full term to represent District 5, which covers the Deep Run, Elkton, McGaheysville, South Fork, Stony Run and Swift Run precincts.
A surprise third applicant, Jack Dixon, submitted his resume for consideration during Monday's public hearing, although he said he is seeking only to fill out the remainder of Breeden's term through Dec. 31. Dixon previously worked as a firefighter and recently completed his master's degree.
The three appeared before the board Monday, which also served as an opportunity for people from Rockingham County to weigh in on what qualities — or which specific candidate — they want to fill out the term. Then the three were back in front of the board members on Wednesday for public interviews.
After the interviews, School Board Chair Jackie Lohr said the board will vote for the interim appointee on Monday during its regularly scheduled meeting.
Lohr told those who attended Monday's meeting at the Rockingham County Administration Center in Harrisonburg that the school district had consulted "multiple lawyers" to understand the legal procedures involved in selecting an interim appointee. She said Virginia law requires an interim appointee to be chosen 45 days after a resignation, meaning the board can act before Aug. 15 after conducting a public hearing and public interviews.
Twenty-two people signed up ahead of Monday's meeting to speak and two others joined them during the open comment period, which limited remarks to three minutes.
Both Lam and Dixon spoke for themselves, while Cave did not address the board Monday. But all three appeared individually before the board again Wednesday to answer questions about their goals, opinions on redistricting, what they love about District 5 and their qualifications.
Paula Lam
During Wednesday's interview with the board, Lam emphasized the need for transparency, fiscal policies and safety during her public interview with the board.
When discussing District 5, Lam said she cares deeply for her community and considers the district as "family."
"There is a spirit that is in Rockingham County as a whole," Lam said. "That's why I love District 5 and that's why I would be proud and honored to be the interim."
At Monday's public hearing, more people who spoke supported Lam than any other candidate. Many of them described Lam as an involved member of her community who cares deeply about those around her. Lam's backers frequently used adjectives such as "generous," "passionate" and "engaged."
They also mentioned how Lam has raised her two sons — both of whom attended Rockingham County schools — and has owned a small business and works as JMU's associate director of finance. She also has volunteered for various groups.
"She needs to be on the school board," said Amy Jefferson, a parent and grandparent. "Our children need her, our parents need her, this community needs her."
Lam called herself an "involved parent" who "looks to the positive." Her goal is to create a positive experience for students and teachers, she said.
She would achieve this by providing students with more recreation options, Lam said, as well as engaging the district's alumni network and taking advantage of reunions as fundraising opportunities.
Hollie Cave
Cave also focused on community during her interview Wednesday. She said she cares for District 5 and wants to give back as interim appointee.
Cave said she would focus on school safety, more effective drug policies and the creation of "a peaceful atmosphere" if she is selected. She said she appreciates the process of learning and "making things work."
"I never want anyone to think that I will come on the board thinking that I know everything," Cave said. "Something that I live by is when I walk into a room and I'm already the smartest person in the room, it's time for me to move rooms."
Those who spoke Monday in favor of Cave cited her commitment and determination. Many of Cave's promoters said they admired her attending several community events to promote her campaign.
Several people mentioned that her work homeschooling her children allows her to better understand the demands of teaching. Cave decided to homeschool her four children starting in fall 2020 and has explained, including on her campaign website, that it was a response to the district requiring students to wear masks.
Additionally, her supporters said Cave had received endorsements from many local Republican organizations and prominent political figures, including U.S. Rep. Ben Cline, Rockingham County Sheriff Bryan Hutcheson, Virginia Del. Tony Wilt and county school board member Matt Cross.
Jeff Bolander, the Rockingham County Republican Committee's chair, told the board Monday why the organization decided to back Cave.
"She's an intelligent woman of integrity, and we're most impressed by her passion," Bolander said. "She stood up at many school board meetings and took a stand, although controversial, that she always felt was the right thing to do."
Cave told The Citizen she spoke up at board meetings in support of a policy Cross proposed regarding alerting students' parents if they change names, as well as to advocate for greater policy transparency.
Jack Dixon
The third applicant, Dixon, announced his bid for appointment midway through Monday's hearing. Dixon told the board and attendees that he doesn't intend to campaign or associate with any political party and is determined to remain nonpartisan.
Dixon said he's been "disappointed" in the political climate and decided to put his name forward to take on a stewardship role and use his education — specifically after writing a master's thesis on "Emergency Response Policies for Mass Casualty Events" — and background as a firefighter to create a safer environment in schools.
"As a father of a 2-year-old boy … who will one day enter Rockingham County Public Schools, I'm honored at the opportunity to potentially serve for a short period of time," Dixon said Monday.
These attitudes were reflected during his Wednesday interview. He said he wants to maintain integrity during the upcoming election because both Cave and Lam are candidates.
As interim appointee, he would be primarily concerned with spending "taxpayer money" responsibly, school safety and serving as "a calming voice and as a voice of impartiality."
Dixon said he wouldn't focus on "wide-sweeping policy changes" — a responsibility he said wasn't his place as interim — but would be involved in the district nonetheless. He is confident in his ability to serve District 5 since he grew up in the area and is aware of issues its constituents want addressed.
---
Thanks for reading The Citizen, which won the Virginia Press Association's 2022 News Sweepstakes award as the top online news site in Virginia. We're independent. We're local. We pay our contributors, and the money you give goes directly to the reporting. No overhead. No printing costs. Just facts, stories and context. We value your support.