By Ciara Brennan, contributor
Pamela Tittle's portrait had sparkle. This year, with the help of her husband, she fashioned lights behind her painting of fellow artist Frank Marshman. Marshman's image seemed to appear like a genie from within an antique folding camera, and guests could change the effect of the lights with the press of a remote. And the other artists took notice. "Did you see the one with lights?" they asked each other while perusing the gallery Thursday evening.
Even the painting's subject was easy to spot. Making his rounds at the event, Marshman sported the pink blazer from his portrait.
To celebrate the seventh year of Art Lotto ahead of Friday night's opening reception, 38 local artists and their plus-ones mingled Thursday evening in Harrisonburg's Frame Factory & Gallery amid their creations — and their likenesses.
Over the years, Art Lotto has inspired participating artists to create portraits on cake or chiseled into cement or composed of tiny pieces of stained glass. This year, some artwork took new shapes: a t-shirt, a cardboard cut-out, mixed media replicating a casket.
Portraits are brought together to be judged — by the organizers, a jury and their fellow artists — for one of three awards.
Guests at the opening can browse artwork, talk with artists and even purchase a favorite piece from 5-8 p.m. The pieces range in price from $50 to $750. The show will run until Aug. 29 in accordance with the Frame Factory & Gallery's opening hours.
First held in 2012, Art Lotto creates an opportunity for local artists to collaborate by creating portraits of one another. Then, the portraits are brought together for a local art show.
It's about "merging artists and the community," said Laura Thompson, one of the event organizers.
Rhoda Miller, owner of the Frame Factory & Gallery, participated in the event before joining its team of organizers and said Art Lotto is one of the more exciting shows to take part in.
"The collaborative nature, getting to know other artists. A lot of us are holed up in our studios by ourselves," she said.
This year's event adopted a poolside theme. In that spirit, event volunteers wore bold Hawaiian shirts and poured cups of the evening's fruity signature cocktail: "The FlaminGOGH," replete with pineapple slices and mini umbrellas for event organizers, artists, sponsors and judges. Artists milled about with this year's thoughtfully designed swag like blue steel pint glasses and waterproof carriers clipped to belt buckles or purses.
Hanging against the brick walls of the Frame Factory or arranged on sideboards, the portraits ranged in medium from photography and oil painting to ceramic collage and digital illustration.
"The theme is portraits, yes, but you have abstract art, you have contemporary, you have realism," said Tittle, who retired to pursue her artwork full time. "That gives everyone more freedom. You have more freedom with this show."
'Let's do it for them'
After holding the event consecutively for the first three years, the organizers switched to alternating years.
"It's a pretty big undertaking," said Brandy Somers, who dreamed up Art Lotto alongside fellow artist Denise Allen over tacos in the summer of 2011.
But it's still going strong.
"When I started this, I didn't think it would go past the first year," Somers said.
She and Allen were commiserating about the challenges artists face putting shows together, when Somers thought, "Let's do it for them." They envisioned an event in which they would gather the necessary money, bring artists together — "out of their shells" — to meet one another and organize a show where their work could be celebrated.
"And it just became bigger than we thought," Somers said.
In February, event organizers issued a call to past participants to sign up for the first Art Lotto since the 2020 pandemic, before sharing the call broadly on social media. Then, in April, artists gathered in the basement of The Golden Pony to find out which artist they would portray and who would portray them — the lotto portion of the event.
"Every year is different," Somers said.
The first year, names were drawn using a bingo cage. Another year, lottery tickets with gold foil were printed, and after a countdown, artists scratched to reveal names. One year, Art Lotto partnered with Brothers Craft Brewing to print custom-designed labels on beer bottles, before adding a slip of paper with an artist's name.
For this year's "pARTners" drawing, Allen handmade fortune cookies with names printed on a slip of paper inside. Then, artists had just under three months to meet with their muses and create their portraits.
Before she began painting her larger-than-life portrait of fellow painter and collage artist Ashley Sauder Miller, Erin Murray visited her muse's studio and did an interview with her.
"I think it's a bonding experience," Murray said.
Then, the artist got to work, paying homage to Ashley Sauder Miller's artistry by incorporating elements of collage into her painting.
"Probably every single portrait is like this," Murray explained. "It's a portrait by an artist of another artist, so they're trying to honor the artist they're doing a portrait of but they're trying to maintain their own [identity]."
Murray, a full-time artist and part-time art professor at JMU, said Harrisonburg is the first place she's been able to make a living as an artist.
"I've lived in a couple of different cities and towns, and Harrisonburg has a really close network of artists," she said. "There are people that buy art, there are a lot of people that are making different types of art, and in general, it's sort of a positive community versus competitive community."
Friendly pressure 'to get it right'
For other artists, Art Lotto is a rejuvenating experience.
"This is the push I always need," said Jason Alexander, an art teacher in Loudoun County, while peering at his peers' artwork. This is Alexander's fourth year participating in Art Lotto. Although he studied painting at JMU, his portrait of Tahany Garrison was done with his new favorite medium: reduction linocut. The process requires Alexander to carve away at a piece of linoleum to create a stamp, to which he will apply paint in order to make prints. He said his house is filled with these block prints.
His portrait "in Brady Bunch colors" is of Garrison doing aerial yoga on silks, a passion he learned about when they met up earlier this summer. "It was all she talked about," he said.
His likeness lies just a few feet away. It's a photograph of Alexander taken in Shenandoah National Park by Mark Fenton. Alexander wished for his portrait to be reminiscent of a Patagonia ad.
"It turned out exactly the way I hoped it would," he said.
That's the response all artists hope for. "You want to get it right," agreed Tittle, who has participated in Art Lotto three times before.
"I just love the community, especially in Harrisonburg, the community of artists, and just the feeling that you can be more creative because the people that will view your art are open to it," Tittle said. "You can really branch out of what you normally do."
Katie Schmid, owner of photography business The Commoneer, donated a photoshoot and served as one of this year's ten community judges, many of whom have no art background — only a love for the city.
"There's no barriers to entering the art world in Harrisonburg," Schmid said.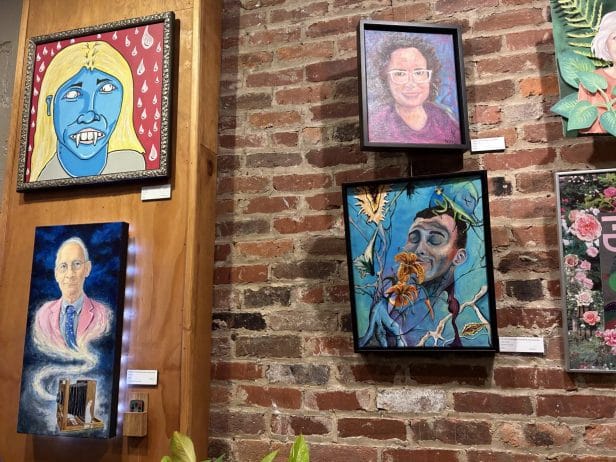 Lots of 'high fives'
The judges deliberated for an hour over which piece should win the Judges' Choice Award.
"It just goes to show how many amazing pieces there are, because there was no one clear winner," she said.
In addition to friendly bragging rights, recipients of the evening's three main awards received a prize consisting of vouchers and gifts donated by local businesses, including handmade ceramic mugs made by local potter Ros O'Brien, altogether valued at more than $1,800.
Malea Gascho won the Judges' Choice for her portrait of Janet Marshman. Murray won the Art Lotto Team Choice Award for her portrait of Miller. And Tittle won the Artists' Choice Award, which the organizers consider the most prestigious because it's voted on during the evening by fellow artists.
Each of the four organizers also gave out honorable mentions, called "High Fives."
Before the party ended, attendees purchased four of the pieces.
Rhoda Miller said she anticipates a large crowd at Friday's opening reception.
"With 38 artists, so even if they come with one friend each, we'll be packed," she said.
Guests might be surprised to recognize friends and connections from around town in the portraits. Others might be inspired to join the welcome community of local artists for Art Lotto's eighth year.
"There's something about Harrisonburg," Murray said. "A sense of possibility."
---
Thanks for reading The Citizen, which won the Virginia Press Association's 2022 News Sweepstakes award as the top online news site in Virginia. We're independent. We're local. We pay our contributors, and the money you give goes directly to the reporting. No overhead. No printing costs. Just facts, stories and context. We value your support.