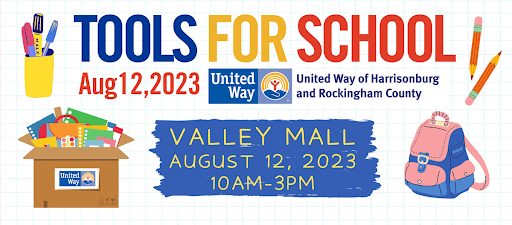 By Sukainah Abid-Kons, contributor
The United Way of Harrisonburg and Rockingham County newest event to help families with back-to-school needs comes at an opportune time — just at the time Virginia would have had a tax-free weekend on school supplies if lawmakers hadn't forgot to renew it. 
The United Way will host an inaugural resource fair called "Tools for School" to help provide students with no-cost school supplies. The resource fair will be at the Valley Mall on Aug. 12 from 10 a.m.-3 p.m. This will be in addition to the annual "Stuff the Bus" event, in which people can buy school supplies from a list and donate them at buses parked near retailers like the Walmart stores.
The "Tools for School" event will have booths providing families with information about resources, such as after-school recreational and tutoring programs. And it will help fulfill back-to-school medical requirements, with the Virginia Department of Health's Central Shenandoah Health District providing vaccinations for 7th-12th graders.
Amanda Leech, the area United Way's executive director, said the event came about as the organization was trying to reevaluate ways to serve the community. Ultimately, the goal was to create a more holistic back-to-school experience that still provided free supplies for families who need them.
"Tools for School" was in the works before it came out that Virginia legislators didn't renew the measure to waive the sales tax on school-related supplies for several days. That tax-free weekend was usually the first or second weekend in August. Last year's tax-free weekend was Aug. 5-7.
"A lot of families relied on that weekend to do their shopping," Leech said. "This year, they might have to skip on a couple of supplies because there wasn't a tax-free weekend."
Leech said that while United Way expects demand for school supplies to increase, the organization is also bracing for a drop in donations. That's because many supplies people donated in previous years had been bought during the tax-free weekend.
Jo Benjamin, the United Way's director of community impact, said the event will provide a more comfortable way for families to receive help they need — but might not always feel comfortable asking for. By being able to "shop" for the items they need instead of calling different offices and having to disclose their situation, the resource fair set-up will help bring more "dignity" to the process, as Benjamin put it.
"It's not always easy for people to reach out for help, so this will bring everything within reach of people at the mall, where people go shopping anyway," Benjamin said.
The mall setup simplifies the process, Benjamin said, whereas families might have needed to get in touch with multiple people at their school or with an organization to receive supplies before.
"We're really excited about being able to make those school supplies accessible," Benjamin said.
Jim Sacco, the United Way's director of development, said this event has been "all hands on deck" but that community partners in Harrisonburg and Rockingham County have also stepped up to help make the inaugural resource fair happen.
Sacco said many businesses were willing to donate supplies, sponsor the event and host collection boxes.
Benjamin also said any community members who want to volunteer for the event or help can still do so.
For the United Way team, the goal isn't just to ensure students have supplies but to also to allow the community, including students and parents, to come together before school starts.
"I see it as a reconnection point for people who may have gone separate ways during the summer," Benjamin said, "and we're all coming together and getting ready for back to school."
---
Thanks for reading The Citizen, which won the Virginia Press Association's 2022 News Sweepstakes award as the top online news site in Virginia. We're independent. We're local. We pay our contributors, and the money you give goes directly to the reporting. No overhead. No printing costs. Just facts, stories and context. Thanks for your support.