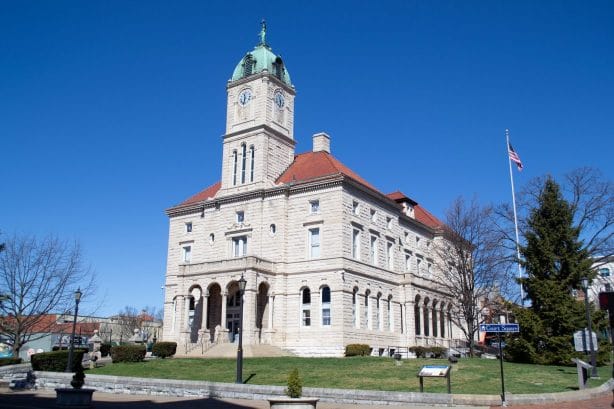 By Bridget Manley, publisher
Harrisonburg City Councilman Chris Jones, who was arrested last May on the charge of driving while intoxicated, pleaded guilty Tuesday morning to a lesser charge of improper driving and agreed to pay a $250 fine. 
The driving while intoxicated charge was amended to an improper driving charge, according to Armanda Clymer, the special prosecutor assigned to the case from Page County.
Harrisonburg City Police found Jones asleep at the wheel of his car late May 2. Jones later submitted to breath testing, which yielded a .04 per 210L of breath on the EC/IR II breath test.
According to the Virginia Department of Motor Vehicles, all drivers with a blood alcohol content of .08 percent or higher are considered to be driving while intoxicated.
Judge Kenneth Alger II, who presided over the hearing, noted Jones breath test was below the legal limit for a DUI, saying Jones blew "half" the legal limit.
Jones was not in court for Tuesday's hearing.  He didn't respond to a request for comment Tuesday afternoon.
Jones' attorney, Robert Keefer, also submitted an addendum to the court, noting a "medical issue" Jones had that was considered by the judge in the amended charge.
Keefer declined to comment to The Citizen following the hearing.
Clymer, the special prosecutor brought in from Page County for the hearing, gave a brief interview to media following the hearing, in which she reiterated the judge's comments that Jones alcohol blood level was half the legal limit.
The Page County Commonwealth's Attorney had been designated as special prosecutor by the Rockingham County Commonwealth's Attorney in May following Jones' arrest.
During the May traffic stop, Jones told officers he had been at Heritage Oaks Golf Course and the Ridge Room, and that he had approximately 3-4 beers while playing golf.
Jones refused a preliminary breath test in the field and was subsequently placed under arrest.
---
Thanks for reading The Citizen, which won the Virginia Press Association's 2022 News Sweepstakes award as the top online news site in Virginia. We're independent. We're local. We pay our contributors, and the money you give goes directly to the reporting. No overhead. No printing costs. Just facts, stories and context. Thanks for your support.