By Rachel Petterson, contributor
The city will proceed with its existing contract with the American Ramp Company for the initial reconstruction of the Westover Skate Park using federal funds.
This decision comes more than eight months after the council voted to use $475,000 of federal American Rescue Plan Act (ARPA) funds to improve Harrisonburg's skate park in December 2022. The existing skate park was demolished earlier this year in anticipation of the rebuild, but the project was paused in April after people expressed their concern at public meetings regarding potential dangers of building the new park using steel, as well as criticism of American Ramp Company.
Brian Mancini, director of parks and recreation, explained to the council at Tuesday's meeting that he and his staff explored the price of making an all-concrete skate park from three companies: American Ramp, Spohn Ranch Skateparks, and California Skateparks. If the city broke its existing contract with American Ramp, it would come with a penalty of at least $60,000. ARPA funds cannot be used for penalties that result from breached contracts, so that money would come from the city's other funds.
"I'd like to stress that this $60,000 figure was thrown out by a contract holder that was in a good relationship with the city of Harrisonburg," City Manager Ande Banks said. "If that changes, that figure could very well be much higher. In fact, that company could in essence sue for as much as they think that they were going to make on the project."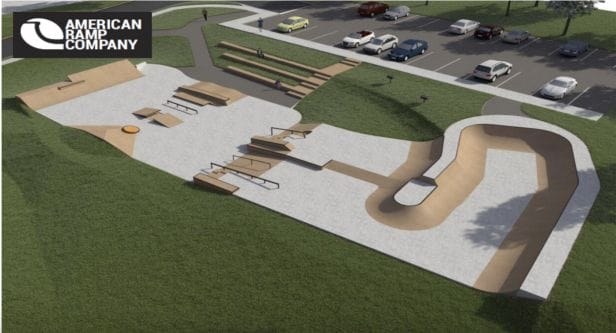 Mayor Deanna Reed said the council is responsible for protecting taxpayer dollars. The penalty for breaking the contract weighed on the council as they decided. Robinson, for example, said she would have liked to have chosen a different company based on the public pushback to American Ramp, but that the penalty was enough of a deterrent. And before voting, council member Chris Jones sought confirmation that the city would plan for an expansion of the skate park after American Ramp finishes this first phase.
American Ramp also offered the largest all-concrete skatepark within the city's budget — and at a maximum of 9,500 square feet as opposed to 7,000-8,000 square-feet.
All of the all-concrete designs are smaller than the previous steel designs, so the city has included in its next Capital Improvement Program a second phase to extend the skate park.
Westover has 14,000 square feet available for a skate park.
The exact square footage of the final project will depend on its design, which will come with public input. If, for example, people say they'd like mixed materials instead of all concrete, the city still has flexibility to accommodate this. Representatives from all the companies that were under consideration, including American Ramp, have said they will travel to Harrisonburg to gather public input and use it in the design, and Mancini is comfortable that they will do so.
Michael Parks, the city's director of communications, said the next step will be deciding how to engage the community in designing the park. City leaders want to include not only skateboarders but also in-line skaters, bikers and people who use scooters.
Parks said the Facebook pages for the city and the parks and recreation department — as well as fliers at facilities and those sent home with public school students — are ways the city might communicate opportunities to participate in this process.
"We want to hear from as many people as possible," he said.
Upcoming events
The "Block Party in the 'Burg" will welcome JMU students downtown this Saturday, Aug. 26, from 2:30- 6:30 p.m. The "Royals Go Downtown" event will welcome EMU students in September.
---
Thanks for reading The Citizen, which won the Virginia Press Association's 2022 News Sweepstakes award as the top online news site in Virginia. We're independent. We're local. We pay our contributors, and the money you give goes directly to the reporting. No overhead. No printing costs. Just facts, stories and context. Thanks for your support.