By Rachel Petterson, contributor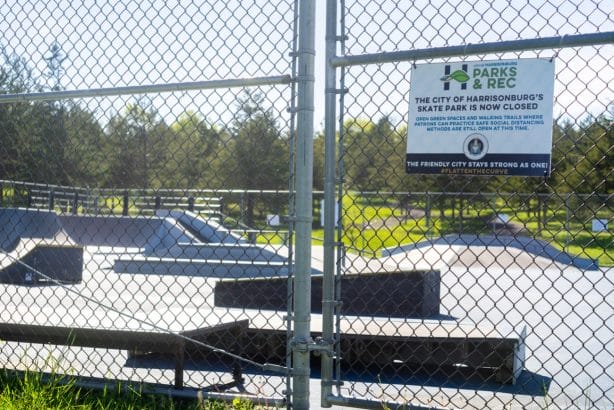 Mayor Deanna Reed announced the city will pause the planned renovation to the Westover Skate Park after hearing from members of the community about frustrations and concerns. 
Reed's announcement at Tuesday's city council meeting came a week after members of the skateboarding community aired their concerns during the April 17 Parks and Recreation Advisory Commission — specifically about the construction materials used in the project. The commissioners decided to recommend pausing the project, which is being paid for using American Rescue Plan Act (ARPA) funds.
Local skateboarders Paul Somers, Alex "A.J." Litwin, and Jesse Hammer spoke at Tuesday's council meeting, saying that they did not want American Ramp Company to build the new skate park and that they wanted it built using concrete instead of steel. Fellow resident Micah Jost, while not a skater, echoed his disappointment in the lack of input the city gathered from the skating community in the initial planning of this park.
Somers cited lawsuits against American Ramp as one of the reasons not to use them, saying they have a negative reputation amongst skaters. Somers said the skaters have gathered about 1,000 signatures on a petition opposing the plan to build a steel park with American Ramp. He also claimed that a concrete park would be the same price, if not less expensive, than the proposed steel park, based on quotes he had been given by other companies.
A representative from the company wasn't immediately available Tuesday night, but the firm's website says it starts each project "by getting community input and going from there."
Litwin also emphasized that he found it difficult to get in touch with Parks and Recreation about this issue, which is why the group resorted to showing up at public meetings. He said he wished the city had reached out to the skating community about the plans, saying that in Fairfax County and other localities new skatepark designs were made with direct input from the community.
"I feel bad," council member Chris Jones said. He added that he original intention when allocating ARPA funds to this project was not to build a particular kind of skate park but rather just to "not have a broken one."
Council member Monica Robinson pointed out that this process of residents coming to public meetings to comment on their concerns. and then board commissioners and staff acting on those concerns is an example of the local system of government working.
Reed, who is on the Parks and Recreation Advisory Commission, said the next step is for Brian Mancini, director of Parks and Recreation, to talk to the city attorney, Chris Brown, about what leeway the city has with their contract with American Ramp Company. 

Plans for W. Market Street storage facility win approval
The council unanimously approved a provision to allow for the construction of a storage facility at 1250 W. Market Street. The planned facility would be climate-controlled, with access to the storage units from the inside only. 
The facility, planned by Hearthfire Capital LLC and Hearthfire Holdings, LLC, would have an exterior and landscaping aimed at making it blend in with the adjacent neighborhood. It also includes shielded lights designed to not be shining directly at the nearby houses. The plan also includes adding sidewalk in front of the building to connect the two existing sidewalks on either side.
The planning commission members, including council member Laura Dent, had unanimously recommended denying the project because they wanted to leave the option open for a different development on that land. The council also discussed whether this land could be used for houses. Todd Rhea, land use attorney from Clark and Bradshaw and who represented Hearthfire, said the original developer, Tim Lacey, would have continued building houses onto this one remaining plot if he could have, and that the land is not good for residential development because of the rock underneath it.
Jones said the project could bring revenue to this city.
"We cannot have the Planning Commission sending the signal to the business community that we're not open for business," he said. "We, the city council, must continue to send the signal that we are open for business."
The council agreed that with expanding housing and density, there may be a need for expanding storage.
Dent ultimately changed her mind after the council discussed the issue at length, choosing the currently proposed plan over the wish for something better that might come along. 

Gun violence protesters hope to gain more council support
Robinson told her fellow council members that some people were disappointed that not all council members joined in the protest against gun violence on Friday in the wake of the death of Harrisonburg High School student Calour Fields and another man earlier this month.
"Folks were a bit upset because city council members were not all present, and [I] wanted to just make a public statement that I'm not sure if all city council members were invited or knew of the event that was happening downtown. So I've offered to work with them to try to re-do this event, and like I said, with proper notification, folks will show up. They'll be there in support of putting guns down and kids living and not dying at the age of 17," Robinson said.
Other council members, such as Jones, confirmed that they did not know about this event.
"We're there where we can be," Dent emphasized. 

Council makes some board appointments and calls for diversity
Also at Tuesday's meeting, the city council members made several appointments:
They unanimously appointed Amanda Leech, Kenneth Kettler, and Janet Harvey to the Harrisonburg Redevelopment and Housing Authority.
They reappointed Jeffrey Heie and Joy Loving to the Environmental Performance Standards Advisory Committee and appointed Rob Alexander to it as well. These approvals were not unanimous, with at least Jones dissenting.
The council decided to table the appointment of the last available seat on EPSAC after Jones passionately voiced concern over the lack of diverse voices on the board.
This expanded to a conversation not just on racial diversity but diversity of age and perspectives on the board.
Robinson said there is a lack of educational resources in marginalized communities regarding environmental issues, and it's been difficult to recruit applicants for EPSAC.
---
Journalism is changing, and that's why The Citizen is here. We're independent. We're local. We pay our contributors, and the money you give goes directly to the reporting. No overhead. No printing costs. Just facts, stories and context. We're also a proud member of the Virginia Press Association. Thanks for your support.