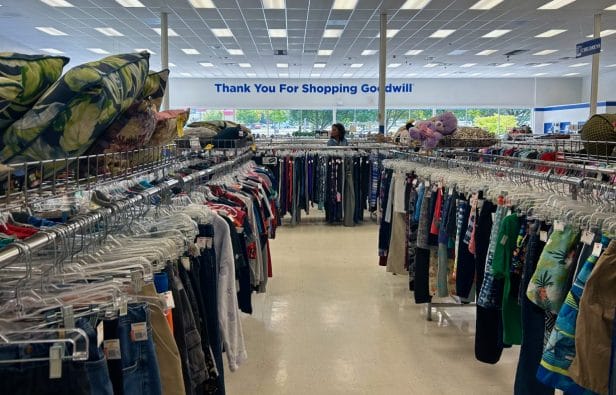 By Ciara Brennan, contributor
Editor's note: This is the first article in our Secondhand in the City series that examines Harrisonburg's secondary clothing market.
Outside of Gift and Thrift on a Tuesday morning in late August, Thomas Martin sorts through a white crib filled with jeans that cost 75 cents. The store's doors are locked and will remain so until Gift and Thrift opens in 15 minutes but already shoppers are perusing the outside items.
"I just look for good deals," Martin says as he inspects a waistline tag. A growing pile of rejects is draped over one side of the crib, and the half dozen pair he's considering for purchase are neatly folded on a display of books.
As Martin folds another pair of jeans for the consideration pile, he says he comes to Gift and Thrift a couple times a week for the "foolhardy" prices.
There are five thrift stores in Harrisonburg: Gift and Thrift, Mercy House, Tried and True and two Goodwill locations. First used in 1944, the term "thrift shop" describes a store that sells secondhand articles, especially clothing, to raise money for a charitable organization.
With the rising demand for cheaply-made, trendy clothing, called "fast fashion," thrift stores increasingly serve another essential role in the community: diverting clothing from landfills.
A staggering 69.9% of clothes and shoes end up in landfills, according to data by the Environmental Protection Agency. For many Americans, donating unwanted clothing is often seen as a cure-all for clothing waste, but this summer, The Guardian reported that charity shops only sell 20% of donated clothing. Where then, do the unsold and unwanted sneakers, jeans and jackets of Harrisonburg go? And what can we learn about our city from the items we discard?
"I think Gift & Thrift does a good service for the community," Martin said. But when asked if that influences his decision to shop here, he responds honestly: "I confess I'm not that idealistic."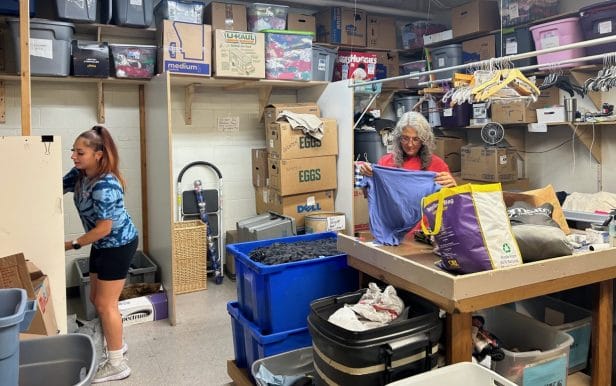 "We get everything"
The jeans that find their way to the crib in front of Gift and Thrift likely arrived in a plastic bag heaved from someone's trunk or a box hauled from the passenger seat, but their progression through the back processing area to the crib out front is just short of magic.
In 2016, Gift and Thrift underwent a massive renovation, which added about 8,000 square feet to the approximately 19,000-square-foot former Ray Carr Tire building. Within a week of the expansion, Executive Director Sue Nelson said her staff was already telling her, "We need more space." It's become a running joke.
The "full tour" of the processing area, led by Retail Manager Beth Tembo, takes nearly an hour and reveals a sophisticated system — almost like a society in and of itself.
Rooms lead to more rooms, where departments are marked by laminated signs hanging from the ceiling. A woman from Linens waves as she folds a bright striped beach towel. A broken nutcracker sits in Upcycle, reserved for items with "dents and dings" that, to the right customer, still have a bit of life in them or might be fodder for a second life.
Three women standing at a wood table look up and smile, their hands still working away at knotted necklaces in Jewelry. "They come in balls," one woman explains. Next to her, untangled necklaces are laid out flat.
Someone is hunched over a table in Furniture vacuuming a chair cushion. In Thriftique, the boutique section of Gift and Thrift reserved for "unique, handmade or ethnic" items, a woman is running her hands over two ornately carved wooden spoons.
"We get everything," Tembo says, moving gracefully along concrete floors clogged by hulking Gaylord boxes. "We've gotten live animals—we get everything."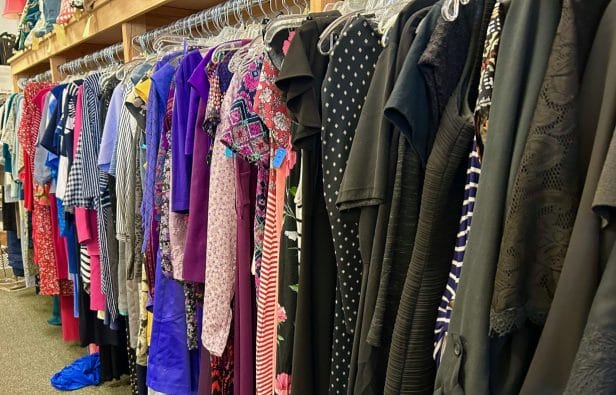 The cream of the crop
On the average day, Gift and Thrift receives 13 to 15 Gaylord boxes, which are roughly four feet by four feet, of raw donations—not including furniture. After Gift and Thrift workers move the Gaylord boxes inside, they sort items into departments.
"Clothing donations are our No. 1," Nelson said. It's a trend across city thrift stores.
Michael DelBiondo, the retail manager at Mercy House, said the store receives two truckloads of donations a day, and clothing comprises the bulk of the store's donations and sales.
"It's our biggest money-maker," he said, "and that's even when we were selling clothing at $1, which we did for over 15 years."
At Tried and True, which receives as many Gaylord boxes in one week as Gift and Thrift receives in one day, Rohrer estimates that 60%-70% of donations are clothing.
Betsy Whitesel, manager of the Goodwill North in Harrisonburg, said her team receives, on average, 100 donations per day. One "donation" could be a single grocery bag—or an entire U-Haul. Clothing "is the majority of our donations," added Lisa Sexton, the eastern district manager for Goodwill.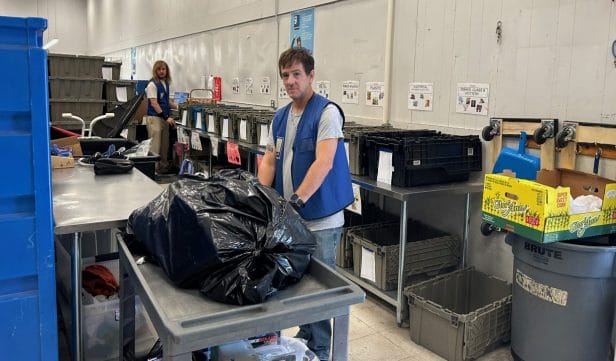 At Gift and Thrift, clothing arrives at Diann Beach's table for the "first sort." Holding each item up in the fluorescent light, Beach inspects each article for quality, seasonality and staining—on the front, armpits and neck. She has an eye for what will sell.
At thrift stores across town, her role has similar counterparts, and each thrift store has their own standards for the sales floor.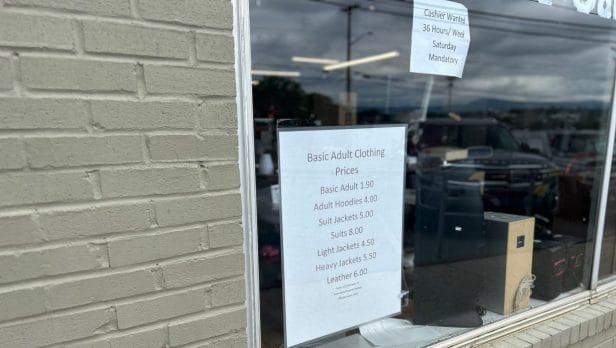 At Mercy House, there are five possible destinations for donated clothing, depending on its quality, and one employee who decides the route.
"She touches every piece that comes in there," DelBiondo said. "Whether it's in a bag or a box, it goes through her hands and she knows exactly where I would want it."
At Goodwill, Whitesel and the other managers review all clothing items before they go to the floor.
At Tried and True, co-owner Ondray Rohrer said a team of four women sorts through the clothing.
"We're small enough that we have to be very selective," she said.
One woman is the "final pricer," Rohrer added. "She has the last set of eyes on the garment, and she's just so good at it."
As the weather cools, Gift and Thrift will keep fewer pairs of shorts, bathing suits and tank tops, even if they are high-quality, because "that's not what people are looking for," Beach said. "We can't keep everything all year."
Tembo gestures to the few storage boxes stacked along the back wall, which are reserved for out-of-season items they can't bear to part with—clothing that is vintage or brand new with tags.
"We do not have storage here," Tembo says. "We kind of keep the cream of the crop."
After the first sort, boxes of clothing are examined one more time by Dee Brooks, the team leader for clothing, who stands at a long wooden table surrounded by clothing racks with translucent plastic hangers.
If she finds a previously overlooked stain or spot, she adds the shirt to one of the gray baler bins scattered around the room.
"A lot of people here, workers, will go in and pull things out," Tembo says, lifting a navy pullover out of the bin. "And we even make money on it."
Workers pay 50 cents for items taken from the baler bin, which they pay up front. While the price tag may seem meager, a pound of clothing sells for less than a quarter on the secondary market.
Items are then hung according to type, size and color, and priced according to a set of guidelines.
"We cut our own tags," Tembo says, as she moves toward a woman bent over a Swingline paper cutter. The volunteer lines up a baby blue sheet of paper printed with "LINENS $3.00," then drops the guillotine to cut tidy square price tags.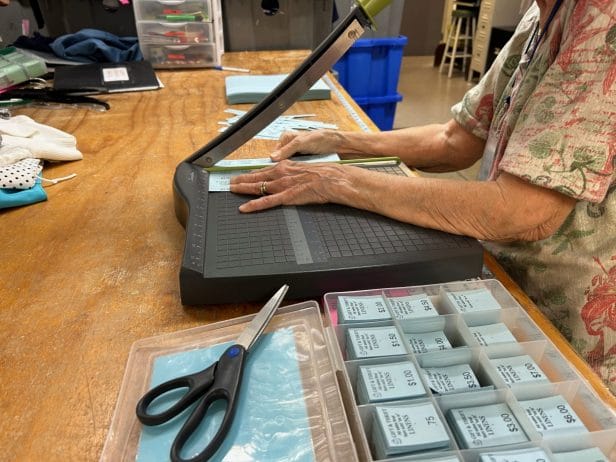 Then, Tembo opens a door to a space intended to be a conference room when the store expanded.
"But we just don't have enough space for our work so it's been taken over," she says.
Against the right wall, a large wooden shelf holds clear bins filled with clothing—t-shirts and jeans, mostly—that will soon join the crib outside. Tembo explains that the items didn't "quite make the cut" for the sales floor, so they'll be sold for under a dollar out front.
"So that's another way to just try to give them a life," she says.
Mixed bags and varying quality
Beyond the double doors and down a long concrete ramp, the hum of people working is replaced with a loud mechanical groan as a volunteer demonstrates the strength of the cardboard baler on a group of boxes.
Given the robust repurposing efforts at Gift and Thrift, it's a wonder any clothes end up in the baler, but the hulking bales of clothing prove how even Gift and Thrift cannot save everything.
Throughout the sorting process, baler bins get filled with items that are overly worn, are of low quality or have mild stains, such as spots that could likely be remedied with a good wash at home.
At Goodwill, Sexton said they have stopped stocking Walmart brands on the floor. "They're not made for more than one-owner use," she said. Now, they go straight into a Gaylord destined for the baler. "Every day we send out two Gaylords of baled clothes."
DelBiondo said 30-40% of donated clothes are bagged (they do not use a baler) without ever reaching the sales floor because of staining, odor or damage. Bags go into a tractor trailer eventually to be sold to a secondary market vendor.
"We get paid by the pound for it, and then they send it off to probably China, where they recycle the textiles," DelBiondo said.
Rohrer said Tried and True doesn't have access to a baler. The store sells items that are in near-perfect condition—no signs of wear— and "the rest of the stuff, we bag it up, and we take it over to Goodwill."
"We do have an issue with quality," Rohrer said. Some people view Tried and True as "a place to get rid of stuff that they hate to throw away. And they let us do it."
She also said her store hasn't experienced a dramatic increase in fast fashion brands, though she's noticed some.
"I'm getting SHEIN clothing, and it's cute, but it doesn't last," she said.
Another common problem is that by the time clothing is donated, even if it is high quality, it is often too worn to be resold.
A few days earlier, Rohrer said she thanked a man for his three bags of donations. "He said, 'You'll probably throw most of it away. We wear our stuff out till it's pretty much not usable.' And that's what it was."
"Men do something to clothing or their shoes…" Sexton said. "They will keep it forever, and based on what our quality expectations are, it's probably the lowest section in our stores."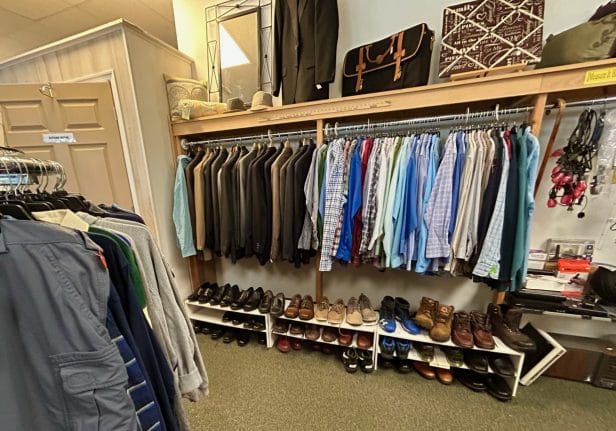 Tembo's team estimates that 40% of clothing donated to Gift and Thrift goes straight to the baler—half because it is of poor quality and the other half because it is stained. They also bale clothes that don't sell after their four-week rotation on the floor, although it's a small proportion.
"Our average a week that we put out is about 3,500 pieces, and our normal bale is below 250," Brooks explained. "So it's very low percentage that we bale."
The Goodwill North location also bales few items from the retail floor. "This store has about a set of 75% overall sell through rate," Sexton said. "And as a company we're at about a 53% average sell through rate."
At Gift and Thrift, employees stack the bales four high until there are enough to fill the back of a tractor trailer. Then, the bales are sold to a secondary market for 19-20 cents per pound.
"Some people are under the impression that we can recycle the clothing, which—it doesn't get recycled," Tembo said. "There are limited ways [to recycle clothing]. Even for [the fashion industry], they're struggling to recycle it, so we just bale and sell it off."
Just 1% of clothing globally is recycled into new garments, a process called "material to material" recycling. Even high street stores like Levi Strauss and H&M that recycle clothing don't recycle it into new garments, but rather carpet underlay, insulation material or mattress filling.
Recycling textiles is a complicated process. Not only do fibers require sorting—a time consuming and labor intensive process—but many fabrics are made of blends that cannot be easily separated. Last year, Swedish pulp producer Renewcell opened the world's first commercial-scale, textile-to-textile chemical recycling pulp mill, after spending 10 years developing the technology.
"The whole lot goes overseas where either somebody might buy it to make their living, or I've heard that sometimes they are shredded for installation," Nelson said. "I have a volunteer from Uruguay who says that they make it into rags to make these balls that the mechanics use to get grease off their hands."
Ghana is the biggest importer of secondhand clothing, importing approximately 15 million items each week. Recently, entrepreneur and activist Yvette Yaa Konadu Tetteh swam down the River Volta to bring awareness to the damage secondhand clothing dumping has done to her country's waterways.
"Historically I think [bales of clothing] were needed, but now it's like so much it's going overseas," Tembo said. "I don't know that some of the places need them as much, and sometimes they complain that they can't build up their own textile industries and clothing industries. So it's a mixed bag."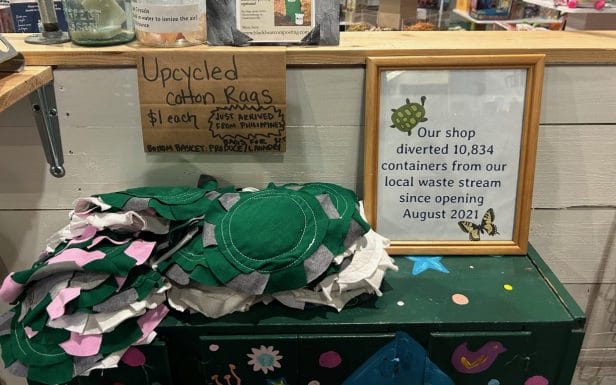 One man's trash …
The last stop on the Gift and Thrift processing tour is the loading bays, where dumpsters await their trip to the landfill. Tembo's team estimates that 10% of clothing must be trashed immediately.
At Mercy House, DelBiondo said his team tries to educate donors about which items are re-sellable and which should be thrown away.
But "it's a fine line to walk," he said. "It's hard to tell somebody who has good intentions, you know, 'Well we really don't want to take this stuff.' It could hurt someone's feelings, so we're very cautious not to do that, even if it means taking the stuff sometimes."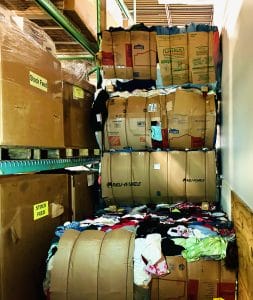 Some intentions seem a bit clearer. Gift and Thrift, Mercy House and Goodwill all reported "overnight dumpings" of trash at their nonprofit locations.
Each morning, Mercy House employees find items, which are "obviously trash," left by the donation gates, behind the building or on the hill, DelBiondo said.
Tembo said the same happens at Gift and Thrift.
"You can tell they just don't want to pay to take it to the dumpster," she said.
While "one man's trash is another man's treasure" might ring true in the Upcycle section of Gift and Thrift, when it comes to items that should have been discarded at home, one man's trash becomes a thrift store's burden—and often financially.
In January 2018, the Rockingham County Landfill started charging local charitable organizations the regular waste drop-off fee of 52 dollars per ton. Last year, DelBiondo said Mercy House paid almost $18,000 in landfill fees alone.
Sexton said Goodwill stores spend anywhere from $3,000-7,000 a month in trash. And the store doesn't just have a problem with overnight dumping, but also stealing. People sneak onto the property and take donations left outside the store and sometimes even post videos of themselves doing that.
"In some areas, it's getting really out of control to where we're trying to figure out how to block off our donation areas," she said. "I mean, people are videotaping it and putting it up on reels on Facebook, like 'Hey, look what we're doing to Goodwill.'"
Sexton said she thinks social media has contributed to misinformation and misperceptions about Goodwill.
"First of all, you're breaking the law and you're stealing from a nonprofit that you know we do—regardless of what people put on Facebook—we do good," she said.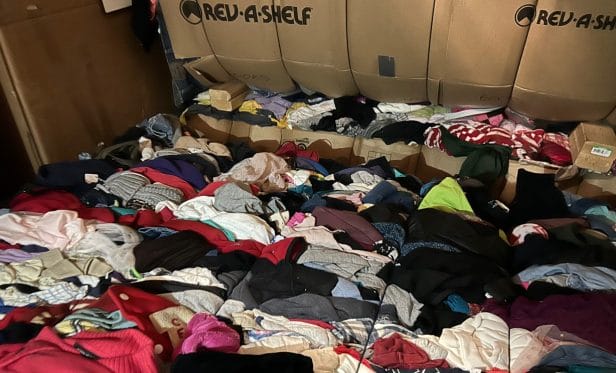 "Shopping with purpose"
Across the city, thrift store managers said customers might be surprised to learn how their organizations impact the local community.
DelBiondo said that Mercy House is a "living wage organization" that also gives clothing away to locals experiencing homelessness.
"Nowhere else in the community can someone come in while the store is open and get stuff for free in that way. And we do that," DelBiondo said.
"I think what's most near and dear to my heart is we also support local nonprofits serving mostly at-risk populations in Harrisonburg Rockingham Augusta counties," Nelson said.
"You know this is shopping with a purpose," Rohrer said. "And the proceeds here are not filling the pockets of the people that run this place."
But the degree to which a thrift store's philanthropy affects shoppers' decision to patronize it remains unclear.
Allison Heinrich left Mercy House carrying two bulging bags of "Goblin-core" attire—a combination of fairy and renaissance vibes—for her small business Community Culture Thrift Exchange. Clients design wardrobe Pinterest boards, and Heinrich creates their dream wardrobe through shopping secondhand.
"People want to support these nonprofits and these missions, but they just don't have the time to come sift through the clothes or sometimes it just feels really scary," Heinrich said.
"And so we just take the fear out of thrifting by doing it for them and showing them that look, you can be sustainable, you can give second-hand a new chance."
She's also optimistic about shoppers' motives.
"I think everyone's looking for ways to be more eco-friendly and to be more sustainable," she said. "Price definitely plays a part, although sometimes you end up paying the same price even though it's thrifted."
Mother-daughter duo Cecile Watson and Nicole Schulthers from Fells Point in Baltimore visited Tried and True looking for big, soft-t shirts for their work-from-home wardrobe.
Watson said the low prices is what attracts her to shops like Tried and True.
"And a thrift store where we're reasonably comfortable that the money is actually going to a good cause," she said.
The effort it takes to sort and sell such clothes make the staff and volunteers vital to operating a thrift store. Gift and Thrift alone relies on a team of more than 100 volunteers and 55-60 employees.
"Unlike any other retail establishment, we don't get 50 of this and 30 of that that makes it very easy to stock. We get one of everything, and so every item has to be touched and handled in some way," Nelson said.
"I often say we do 100 impossible things every day."
---
Thanks for reading The Citizen, which won the Virginia Press Association's 2022 News Sweepstakes award as the top online news site in Virginia. We're independent. We're local. We pay our contributors, and the money you give goes directly to the reporting. No overhead. No printing costs. Just facts, stories and context. Thanks for your support.