By Rachel Petterson, contributor
The Harrisonburg City Council unanimously approved a new housing development aimed at college students to be built on Port Republic Road on the land where there is currently a CITGO gas station and adjacent field between Bradley Drive and Devon Lane.
The development, called The Vista at Forest Hills, is planned as mixed-use with a convenience store and a restaurant with 119 apartment units above them filled with a maximum of 440 bedrooms. The development is slated to begin rentals in fall 2026.
The residential part of the construction will be no more than four stories tall, while the parking and businesses will be no more than a combined three stories below that, according to the developers' plan. While parking below the building will reduce the amount of surface parking spaces needed, some parking spots are planned.
The parking structure is similar to that of Urban Exchange, said Ed Blackwell of AES/Blackwell Engineering, who represented the site owner, DCI Partners, LLC, at Tuesday's council meeting.
The land on which this building will be constructed is currently a gas station, which will be demolished, and an open field. The site owners have agreed to plant one large deciduous or evergreen tree at least every 50 feet on the back end of the property along Village Lane.
Among the reasons city council members said they liked the proposal was because it is within a mile walk of both the historic Bluestone part of JMU's campus and the newer eastern part of campus, bringing more student housing closer. Several council members said they believed it will free up other housing in the city that can serve other people.
"We look at all levels of housing because that's what you have to do to get out of a housing crisis, and so this is an opportunity to put student housing–and it's a beautiful project–in an area where students should be and want to be," said Mayor Deanna Reed. 

Port Republic Road improvements expected in 2025-26
The city has already been planning construction on Port Republic Road between Hunters Road and Devon Lane by adding a traffic light and crosswalk with signal, as well as a new turn lane and median at the intersection of Bradley Drive and Port Republic Road. Construction is fully funded through the VDOT SMART SCALE program, with construction to begin in 2025 and completion projected for 2026.
The approval of The Vista at Forest Hills came along with agreements for the developers, DCI Partners, to help improve surrounding roads, including kicking in some money and dedicating land to Port Republic Road's improvement.
The city plans to construct a one-way bike lane going down the hill of Port Republic Road toward I-81 separated from the road by a buffer, as well as sidewalk–separated from the road and from the bike lane– with a portion along the frontage of The Vista at Forest Hills. Along with supporting this project, the developer has agreed to give the city additional land if a second bike lane going up the hill is needed on both sides of the road.
DCI Partners also agreed to:
Extend Bradley Drive through the property. This will initially be a private road but Blackwell expressed that they plan to give the road to the city in the future if appropriate considering future surrounding developments. They will also connect the sidewalk along Bradley Drive to the adjacent Forest Hills Manor.
Construct a median at Sully Road where it connects to Devon Lane. 

Chamber of Commerce considering a partnership with Kosovo town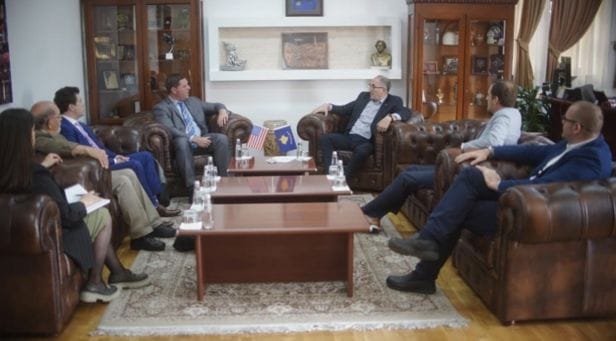 The Harrisonburg-Rockingham Chamber of Commerce is pursuing an "official cooperation" between Harrisonburg and Prizren, Kosovo. Chamber members visited Prizren in August to build relationships with officials there, and they approved an agreement with the Prizren chamber of commerce.
On Tuesday, Thomas Ray, representing the Harrisonburg-Rockingham chamber, told the council the group aims to "build business relationships, economic relationships, to try to build some bridges between our two countries."
This effort is meant to be led by local businesses with the chamber's support, and now the chamber is asking the city to come on board.
The city would not be making legally binding agreements as part of this partnership, nor was the chamber asking for city funds. Council members expressed interest and asked city staff to continue conversations with the chamber about the opportunity. 

Portion of Massanutten Street to close
The council unanimously approved closing the remaining portion of Massanutten Street just north of downtown where it connects to West Washington Street.
This comes at the request of Shenandoah Valley Organic, LLC. The other portion of Massanutten Street has been closed since 1990, but the area still remains traversable and vehicles often cut through, which puts them on private property of Shenandoah Valley Organic where the rest of Massanutten Street used to be. The company plans to construct a fence around their property to prevent future cut-throughs upon the closing of this portion of Massanutten Street.
Council member Monica Robinson said that she lives near this business and can see how keeping the road open would be a safety hazard as vehicles drive through areas where Shenandoah Valley Organic employees are entering and exiting buildings. 
— Reporter Calvin Pynn contributed to this story.
---
Thanks for reading The Citizen, which won the Virginia Press Association's 2022 News Sweepstakes award as the top online news site in Virginia. We're independent. We're local. We pay our contributors, and the money you give goes directly to the reporting. No overhead. No printing costs. Just facts, stories and context. We value your support.