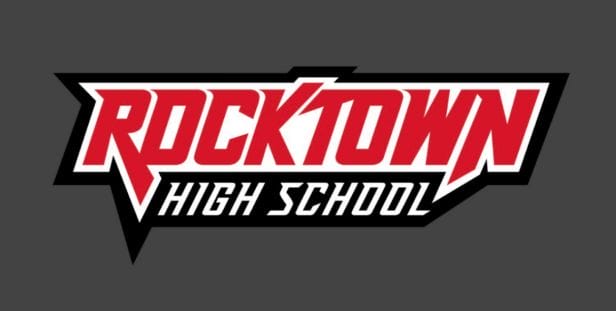 By Haley Thomas, contributor
Rocktown High School has its official logo thanks to the combined efforts of students at Harrisonburg City Public Schools and James Madison University students and a professor from JMU's School of Media Arts and Design.
The unveiling of the logo at Tuesday's school board work session marks a key milestone for the new high school, which being built between South Main Street and I-81 and is slated to open in fall 2024. And to Prof. Adrienne Hooker, whose visual design students worked on the project, the resulting design is "more than a mascot."
Superintendent Michael Richards unveiled the new school's mascot — the Rocktown Raptor — at the HCPS school board work session on March 21. Richards said he knew he wanted to work with students to design the small, sharp-toothed dinosaur, and that the project would require a lot of helping hands.
Richards asked Hooker to consult on the project soon after the mascot was chosen.
"I said immediately, 'You need more than a mascot,'" Hooker said. "'We were branding a brand new school, and mascots are super fun and great for school spirit. But we also needed to think about the school as an academic institution.'"
Hooker said the first step in the design process was to have the Harrisonburg city schools' art and computer graphics students brainstorm what impression they wanted the mascot to give. They came up with 12 words, including "fierce," "strong" and "determined."
She said she then had students apply the words to their sketches, creating "fierce lines" and "strong shapes."
Once the students finalized their sketches, it was time to apply the mantra of Tamara Mines, Rocktown High's principal: "belong, believe, achieve."
Hooker said adding these three words to the logo "became just as clear as the school spirit of the Raptor."
Next, Hooker said she brought the sketches to students in the upper-level visual communication design course at JMU.
"Being a part of this whole process was truly so cool and watching this logo come together was extremely satisfying," said Alysun Sanders, a JMU junior majoring in media arts and design. "I think [this logo] definitely beats all rivals."
Sanders said they wanted the letter 'R' in the logo to be instantly recognizable, so that "when you see it, you think of Rocktown."
"And that 'R' looks like it's kicking someone's behind," board member Emma Phillips said, prompting laughter from meeting attendees.
Sanders said the deliberations over the mascot were tough, but Rocky the Raptor ultimately won.
"The idea behind choosing Rocky [the Raptor] was that he has his own personality and that he can serve as a symbol of unity for students," Sanders said. "And he's fierce, without looking super mean."
Mines said she's thrilled with the new school's logo and mascot.
"This is when we begin to bring Rocktown to life," Mines said. "Working through the whole process…making sure that one Rocktown represents everyone and it's inclusive — that's just critical to growing into your identity. I'm so grateful for the opportunity to come into Harrisonburg City Public Schools and have this opportunity to help build and grow."
---
Thanks for reading The Citizen, which won the Virginia Press Association's 2022 News Sweepstakes award as the top online news site in Virginia. We're independent. We're local. We pay our contributors, and the money you give goes directly to the reporting. No overhead. No printing costs. Just facts, stories and context. We value your support.