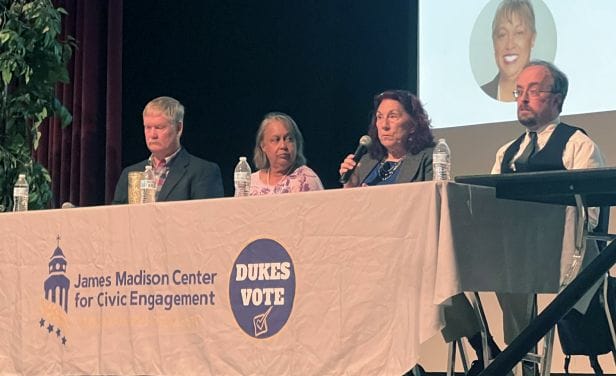 By Laura Boaggio, contributor
If elections are job interviews for public officials, only a handful of those job candidates showed up to answer questions from their future bosses — the public — on Monday night.
All seats in the Virginia legislature are on the Nov. 7 ballot, as are local offices in Rockingham County, including the board of supervisors and county's school board seats. (Harrisonburg elected offices, such as city council and city school board, are up for re-election in even years.)
At Monday's forum, organized by the Madison Center for Civic Engagement at JMU, only one local race drew full participation from the candidates running in it: the 34th Virginia House of Delegates District contest.
Incumbent Del. Tony Wilt, a Republican, and Esther Nizer, the Democratic challenger, both took the stage at Memorial Hall in Harrisonburg to make their pitches to a sparse crowd of a couple dozen people, although the forum was live streamed. This is the first election with the newly drawn House of Delegates districts, and the 34th District covers Harrisonburg, as well as Elkton, Singers Glen, Edom, Linville, Keezletown, Massanutten, Penn Laird, McGaheysville and Massanetta Springs.
In every other competitive local race and in the 2nd state Senate District contest that covers Harrisonburg, at least one of the candidates didn't attend, telling organizers they either had a scheduling conflict or by not responding to the invitation.
Still, the candidates for state Senate and House of Delegates who did show up spent the first hour of the forum discussing issues such as transportation, childcare and affordable housing in the Valley. The candidates for the Rockingham County offices who attended discussed more local issues during a second hour of the program.
Of all the candidates running for those two county entities, only four candidates showed up: incumbent District 2 Supervisor Sallie Wolfe-Garrison and Jared Cromer, a candidate for District 4, for the Board of Supervisors, and incumbent school board member Charlette McQuilken of District 4 and Amber B. Ham, who is running in District 2. Paula E. Lam, who is running in District 5, had planned to attend but had a medical emergency.
Kathy Beery, a Democrat, and Joshua Huffman, a libertarian, attended the forum in anticipation of the 2nd State Senate District race in which both are competing against incumbent Republican Sen. Mark Obenshain for a four-year term. Obenshain has served in the Senate since 2004 and was reelected in 2019.
Obenshein missed the forum because of a previous engagement, said Kara Dillard, associate director of the civic engagement center The forum was co-sponsored by the Shenandoah Valley Bicycle Coalition, JMU's Center for Civic Engagement, The Breeze, The Citizen and the Harrisonburg-Rockingham Chamber of Commerce.
The only flare-up — which has become all too common even in local American politics lately — didn't come from the stage but from a member of the audience, who tried to interrupt Wilt during the closing statements and yelled about the state legislature not passing the Virginia budget on time. Overall, though, candidates seemed to find more common ground than not on questions — just not on every topic.
State Senate Race District 2 
Senate candidates shared similar sentiments about housing and infrastructure in the Valley, but had different thoughts about reproductive rights and childcare.
Huffman, a long-time Shenandoah Valley resident and City of Harrisonburg employee, said he struggled with expensive rental prices while living in Baton Rouge and working for Louisiana State University shortly before the pandemic. Huffman said Virginia should change zoning laws to support the increase of housing and level out the high demand.
Beery, a community activist and former teacher, said wages need to keep up with rent so that housing costs don't take such a big bite out of people's income. She said affordable housing is also liveable housing, and if landlords stayed local to their properties, they might maintain them better than landlords living out of state.
While agreeing about that, the two clashed on the topic of reproductive healthcare.
Hoffman said he believes people have a right to bodily autonomy but if it hurts another individual, like an abortion, the state government should step in.
"In the same way that if a child were being abused say at the age of one or two, I would want something to be done," Huffman said.
Beery disagreed, saying she supports bodily autonomy and privacy.
"It is not a good thing to be telling any woman, unless you're a physician, what you should be doing with your body," Beery said.
Beery said easy access to birth control, pregnancy planning and sex education lowers abortion rates, and a lot of those resources have dwindled.
Beery said if Virginia enacted a 15-week abortion ban, she would support programs aiding lower income people, especially those who earn just above the federal poverty level but still struggle. Because that population is just above the poverty line, they often miss out on social services, Beery said.
Huffman said he would like to make adoption easier in Virginia if a 15-week abortion ban were enacted. Many qualified people are waiting a long time to adopt, he added. He said he would also support giving parents affordable access to supplies like diapers.
Additionally:
Huffman said the state government should encourage more private development of childcare facilities to increase competition and therefore raise wages for childcare workers. Beery suggested colleges could offer childcare training for people to earn their certification and avoid low wages during training periods.
Beery said grant funding for transportation projects and after-school programming doesn't cut it. It's unreliable because groups need to reapply for grants every couple of years and qualifications could change, she said. Huffman said the state should do a better job keeping roads safe and inspected like cars.
House of Delegates District 34 
Wilt, a lifelong Shenandoah Valley resident, said he sees public transportation and infrastructure as separate issues. Wilt serves on the I-81 Committee, which provides recommendations on ways to fund improvements for the I-81 corridor. But public transportation is a harder nut to crack in a rural area like Rockingham County, Wilt said.
It's not an impossible feat, though, he added.
Nizer, a former JMU technology trainer, said she is excited by programs like Jaunt, a curb-to-curb demand-response service serving Greene County.
"It's kind of like an Uber but it's at no-cost because there are dollars available to that," Nizer said.
As a former licensed realtor in the Valley, she also had some ideas on affordable housing.
A first-time homebuyer's credit encouraged her to buy her first house in Texas, she said. She wants to look for incentives along those lines. Additionally, she wants to define the word "affordable" so communities can measure progress, she said.
Wilt said the General Assembly has tried to address affordable housing in recent years, and one solution was to offer tax credits to builders in exchange for making rental units for low-income tenants.
Wilt said other factors at the local level — such as zoning, environmental regulations, and limited land — affect the cost of housing and must be balanced to create affordable prices.
Wilt said Gov. Glenn Youngkin's proposed 15-week abortion ban is a reasonable one, as most developed countries have an abortion standard. He pointed out the governor makes allowances for certain situations. Nizer said if a 15-week ban were enacted, it could harm women who have complications later in pregnancy and are forced to carry to term. She said she has a hard time with the government telling women what they can and cannot do with their bodies.
Wilt and Nizer agreed to study the viability of after-school programs and fund where is needed.
Rockingham County candidates 
Candidates for the Rockingham County Board of Supervisors and School Board took the spotlight next – although no one on stage was running against another.
Incumbent Sallie Wolfe-Garrison, who is running unopposed in District 2, sat next to Jared Cromer, who is running in District 4. Cromer is running against Leila Longcor to fill the seat of Bill Kyger, who did not seek reelection.
Longcor did not attend the forum, and neither did incumbent Joel Hensley, who represents District 5, and is running unopposed.
The Board of Supervisor candidates fielded several questions about county land use, and they both agreed on making decisions on a case-by-case basis.
Cromer said part of the evaluation process would be guided by the county's Comprehensive Plan, a 10-20 year plan that guide's the county's direction and priorities for growth, services and land-use regulation.
Similarly outlined in the Comprehensive Plan, Garrison said the supervisors are focusing growth around the county's seven towns because public water and sewer is more accessible, and it also prevents urban sprawl. Garrison said to balance smart growth with the agriculture industry, the supervisors are approving land plans in spaces that make sense for them.
The two Rockingham County School Board candidates who attended often echoed each other's sentiments, especially when discussing parental rights in schools. Amber Lam, running in District 2, said parents and teachers should collaborate to ensure a child is happy and safe. Charlette McQuilkin, who is running for re-election in District 4, said parents have more access to information about their children now, such as grades and assignments, than she had growing up or when her children were in school.
One of the final questions of the evening spoke to the theme of collaboration that appeared throughout the forum.
An audience member submitted a question asking whether, in light of the county's Parks and Recreation Department ending an afterschool program, the school board candidates would push the board of supervisors for funding and whether the supervisors would support it.
Cromer said he had questions about the cut to after-school programming because it affected his family. He said he quickly learned why it had to happen, though. The after-school programs were severely understaffed, all candidates said. They also agreed that both the school board and the supervisors could push for support, especially from private partnerships.
---
Thanks for reading The Citizen, which won the Virginia Press Association's 2022 News Sweepstakes award as the top online news site in Virginia. We're independent. We're local. We pay our contributors, and the money you give goes directly to the reporting. No overhead. No printing costs. Just facts, stories and context. We value your support.