By Bridget Manley, publisher, and contributors Calvin Pynn and Laura Boaggio
Sen. Mark Obenshain and Del. Tony Wilt, both Republican incumbents, won return trips to the state legislature on Tuesday night in newly redrawn districts.
Obenshain — running in the new 2nd Senate District that includes Harrisonburg, and precincts in Rockingham, Augusta, Page, Highland and Bath counties —  defeated Democrat Kathy Beery and Joshua Huffman, a libertarian candidate.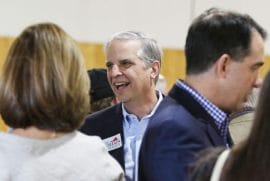 Obenshain received 70% of the vote, in unofficial results reported by the Virginia Department of Elections on Tuesday night. Beery received 28% votes, while Huffman received 2%. That was with 95% of votes counted by 11:30 p.m. Tuesday.
Although Beery won the vote in Harrisonburg by a wide margin – 4,554 votes compared to 2,493 for Obenshain and 149 for Huffman – Obenshain won comfortably in the rest of the district.
"It is an honor to be reelected to the Virginia Senate," Obenshain said in a statement to The Citizen. "Over the next four years, I will be representing a new district. I promise that I will do so with great energy and enthusiasm, and that I will stand strong for the values and principles I have represented during the past 20 years,"
Obenshain also congratulated Beery for "stepping forward" to run.
"She ran and energetic campaign," Obenshain's statement said. "I am deeply grateful to the voters of the new 2nd Senate district, by many supporters, who committed countless hours to the hard work of a grassroots campaign, to my outstanding staff, and most importantly to my family for their love and support."
Beery told The Citizen Tuesday night that she plans to run for the State Senate again.
"I'm telling people, 'Hang on to your signs,'" Beery said. "I'm going after him again in four years." 
Beery, who spent 20 years as a teacher, said she wants to tackle issues like improving education, which was a big part of what motivated her to get her involved in this year's race. She said she is frustrated with Obenshein supporting charter schools while making vows to support public education but not following through. 
Transportation, affordable housing and childcare were some of the main areas residents voiced concerns with, which are all interconnected and need to be addressed simultaneously, Beery said. 
Huffman joined Beery to publish a "paper debate" highlighting their positions and juxtaposing them against Obenshain's voting record.
"I'm grateful that I've got the opportunity to speak with as many students, both at the university and high school level," Huffman told The Citizen Tuesday night. "Those people are going to be our future leaders…It was great that there are still some people who are open minded enough to hear from all the choices available."
Wilt reelected with strong showing in county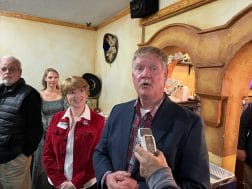 Del. Tony Wilt was reelected to a seventh full term in the House of Delegates, defeating Democratic candidate Esther Nizer by 58-42% margin, according to unofficial results published Tuesday evening. While Nizer won the city with 4,592 votes compared to Wilt's 2,608, Wilt won by a wide margin in the Rockingham County precincts that are part of the 34th House of Delegates district.
Wilt on Tuesday night praised supporters and Republican volunteers for their work throughout the campaign.
"You hear the term boots on the ground — that's a reality and many of you have been a part of that," he said at the Republican victory party at El Charro in Harrisonburg. "You've knocked doors. You've signed letters postcards you work the polls today. You've truly left it all on the field."
He said he wants to tackle energy issues, as well as Virginia's criminal justice system when he returns to Richmond for the 2024 legislative session. Whether Wilt returns to the House of Delegates as a member of the minority or majority party, still wasn't certain late Tuesday night as closely contested races in Northern Virginia, the Richmond area and Hampton Roads came down to the wire. (By early Wednesday morning, unofficial results showed Democrats earning a slim majority of seats in both chambers, with 21 in the Senate and 51 in the House, while Republicans led in several races that were still too close to call.)
Wilt said in an interview with The Citizen that regardless of the outcome, the job of every legislator elected will be to look out for the well being of Virginia's citizens. 
"That should be reflected in the work that we do in Richmond, to make the lives better for our citizens. I mean, they're facing, you know inflation and food costs and if you're going to buy a groceries, you know full well what I'm talking about."
Nizer told The Citizen that she had been talking with voters across the 34th District about transportation issues and still plans to highlight needs in that area.
"It doesn't go away because I lost – I just have to approach it from a different side," Nizer said.  
Nizer said she will seek to hold the General Assembly accountable on efforts to help Virginia residents. 
Several unopposed races round out city ballot
Harrisonburg City School Board member Tom Domonoske won an unopposed race to serve the final year of a four-year term, having been appointed to a vacant seat last year.
Also running unopposed in this year's election were Sheriff Bryan Hutcheson, Clerk of the Court Chaz Haywood and Commonwealth's Attorney Marsha Garst.
Conservative candidates roll in Rockingham Co.
In contested races for the Rockingham County School Board and Board of Supervisors, candidates who campaigned, in part, on their conservative credentials fared well.
Hollie Cave defeated Paula Lam for the school board's 5th District seat with nearly 62.5% of the vote, according to preliminary results.
In the school board's 4th District, Sara Horst defeated incumbent Charlotte McQuilkin.
"I'm so honored and so grateful for everyone's support and for your vote and your faith in what we're about to do for our county and for our school system," Horst said at the Republican Election Night watch party at El Charro.
In a three-way race for the board's 2nd District, Ashley Burgoyne narrowly defeated Larry Chico 39-35%, while Amber Ham garnered 25% of the vote.
"I'm super excited," Burgoyne told Republicans at El Charro. "I'm ready to get to work tomorrow."
And in the only contested Rockingham County Board of Supervisors race, Leila Longcor was leading Jared Cromer with 56% of the vote with one precinct left to report late Tuesday.
"I could not have done this without you [the voters] as a newbie, and I look forward to working with [supervisors Dewey Richey and Joel Hensley] and bringing some real conservativeness back to our board," Longcor said.
---
Thanks for reading The Citizen, which won the Virginia Press Association's 2022 News Sweepstakes award as the top online news site in Virginia. We're independent. We're local. We pay our contributors, and the money you give goes directly to the reporting. No overhead. No printing costs. Just facts, stories and context. We value your support.