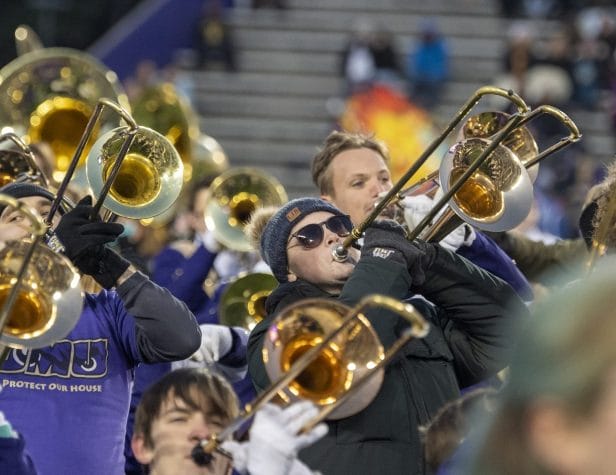 By Bridget Manley, publisher
Buy your groceries early, make your dinner reservations now, and batten down your hatches, because GameDay is coming back to town.
ESPN's College GameDay – ESPN's live pre-game college football show – will make its third appearance on the JMU Quad before this weekend's game against Appalachian State on Saturday.
JMU is on a hot streak – currently undefeated and nationally ranked – and the list of those who think they should get a bowl game now includes The Wall Street Journal. (Because JMU is in just its second year in college football's highest division, NCAA policy does not allow it to play in a postseason bowl).
And while there are still opportunities for you to make reservations at most restaurants downtown, out-of-town guests are running out of options to stay in the 'Burg, with most hotels completely booked.
Tickets to the game are also in demand, but businesses downtown will be having watch parties for those who can't get into Bridgeforth Stadium.
Whether you plan to cue on the quad for a spot to see the Jonas Brothers or hide under blankets until Monday, JMU has given guidance on where and how to take part.
What to know
JMU released the official FAQs Tuesday afternoon about Saturdays events.
The fun starts Wednesday as the set arrives and is set up. Friday there are several opportunities for students and residents to get on camera during live spots throughout the day and on ESPN's Pat McAfee Show.
Fans are "encouraged to attend," according to JMU.
The College GameDay set will be located on the quad, with Wilson Hall as the backdrop. The show will go live from 9:00 AM – 12:00 PM on ESPN. As part of their show, JMU students will have an opportunity to get into "the pit" – the area directly behind the broadcasters – but only 450 students will be allowed in.
South Main Street will not be closed during the live show, but JMU officials are advising community members to avoid the area during the hours of the show.
Harrisonburg Transit will start shuttle service at 8:00 AM, and parking will technically be available but will fill up quickly.
Visitors may use general parking areas on Warsaw Avenue, Chesapeake Avenue, Mason Street and Grace Street parking decks, R14, C13 on Grace Street and C7, and C8.
Other fans, including the general public, will be allowed on a first come-first serve basis to fill the other areas of the lawn.
Getting there on Friday might get you a good spot, but dress for cold and wet conditions overnight. While "claiming space" overnight will be allowed, tents are prohibited. The forecast calls for a low of 45 degrees and a 50% chance of rain.
Only students wearing purple shirts and with a JACard will be admitted to the pit beginning at 6:00 AM on Saturday.
Signs are encouraged for the broadcast, but cannot contain any derogatory, vulgar or political messages, and cannot have sponsored content.
At 11:00 AM the Jonas Brothers take the stage with Bailey Zimmerman on the quad. It's unknown how many songs the group will perform, but they will stick around after the show ends to play a few more songs for the crowd.
With College GameDay ending at noon, gates at Bridgeforth Stadium will open 30 minutes earlier than usual at 12 p.m. The game will begin at 2:00 PM.
According to the Richmond Times-Dispatch, the event has drown crowds of over 10,000 fans to the quad for previous GameDay shows, and that was before the move to the Sun Belt Conference.
The seating capacity for Bridgeforth Stadium is 24,877.
"Being selected as a host for ESPN's College GameDay brings significant national exposure for JMU, our student-athletes and the community as a whole," said Mary-Hope Vass, university spokesperson, in a statement to The Citizen. "We are excited to celebrate the success of the football team and recognize the very intentional rise to becoming a national institution."
Bad News and Good News
The bad news: tickets to the game and a place to stay are getting ever harder to obtain.
JMU says that the game is sold out, although tickets are available for resale on Seat Geek. Those tickets are currently running between $155 and a whopping $910 per ticket.
Most hotels in Harrisonburg are also sold out, including Hotel Madison, Hyatt Place, Fairfield Inn and Suites, Clarion Point Hotel and many others.
Airbnb shows four "stays" available in Harrisonburg for rent this weekend.
The good news: many restaurants in Harrisonburg still have a lot of availability for dinner reservations on Saturday night.
The Local Chop and Grill House, Rocktown Kitchen and The Joshua Wilton House all have many reservations open for Saturday. The Local Chop and Grill House also has bar service with first come-first serve seating Saturday night.
Other establishments, like Bella Luna Wood Fired Pizza, are opening banquet space for dining service and firing up additional ovens to accept more guests on Saturday night.
Others – like Urgie's Cheesesteaks – are opening early to host watch parties. Urgie's will open an hour early – 10:00 AM – to host a watch party of GameDay and then the football game, according to co-owner Tommy Urglavitch. Urgie's can seat 134 people and will seat on a first come-first serve basis.
Andrea Dono, Executive Director of Downtown Harrisonburg Renaissance, tells The Citizen that they expect downtown businesses to have a very busy Saturday, especially as people eat lunch before the game or head to watch parties around town. She says that typically, downtown breweries and restaurants like Jack Browns and Billy Jacks have watch parties as well.
City spokesperson Michael Parks said that as they get closer to the weekend, the city will use social media accounts to remind residents and students to use public transportation and avoid certain areas, although they do not plan to close any streets during the day.
Finally, after the fun settles down late Saturday night, expect a quiet week in the 'Burg, as students leave town for the Thanksgiving break. Dorms will close to students for the week beginning Sunday morning at 10:00 AM.
---
Thanks for reading The Citizen, which won the Virginia Press Association's 2022 News Sweepstakes award as the top online news site in Virginia. We're independent. We're local. We pay our contributors, and the money you give goes directly to the reporting. No overhead. No printing costs. Just facts, stories and context. We value your support.