Editor's note: This is part of a series of profiles for each of the five candidates running in the Nov. 6 election for Harrisonburg City Council. The profiles will run between Nov. 1 and Nov. 2.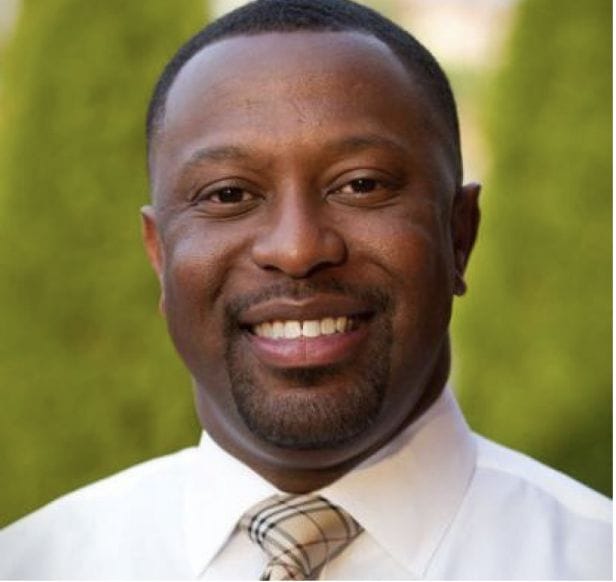 By Liesl Graber, contributor
Democrat Chris Jones, a former mayor and the only incumbent in this year's five-way race for two seats on City Council, is not interested in fluff on the campaign trail – focusing instead on what he describes as "real issues that need to be fixed."
Accordingly, the core of his re-election platform includes prioritizing school development, environmental sustainability, community justice, and helping the 60 percent of people in Harrisonburg considered "Asset Limited, Income Constrained, Employed," or ALICE, as outlined in a 2017 report from the United Way.
"[These] are four things that I'd like to see done, primarily because they came from the community," he says.
In addition, Jones is basing his campaign on being a parent and a Christian. "It's important that we help individuals, that we sustain and protect the earth that God gave us, make sure that we leave it in as good of shape if not better shape than we received it," he says
Building a new high school
One of Jones' top priorities as a councilman is finding a solution for the overcrowding at Harrisonburg High School. Since joining the City Council in 2015, Jones has pushed hard for building a new school as soon as possible.
"We're behind on plans for overcrowding," he says. "If we have a more proactive attitude, we won't be in this position." Kids are "not being served properly" in the current school building, he continues, nor can teachers maximize their resources or talents.
At a council meeting in January, Jones made a motion to begin construction of a new school to open in 2021. The motion failed, and was immediately followed by another to delay the opening until 2023, which was approved on a 3-2 vote, with a visibly disappointed Jones voting no.
Jones has three children in the city school system. Justin Banks, his neighbor, has four. "The overpopulation is unsafe," Banks says, pointing to large class sizes, crowded hallways, limited lunchroom space, and unclean bathrooms. "It's about time somebody did something."
Deb Fitzgerald, chair of the Harrisonburg City School Board and a past chair of the city's Democratic Committee, noted Jones' consistency in voting according to his promises.
"Chris is the most vocal, pushing to build the school as early as possible, which I totally agree with," she says. "His vote is on the record."
A bridge-builder, who supports of new city staff positions
Jones has taken clear stands on hot recent topics in Harrisonburg such as environmental sustainability and criminal justice, and supports the creation of two new city staff positions: a sustainability coordinator and a community justice planner. Both positions have been requested by citizen groups working on these issues.
Jones sees himself as a servant leader who connects bridges and keeps communication flowing between diverse communities. "I build bridges between people," he said at a recent candidate forum at EMU. "I go to meetings, I go do this part of the work, so that you are able to do the other part of the work to keep our community going."
"He's a sincere individual," says Banks, his neighbor. "When he likes you, he shares his time with you. He gives time for this city."
Controversy over back taxes
In 2016, while Jones was serving as mayor, an IRS tax lien for more than $58,000 was filed against him – a debt that he says is now "long gone." The episode resurfaced during the current campaign, however, in Independent candidate Frank McMillan's call for the formation of a new citizen ethics panel.
"The issues surrounding Councilman Chris Jones and the IRS should have been addressed through a transparent process and it was not," McMillan said in a press release.
In a response statement, Jones called the move a "political stunt" and expressed disappointment in McMillan "subjecting me and my family to a public rehashing of a long-ago resolved personal financial matter."
"This isn't about ethics in local government, it's about trying to gain an advantage in an election and everyone knows it," he continued.
After the lien became public, Jones stepped down from the city finance committee and settled the debt with the help of an accountant. Despite some who called for him to step down as mayor—including from Fitzgerald, then chair of the Democratic Committee—he remained in that position.
Since McMillan raised the tax issue in late October, Fitzgerald has come to Jones' defense, saying that while the two don't always agree, their sharing of objectives for the city's future have "overcome the friction" between them.
"He's resolved it. That's the important part," she continues. "This all feels quite in the past."
Saying no to fear
Jones is confident that city voters will make choices on Nov. 6 that keep Harrisonburg on a positive track, allowing everyone to – as his campaign slogan says – "build a better 'Burg together."
"My hope and prayer is that we don't vote based on fear and negative mindsets, that we put leadership in office that pushes us in faith and confidence towards a better community, not a stagnant state founded on fear," Jones says.
He particularly hopes that young voters under 35 will show up to the polls, "because the decisions that are being made will affect them over the next 15, 25 years."
Clarification: An earlier version of this article misstated Deb Fitzgerald's call for Jones to step down as mayor.