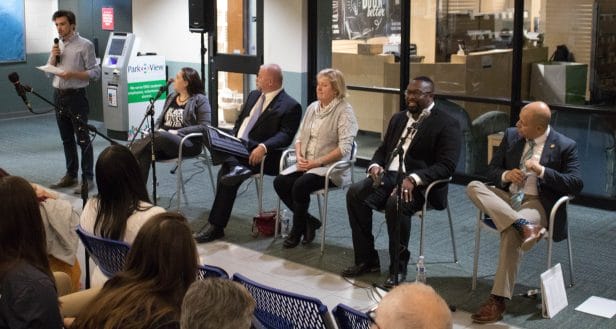 Correction: An earlier version of this story and headline referred to the forum as the last of this election cycle. It was the last public forum. WHSV is hosting a half-hour televised forum Thursday from 7-7:30 p.m.
By Ryan Alessi
The five city council candidates spent much of Tuesday night's forum agreeing with one another on issues like completing the Northend Greenway and police recruitment and retention, while still seeking to distinguish themselves through nuances in their answers.
The candidates, who are vying for two seats on the council in the Nov. 6 election, fielded questions from Eastern Mennonite University students and members of the audience at the hour-long forum at EMU's University Commons building. It marked one of the candidates' final public forums before Tuesday's election as they sought to reinforce the respective themes of their campaigns.
For Democrat Chris Jones, the only incumbent in the group, that meant pledging to be a champion for recent requests made to the council. For instance, twice he mentioned his commitment to hiring a city sustainability coordinator, a position focused on energy efficiency, pollution reduction and recycling program improvements. A committee of community members and city staff recommended at last week's council meeting the creation of that job. He said another priority is to push for a justice planner to, among other duties, assess how to handle non-violent criminals in the local jail. That was a subject of a march and public forum earlier this month.
"Nonviolent convicted individuals that are in our jails—most likely they can come on out and save us a lot of money and be more productive for themselves, for their families and for all of us," he said.
Carolyn Frank, a former council member running as an independent, sought to reinforce her ties to the community by mentioning her volunteer work and past service on the council. As she has throughout the campaign, Frank struck a conservative tone on fiscal issues, repeatedly mentioning the need to keep taxes lower.
"I've seen the pressure that's been put on the taxpayer as the balance—the scale—has tipped, and we seem to have more needs than we have revenue," she said.
Sal Romero, a Democrat and former Virginia Board of Education member, repeatedly referenced his background in education, as well as his support for building a new high school. He also framed many of his answers around knocking down barriers for all members of the community. In one example, he mentioned immigrants who can't work in the profession for which they've been trained because of difficulty in transferring licenses.
"We have—my goodness, it's hard to say—a lawyer and a pediatric doctor who are cleaning houses for a living," he said. "We have to make sure that we are working with these new people who are coming to our city … so that they have a pathway for their credentials to be validated to a certain level."
Paloma Saucedo, a social worker and an independent making her first run for public office, positioned herself as a voice for groups of people whom she said aren't well-represented in city government.
"I want to balance the power imbalances in our society, in Harrisonburg and in the nation," she said. "Our campaign focuses on inclusion of all sectors of our community, creating new leadership and cultivating a culture of trust and respect for nature and human alike."
Frank McMillan, who works for the employment company Kelly Services and also is an independent candidate, underscored his political newcomer status by calling for "out-of-the-box thinking" to address problems. McMillan, like Frank, also has staked out a more conservative financial position.
"I'd like to see us improve our education system—focus more on the teachers rather than on buildings," he said in a clear reference to the plans for a new high school.
Northend Greenway and sustainability
Each of the candidates voiced support completing the Northend Greenway and bike trail, which has been in the works since March 2011.
Jones said the greenway, which started before his first election to council, stalled because of "promises made and promises not kept," but said he expects it to come together as the city seeks grants, as well as state and federal funds.
"It will happen," he said, "without extra stress on local citizens."
Saucedo said the bike trail project should have been finished by now and illustrates why residents should hold local government accountable.
"One of the ways we can encourage the city council to compete tasks is by putting pressure on them," she said, adding that students and community members should engage in nonviolent protests to communicate their will.
Romero said the project is another example of an issue that requires collaboration and inclusion.
"There's a lot of neighbors along the way," he said. "So every time I make a decision, I ask myself, who is not here at the table?"
McMillan agreed about the greenway, then pivoted to talk about making recycling a priority. He made a pitch for collaborating with companies like New York-based ByFusion, which converts used plastic into construction blocks.
"That's part of an environmental program that we can take something that's too expensive to recycle and make something out of it," he said.
And Frank agreed that figuring out what to do with recyclable waste should be a priority. She also said she was glad the next phase of the greenway would be underway in the spring.
"It just shows you the wheels of government move slowly," she said.
Supporting police
In response to a question from James "Bucky" Berry about supporting police and making sure they have proper equipment, each of the candidates pledged to support the department, albeit in different ways.
"For sure we have to make sure that we fund our police department because, again, safety … is a top priority," Romero said. "My responsibility would be to support all the city resources, including the police department so they are fully staffed and ready to keep us safe."
"That's what I want to hear," Berry replied.
McMillan, who has worked with the police department's citizen advisory board, said the department has a high turnover rate because other cities have lured officers away with higher salaries. Often those municipalities can pay more because they don't have the cost of training them.
He suggested looking into providing take-home police cars for each officer. While that might be expensive in the short term to buy more cars, he said it could be more efficient in the long term by reducing wear and tear but, more importantly, could be a morale booster.
"These are some solutions we need to look at to keep our officers happy and safe and keep them in the city of Harrisonburg," he said.
Saucedo said the city should add cultural competency to police training to make sure officers are equipped to deal with all Harrisonburg residents.
"We also have to look at our hiring practices," she said. "Our population is 20% Latino, and I don't think that's represented in the police department."
Ten organizations put on the forum, including EMU Peace Fellowship, Student Government Association, EMU Young Democrats, Latino Student Alliance, History Department, Center for Justice and Peacebuilding, Student Life, Black Student Union, Political Science Department and EMU Young Conservative Voices.