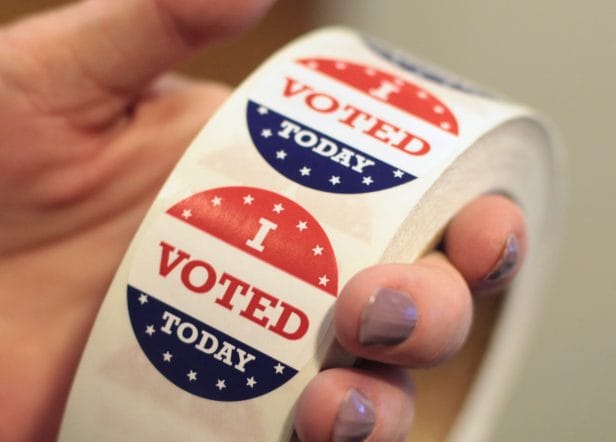 By Bridget Manley
The Democratic committees from Harrisonburg and Rockingham county have decided to hold a state-run primary to nominate the party's candidate for Virginia's 26th House district. The winner will contest the general election this November.
In the state-run primary, voters will cast ballots at their normal polling places on Tuesday, June 11. Two years ago, the Democratic nomination was decided in a late April unassembled caucus, or "firehouse primary," with just one voting location in Harrisonburg and one in Rockingham County.
While the primary process this year will be different, the race is featuring the same two candidates: Brent Finnegan and Cathy Copeland. Finnegan won the firehouse primary in 2017 by more than a 20-point margin – although only about 700 total votes were cast.
The Democratic committees in the city and county were strongly in favor of the change, said Alleyn Harned, chair of the Harrisonburg Democratic Committee. The move will allow both candidates– more time to reach voters, and, party leaders hope, increase turnout.
"Having the time for establishing this plan and getting out the word really lets us get more people involved in the political process, and that's a success for everybody," Harned said.
"There should be opportunity for robust absentee voting," Harned noted. "So, students can vote where they go to school. There's an opportunity for EMU and JMU and Bridgewater students to vote absentee."
Candidates in favor of change
Copeland and Finnegan both support the decision to hold a state-run primary.
After having just six weeks to campaign in 2017, Copeland is eager to spend more time connecting with voters throughout the district this time.
"A state-run primary allows my campaign to do more outreach and engage with more voters to hear and address their concerns," she said. "With the state-run primary, voters get more opportunities to talk to the candidates, assess the qualities that we bring to the race, and make the best decision for our district. A state-run primary works for inclusion rather than simple name recognition."
Copeland also says that the change will help voters more easily get to the polls, one of her top campaign promises.
"This decision for a state-run primary also supports one of my top issues: voting rights. Having a state-run primary means all precincts are open and people vote at their regular precinct. It's a first step towards better representation," she said.
Finnegan agreed, saying the move will offer "better access to the ballot for more people.
"Voters in Bergton won't be burdened with an hour-long round trip to one polling location in the county like they were in 2017," he said. "Having all polling locations open means that there will be less potential for confusion and long wait times."
Finnegan also said holding a state-run primary will make the process more inclusive for working people.
"Our campaign in 2017 worked hard to reach out to our neighbors in every corner of the district. We are continuing to build on that work this year by having small group conversations," he said. "A longer primary allows us to take the time to hear from more people and understand different perspectives, so I can better represent the values of our communities."
The 26th District includes all of Harrisonburg as well as most of northern and western Rockingham County, with voters roughly equally split between the city and county. In November 2017, Finnegan lost to Republican incumbent Tony Wilt, earning 45 percent of the total vote. Although Finnegan won Harrisonburg by a wide majority, he lost the county portion of the district by an even more lopsided margin.
Wilt, who has held office since 2010, is currently running for the Republican nomination unopposed.
Wilt's 'super-precinct' bill criticized by Democrats
During the recent General Assembly session, Wilt introduced a bill to create a pilot program allowing localities in Virginia – with the approval of Board of Elections – to open a smaller number of "super precincts" for primary elections. The bill died in committee.
In a statement to The Citizen, Wilt said he carried the measure at the request of the Rockingham County Electoral Board and the county voter registrar, who proposed it as a cost-saving measure.
"Since 2007, the turnout rate for general elections averaged 48.47% while it averaged only 5.81% for June primaries. However, localities still incur much of the same cost to operate a precinct regardless of how many people show up to vote," Wilt said, in his statement. "As stewards of taxpayer resources, our local election officials and I felt like this was an innovative and reasonable way to limit taxpayer costs.
Finnegan and Copeland both oppose the idea, however, saying that it would make it harder for people to vote in primaries.
"Our elected representatives should be working to make voting easier, not harder. The people of the 26th District deserve to have a say in any conversation about closing certain polling locations in primary elections. Del. Wilt has not invited adequate public discussion on these important issues," Finnegan said.
"Virginians deserve what many other states already have: automatic voter registration, vote by mail, ranked-choice voting, same-day voter registration, and an end to automatic felon disenfranchisement," he added.
Copeland said that while creating super precincts might save some money, it would come at the cost of making voting itself more difficult.
"As a Democrat, I believe every vote matters and I want the most consistent process in place for voters. Keeping all precincts open for state-run primaries and general elections is worth the monetary cost because it helps us ensure we select the best candidate," Copeland said. "I'm glad the General Assembly chose not to pursue HB2447 and am pleased that the nominating committee for House District 26 chose the most transparent and empowering method to gain the Democratic nomination."
In his statement, Wilt emphasized that his bill proposed a pilot program that could have been "tried on a small scale for a limited period of time" and abandoned if ever deemed unsatisfactory.
"Any insinuation that this is somehow voter suppression is simply nonsense and pure political posturing," Wilt said.
---
Journalism is changing, and that's why The Citizen is here. We're independent. We're local. We pay our contributors. and the money you give goes directly to the reporting. No overhead. No printing costs. Just facts, stories and context. Thanks for your support.