By Randi B. Hagi, contributor
(Editor's note: Responses were edited for brevity.)
Michael Richards, the newly-named Harrisonburg City Public Schools superintendent, brings with him an eclectic background as an Australian-born, Virginia-raised scholar, teacher and administrator who starts the new job May 1.
In town recently on a house-hunting trip, Richards sat down with The Citizen at Hotel Madison to answer questions about the philosophy he brings with him — one that's been sharpened over a career in education.
After attending public school in Virginia, he went on to earn undergraduate degrees in philosophy and physics, graduate degrees in American studies and creative writing, and a doctorate in education. Richards, who describes himself as a "problem-solver," most recently served the Loudoun County Schools district as chief of staff for the past four years.
"Not a day goes by when school board members aren't seeking guidance for issues, and Dr. Richards has been there to guide us," said Loudoun County school board chairman Jeff Morse. "His expertise is rarely matched: from issues of national significance down to individual students' needs, Dr. Richards has been instrumental in leading our organization."
NoNieqa Ramos, his wife is an educator and an author with a new book, "The Truth Is" coming out this fall. And their children, Margot and Langston, will be entering sixth and first grades, respectively, at Harrisonburg City Public Schools in the fall.
Richards said he was impressed with the school board's series of goals and core beliefs, but that's only part of what drew him to Harrisonburg.
The Citizen spoke with Richards about his vision for education, the languages he's hoping to add to his repertoire and what his first — and big — plans for the district will be.
Q. What attracted you to the Harrisonburg school district, or the area itself?
RICHARDS: The geographic area is beautiful and an area I'm very familiar with. When I was a kid growing up in Fairfax County, in Vienna, Va., my family would come out here – not necessarily to Harrisonburg city, but would come out to the Shenandoah Valley. We spent a lot of time on the Shenandoah River, a lot of time hiking on Old Rag mountain, which isn't exactly in this area, but it's nearby – that kind of thing.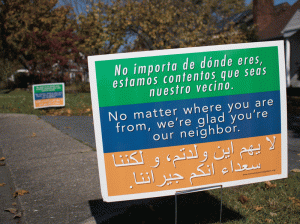 We love the small urban setting. We've always loved the downtown areas of these smaller, Eastern seaboard cities… so the geography is important, the feel of the city is important to us.
Also, we love the diversity. We feel that our family is happiest when we're in a very diverse setting. And we were so impressed with the welcoming nature of this city, you know, just from the yard signs, which are very unusual and very encouraging, that say, "you're welcome here" in three languages, to the fact that the high school … the students in the school speak 50 or more languages. Our family likes to be immersed in that kind of diversity.
Diversity is an untapped resource in many ways, because kids, students get to learn to be flexible thinkers. They get to learn to not just be in an echo-chamber of their own ideas and their own families' ideas and friends' ideas. They get to hear varying points of view from people with varying backgrounds.
Q. You mentioned that you were attracted to the schools having so many different languages spoken. On your LinkedIn profile, you say you speak a few different languages too, don't you?
RICHARDS: I have some proficiency in German and Spanish. I studied German for two years in college, then I traveled in Germany. So for a while, I was fairly – I'm not going to use the word fluent, I think that would be unrealistic — but I was able to hold conversations.
Also as a student of philosophy and physics in college, I was required to study languages, and German was one of the encouraged languages. Now, that was quite a while ago, I don't know if they still do that.
Spanish I'm a little bit better at. I studied in 8th grade, 9th and 10th grade, and two years in college, and then I traveled through various parts of the world where Spanish is spoken. And I continue to visit those parts of the world regularly.
I married into a Spanish-speaking family . . . I can probably hold my own in a conversation, but I am certainly not a native speaker of Spanish.
Here in Harrisonburg, I'm thrilled at the prospect of perhaps learning a bit of some other languages as well. My ten-year-old daughter is studying Spanish. She identifies with her mother's Puerto Rican heritage, and so she wants to learn Taino. I don't know if there are any speakers of Taino anywhere in the mainland United States, but my family … we're all students of foreign languages. She also told me she wants to learn Arabic when she comes here.
Q. What are some of your goals or hopes for the city schools under your supervision?
RICHARDS: I'm going to start with the mechanics of a strategic plan. That may sound really boring, but I think it's important.
So a strategic plan has four parts, essentially. It's got a very clearly articulated mission statement that grows out of community input. It has core beliefs attached to the mission statement, that also grow out of community input.
And then it has some goals that are usually more of an operations or management side – more of a corporation or a school district in this case, that essentially rest upon those core beliefs.
And then a very important fourth part are strategic, measurable actions that the school division can take to reach those goals.
And so, my hope for Harrisonburg city is that, by creating a community-based strategic framework … they can build on the strengths they already have. Harrisonburg city schools have some very talented educators.
The community and the school board both use the phrase "higher level." I actually use a different metaphor; I use the word "deeper." I want students to have deeper learning. . . What I mean by that, and what I think there's a really great potential for here in Harrisonburg city is that, we can slowly, gradually move away from the traditions "seat-time" model for learning, where seat-time is equated with proficiency or mastery.
Q. Can you give an example?
RICHARDS: So if you put authentic, challenging problems at the center of learning, students tend to be more engaged, more interested. They feel like this is a problem they want to solve. You give them what many of us call "voice and choice."
So if students are able to design their own learning with the help of a well-trained and well-supported teacher, then they end up saying, "you know, this a project that I want to do. I want to go to school and do it." It's meaningful, it's relevant. . .They actually have deeper learning, meaning what? Meaning the learning lasts longer.
You and I have both taken tests where, a year later we're not sure what was on the test, right, because we filled in little bubbles and that didn't mean anything to us. But in this case … it's something they feel like they can use in a broader context.
. . . I always use the allegory of a garden when I talk about changing education. The garden allegory is very important, because you don't just have plants that came out of nowhere. … Preparing the soil is providing the teachers with the resources and training that they need to do this kind of work; planting the seeds, well, teachers, early starters, they need to receive training and go back to their campuses and seed that work on the campus… We need to continually build on it. I guess that would be weeding the garden, and watering the garden, and so forth, nurturing the garden.
My point with the garden allegory is that it's a gradual process … the educators here are doing fantastic work and getting good results, and so this would be a gradual change in paradigm of teaching and learning. You would move more toward problem-based learning.
The other way that I'd like to see some change is called personalized learning. One of the things we can do now in education that we couldn't do 20 years ago, due to the power of digital technology, is that teachers can actually track the progress of individual students now.
I love the idea of students in a parent conference, having a binder of their own data to present, and understand it, not just show them – "well here's a pie chart and my teacher says it means this" — but actually understanding it. So personalizing learning more is something that's important, and I think we can do more of in Harrisonburg city.
Q. You've mentioned that equity is important to you. Can you say a bit more about why that's important to you, and how you intend to enact it?
RICHARDS: Sure. So, let's start by defining equity, because I think it's misunderstood by many people. Equity is something that has different layers or levels in our society, and the deeper you go, the harder it is to see.
On the surface, equity has to do with resource distribution. And so there are school divisions in various parts of the United States where poorer communities have fewer resources — the teachers aren't as experienced, that kind of thing. I'm not going to know about that sort of equity in Harrisonburg city yet.
But there's another part of equity that's harder to see for many people, and that is – I liken it to there being an invisible door in front of each person who approaches public education, and only they can see the door. And for some people, the door's wide open, and they walk through it very freely.
In fact, for some people there is no door. It's gone — there's just a space. They walk right in. They feel that public education is theirs, and they are a part of it, and they are one with it, and it's a very open relationship.
But there are people for whom that door is closed, or it's partially closed … and even though those doors are only perceivable by the person, the reasons those doors are there are very real. And so we always need to look at why a door may be closed for someone, and we need to help open it.
… One reason the door can be closed is because curriculum can be less than culturally responsive and inclusive. So we need to always have our eyes on that.
My lovely wife over there, for example, is a big advocate for diverse books in schools. It's daunting for a child to not see him or herself in a book, and not see very many characters that reflect his or her background. So equity work is opening those doors … that's been a lens of mine throughout my career. Harrisonburg city has equity inscribed within their core beliefs and their goals and their mission statement, and I feel that the strategic framework will also very much include equity in it, but again, it comes from community input.
CORRECTION: Because of an editor's error, the title of the forthcoming book by NoNieqa Ramos was incorrect. It is called "The Truth Is."