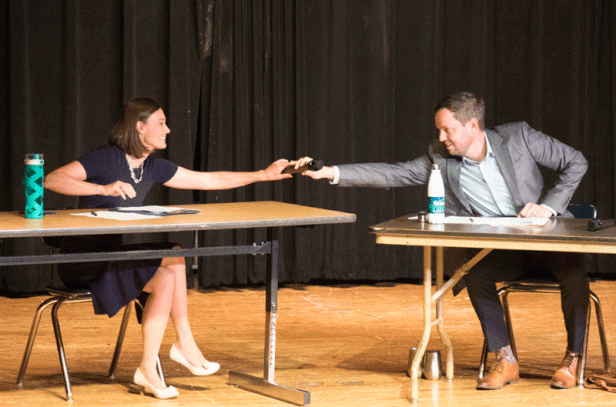 By Ryan Alessi
With few major policy differences between them, Cathy Copeland and Brent Finnegan have settled on making their closing arguments in next week's Democratic primary about who gives Democrats the best shot to defeat Broadway Republican Del. Tony Wilt in November.
"Brent had his shot in 2017, and he lost by 10 points," Copeland said in her final remarks of Tuesday's debate. "This is a different race. And if we want a different result, we need a different candidate."
It was the most direct line either candidate used in Tuesday's night debate at Thomas Harrison Middle School — their last scheduled joint appearance before the June 11 primary.
Copeland, an adjunct professor of writing at JMU who lost to Finnegan in the 2017 primary, said she would provide a "sharp contrast" with Wilt on issues, including reproductive rights.
"I want to take punches. They're going to bring up abortion," she said of Republicans. "I'm good at taking punches. Let me take punches."
Earlier in the debate, Finnegan said that the 45 percent of the vote he received against Wilt in 2017 was far better than any other Democrat had fared against the five-term incumbent delegate. "And we're going to use that base to build off of to win in 2019," he said.
Throughout the hour-and-twenty-minute debate, Finnegan sought to position himself as the candidate with wider and stronger ties to voters across the district, which covers Harrisonburg and much of northern Rockingham County. That includes Broadway, where he grew up.
"I have been working in this district doing community service work … for the last 14 years," he said. "I have formed relationships. Those relationships matter. When I go to knock on a door in Timberville, I know the folks who answer the door."
That, he told the Democrats in the audience, would give him a better chance at matching the name recognition and strong funding Wilt has amassed. (His campaign also provided reporters with a flier comparing the number of campaign donations to Finnegan and Copeland from supporters in the Valley: Finnegan had 21 donors who gave more than $100, and Copeland had 10.)
However, there weren't many undecided voters, if any, in the audience Tuesday to be convinced, as most of the more than 50 people were either volunteers or strongly committed to "Team Brent" or "Team Cathy."
In fact, despite the two generally agreeing on key issues — such as support for environmental protections, education, gun control, reproductive rights and the need for criminal justice reform — both have attracted fervent supporters who occasionally mix it up on social media.
As the race nears its end, those discussions have sometimes led to deep dives into voter turnout and past election results, with supporters from each camp parsing data to back up competing narratives.
To preempt any of that bleeding into Tuesday's event, debate moderator Adriel Byrd, the Harrisonburg Democratic Committee's vice chair of operations, welcomed the audience by urging them to keep in mind a bigger picture.
"Remember, tonight is about two shades of blue, alright? We're not enemies here," he said. "We're trying to decide who will be our candidate."
'Nerd'-a-thon
The two candidates have been treating the primary like a job interview — "a really, really long job interview," as Copeland put it at one point.
That has included all-out efforts to showcase just how much homework they've done — and will do — to be a state delegate.
Finnegan said as a member of the Harrisonburg Planning Commission, he's often reading about affordable housing and seeking out ideas from a variety of sources, such as environmental-themed podcasts or the Institute for Local Self-Reliance.
"That's the kind of stuff I like to nerd out about," he said Tuesday.
It's also informed his policy positions. In an interview with The Citizen, he called it "ludicrous" for Virginia to have given a $750 million break to Amazon for its planned headquarters in Northern Virginia.
"I agree with some libertarians — the government should not put the thumb on the scales to help certain businesses," Finnegan said.
Doing so, can harm small businesses, he said. Broadway, for instance, had two locally-owned grocery stores when Finnegan was growing up. They're gone now, with two dollar stores in their place..
"That is the cannibalization of small-town America, and it's happening all over the country," he said.
Copeland told The Citizen she hadn't heard Finnegan specifically address the issue of Virginia's tax incentives to Amazon, but said she is generally uncomfortable with the degree that states like Virginia are giving tax breaks to large companies.
"I do agree that corporations have been getting a lot of deals, and I'd like to make sure the people are reaping the benefits of what we do have in Virginia," she said.
Copeland has emphasized her efforts to read and analyze bills in the General Assembly on her "Legislative Watch" page online. She said she tells her students at JMU that reading and writing is what she loves to do because it's important.
"I'm a total nerd and I admit that on the first day of classes," she said.
Copeland said her ability to write legislation is a key selling point, prompting Finnegan to ask at the debate why that's so important if the General Assembly's Division of Legislative Services has professional staff dedicated to writing bills.
"As legislators, we're supposed to present the ideas and make sure those ideas are presented clearly," she said.
As an example, she pointed to a bill Wilt sponsored in 2018 aimed at giving students at public universities a greater ability to keep their contact information from becoming public. But an unintended consequence of the bill's language made it cumbersome for professors to email groups of students, prompting the General Assembly to pass a fix this year.
"What I found is that people appreciate that I have done so much research, and I am consistently doing research on these topics," Copeland told The Citizen.
Finding differences
Finnegan and Copeland stress different priorities on the campaign trail even if they largely agree on the issues.
Copeland emphasizes support for school counselors, psychologists and social workers as a way to address increases in mental health issues in schools. She also wants the state to provide more tax dollars to help with local school construction.
Finnegan's go-to issues often pertain to the environment and affordable housing, and how many current problems are intertwined. He tells voters he wants to see the state stop providing funding incentives for communities to build more jails.
Both want the General Assembly to implement criminal justice reform.
But when going deeper — in some cases way deeper into the weeds — and some more philosophical differences emerge.
"Is she talking about the Dillon Rule? Is she talking about citizen-led ballot initiatives? I haven't heard her talk about that," Finnegan told The Citizen.
The Dillon Rule limits a local government's ability to craft policy, and dates back to a series of 19th-century U.S. Supreme Court rulings. In Dillon Rule states like Virginia, localities can only pass ordinances in specific areas where the state legislature has granted them that authority — with everything else requiring the legislature's approval.
Finnegan said at Tuesday's debate he wants to see that change because he said it handcuffs city governments from being able to allow landlords to accept vouchers from renters, which communities in other states allow, or for Charlottesville to be able to take down Confederate monuments.
"The biggest problem I had with Dillon's Rule is that if your local government has an issue that needs to deal with immediately and it happens in March, you have to wait until the following January to have a bill submitted," he said.
Copeland said she doesn't believe there's the political will in Richmond to change that.
"I do see that it has ways forward," she said. "Let's not blame the Dillon Rule, let's blame the legislators — the legislators who are in charge."
After next Tuesday?
While most Democrats attending Tuesday's debate seemed to have picked a side in the primary, many said they don't expect any ill feelings to linger.
"I think people are feeling that it's that important to vote right now," said Becky Deloney of Harrisonburg, who is supporting Copeland. "I don't sense any animosity, I just think that people feel really strongly."
Deloney said she got to know Copeland as part of the effort to support the construction of a new high school. And she said she appreciated Copeland's dedication to the effort, then began to follow Copeland's analysis of legislation.
"Being able to explain that to someone who's not experienced in legal terminology, that to me was a big difference" between the candidates, she said.
Michael Snell-Feikema of Harrisonburg said he has known Finnegan for years and has seen his conviction.
"The key thing is how committed are you to this and how much are you just giving lip service to it," he said. "You can throw out a bunch of rhetoric, but the question is what will you take a stand on? And knowing Brent personally, he's the type who will take stand."
As for the candidates, both pledged to spend the last seven days before the primary polls close knocking on doors and urging as many people to vote as possible.
"While there might be different thoughts and perhaps tensions throughout," Copeland said, "my campaign is focused on the positive message that I want to get out and does not reflect negatively on other Democrats."
---
Journalism is changing, and that's why The Citizen is here. We're independent. We're local. We pay our contributors, and the money you give goes directly to the reporting. No overhead. No printing costs. Just facts, stories and context. Thanks for your support.