By Ryan Alessi
One rematch has given way to another in the 26th House of Delegates District, as Brent Finnegan handily won Tuesday's Democratic primary over Cathy Copeland for a second time and will challenge Republican Del. Tony Wilt in the Nov. 5 general election just as he did in 2017.
Finnegan defeated Copeland with about two-thirds of the vote – 1,806-912 – according to the unofficial election results from the eight city precincts and 14 county precincts that make up the 26th District. Now, Finnegan will get a second chance against Wilt, who beat him in the 2017 general election, 54.5 percent to 45.3 percent.
In Tuesday's primary, Finnegan had a strong showing by winning all but three precincts. Copeland won her home precinct in east Harrisonburg 72-67 and the quiet Bergton precinct in the county, 11-7. The two tied 8-8 at the JMU Convocation Center precinct, with most student voters away for summer break.
Finnegan attributed the win to personal connections he has developed through previous political and professional activism in the community, as well as his campaigning over the last three, dating back to his first run.
"We've really been trying to focus on building a coalition," Finnegan said Tuesday night at his celebration at the Golden Pony. "And that coalition is around everyone from farmers in Rockingham County who are tired of getting screwed over by contracts, from integrated poultry growers to climate activists in the city."
While Finnegan solidly won 13 of the 14 precincts in Rockingham County, he fared particularly well in a handful of city precincts, including:
The west precinct at Thomas Harrison Middle School, which he won 266-66;
the northwest precinct at Waterman Elementary School (231-79);
and the southwest precinct at Keister Elementary School (176-121).
Those precincts, he said, were in the neighborhoods where his campaign focused its door-to-door attention in recent weeks, making multiple visits.
"We kind of made a wager, I guess you could say, on people-to-people connection at the doors," he said. "I'm happy with the results, and I think it speaks to the work we've been doing."
Copeland said she was proud of the race she ran and particularly grateful to the work her volunteers put in. She credited her 14 core volunteers — as well as her immediate family, including her husband, who served as campaign manager — with inspiring her throughout the race.
At the same time, she said she was disappointed that her platform, which stressed education and mental health, didn't resonate more with voters. The results, she added, showed Finnegan was better-known across the district.
"I certainly think that name recognition might have factored in," she said.
Teaming up in the future?
Both candidates have been aggressively campaigning door-to-door and attracted strong inner circles of dedicated supporters.
Finnegan out-raised and out-spent Copeland during the primary, with nearly $22,500 spent by the end of May and nearly $6,000 more still in the bank, according to his most recent campaign finance report. Meanwhile, Copeland's May 31 report showed more than $16,700 in spending and another $2,336 on-hand.
Finnegan thanked Copeland in his victory celebration remarks soon after vote totals came in. He later told The Citizen that he has the utmost respect for Copeland.
"I'm grateful to Cathy and her entire campaign — all of her volunteers who worked really hard," he said. "She put a spotlight on the issue of mental health, and I think that is huge. I think Cathy really elevated the discourse in this campaign."
He said he "absolutely" hopes she will join him on the campaign trail in the fall.
"I would welcome her perspective. She's done a lot of policy research, so I would welcome that as well," he said. "I think she has a lot of offer our community."
Copeland said Tuesday night that she "will certainly help" Finnegan in the fall and hopes he wins the district, which has been held by a Republican for decades.
"I hope Brent realizes that the campaign he ran in 2017 needed a different energy, and I hope he brings that energy," she said.
As for her political future, she didn't rule out another run for public office in the city or state legislature.
"I haven't decided that," she said "I'm just so grateful people came out to support me. And I'm really grateful to my volunteers."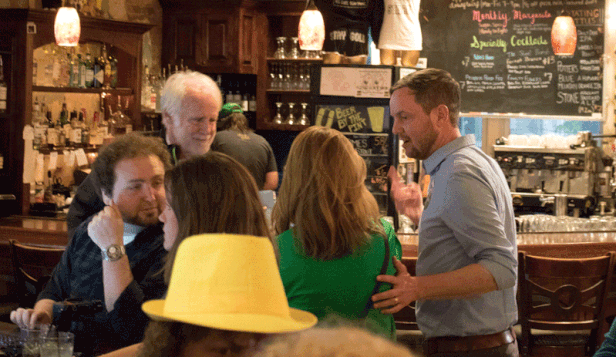 Solid interest for a June primary
In Harrisonburg, about 7.67 percent of the city's 24,965 registered voters showed up to cast ballots in Tuesday's Democratic primary — the only contest in the city.
Wilt, the five-term Republican incumbent, was unopposed for his party's nomination. And neither candidate running in the 26th State Senate district that covers Harrisonburg, Republican Sen. Mark Obenshain and Democrat April Moore, drew primary opposition.
In the neighboring 24th Senate District, which includes southern Rockingham County, Republican Sen. Emmett Hanger won the GOP nomination Tuesday over challenger Tina Freitas, who ran to his right.
With only one race to tally, results in Harrisonburg came flowing quickly in to the city registrar's office shortly after polls closed at 7 p.m., and were tabulated before 7:30 p.m.
A total of 2,718 people voted in the Democratic primary, a far higher turnout than two years ago when Finnegan defeated Copeland in a firehouse primary, 437-269. The firehouse primary had just two voting locations – one in the city and one in the county – with voting on a Saturday in late April after a six-week sprint of a campaign.
This year, 1,915 people voted in Harrisonburg alone — more than the 1,393 city residents who voted in last year's Democratic primary for Congress and not far from the 2017 Democratic primary for governor, when 2,298 people voted.
Meanwhile, 786 people cast votes in the 14 Rockingham County precincts (that figure doesn't include the 39 absentee ballots cast). In comparison, 675 people in those 14 precincts voted in last year's Congressional primary, while 1,022 cast ballots in the 2017 Democratic gubernatorial primary.
This was also the first Democratic primary run as part of a statewide election since the 26th District at least 1982.
Readying for a rematch
With no statewide offices such as governor or U.S. Senator on the ballot this fall, the House of Delegates races will draw lots of attention because control of the chamber hangs in the balance. Republicans currently hold a 51-49 edge.
While the 26th District had typically been counted on as solidly Republican, and even though Wilt won by a double-digit margin two years ago, a deeper look at results — coupled with Democratic U.S. Senator Tim Kaine winning more votes in the 26th District than Republican challenger Corey Stewart last fall — has buoyed area Democrats' hopes of winning the seat.
For one thing, the balance of voters seems to be shifting. The 26th District has included only Harrisonburg and Rockingham County precincts since after the General Assembly redistricted following the 2000 Census. The 2017 election, however, marked the first time that city voters – who vote increasingly Democratic – outnumbered county voters, albeit by just 14 people.
Still, Wilt dominated the county precincts, winning them with nearly 73 percent of the vote – enough to comfortably offset Finnegan receiving 63.5 percent of votes cast in the city.
Before that race, Wilt hadn't faced a Democratic challenger since he won the special election for the seat in 2010, defeating Kai Degner 65.8 percent to 29.9 percent with independent Carolyn Frank garnering the remaining votes.
Wilt has largely stayed under the radar as Finnegan and Copeland elbowed each other for Democrats' affections this spring. But he's been steadily amassing his campaign war chest, and reported having $56,534 on hand in his most recent report filed June 3, dwarfing the few thousand dollars Finnegan will have left from the primary.
In a rare joint appearance at JMU, all three — Wilt, Finnegan and Copeland — spoke with students as part of a traveling townhall event in March. Wilt told a crowd of about 30 students that it takes time to get caught up to speed on the nuances of state government and, having been in office for five terms, it gives him an advantage.
And he said he doesn't believe in imposing term limits because that's what elections are for.
"I think our job should be looking at the job the one who's elected is doing," he said. "Do they meet our criteria for adequate representation, and if not, you vote them out or you vote against them."
As for which Democrat he preferred to face or expected in the general election, Wilt hasn't dropped any hint. When talking to the students, he described the 2017 race as being largely respectful.
"It was very cordial, I think, the last campaign," Wilt told the students.
---
Journalism is changing, and that's why The Citizen is here. We're independent. We're local. We pay our contributors, and the money you give goes directly to the reporting. No overhead. No printing costs. Just facts, stories and context. Thanks for your support.