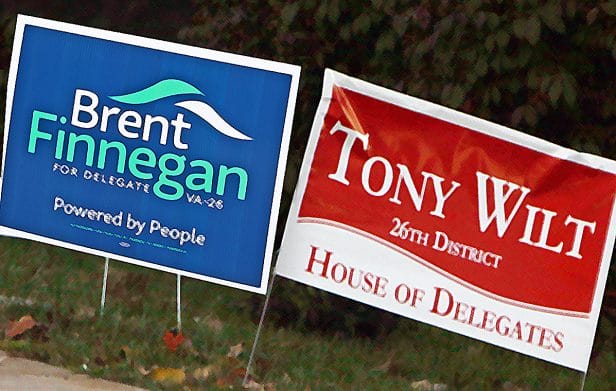 By Andrew Jenner and Ryan Alessi // Photos by Holly Marcus
It's Tuesday and voting is on in the 2019 state legislative elections. For Harrisonburg voters, names on the ballot in the two General Assembly races should look familiar, as both the House of Delegates and State Senate races are rematches from last time around.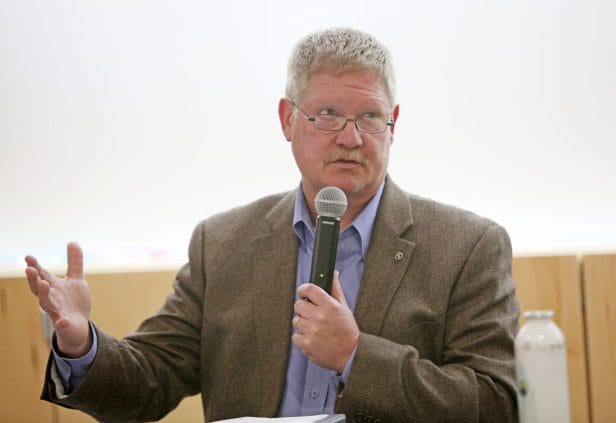 In House District 26, Republican incumbent Tony Wilt is looking to win his sixth consecutive election. As was the case two years ago, he's facing a challenge from Democrat Brent Finnegan. Voters in the district — which includes all of Harrisonburg and the northwestern part of Rockingham County — are close to evenly divided between the city and county, and their tendencies stand in stark contrast. While Harrisonburg voters overwhelmingly prefer Democrats, Republican candidates dominate the county precincts.
In the 2017 race, Finnegan won 63.6 percent of 10,175 votes cast in Harrisonburg. Wilt, though, earned 72.9 percent of the county vote (10,165 total), earning him reelection by a relatively comfortable margin of nearly 2,000 votes.
A year ago, however, the US Senate race between incumbent Tim Kaine (D) and Corey Stewart (R), drew more than 3,000 additional voters in Harrisonburg. Kaine won 69.5 percent of those votes and didn't get beat quite as badly in the county (31.5 percent), where turnout was up by a much smaller margin. End result: Kaine won the HD26 precincts with 51.8 percent of the vote.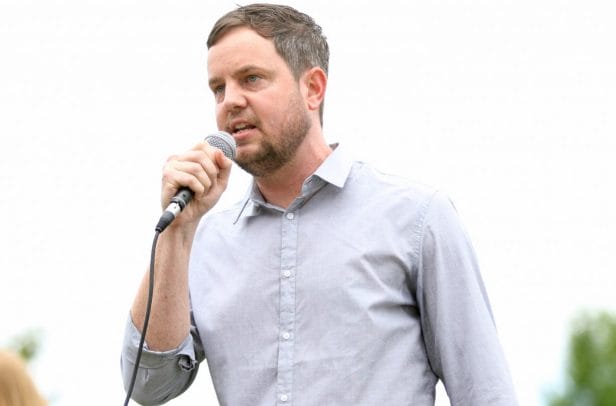 When voting ends tonight, it's a safe bet that Finnegan and Wilt will have scored big victories in their respective city and county strongholds. Winning the entire district, then, will come down to a) how badly they run up the score on friendly turf and b) how many voters turn out (or not) to amplify (or dampen) the district-wide impact of their respective friendly-turf slam dunks.
As compared to 2017, the total number of active voters in the city has increased by 832, or 3.8 percent. Meanwhile, according to data from the Virginia Department of Elections, the number of active voters in the county precincts within HD26 has increased by 5.1 percent, or 956 voters. The chart below shows active voters registered in HD26 over the past three years:
| | | | |
| --- | --- | --- | --- |
| | 2017 | 2018 | 2019 |
| City | 21,898 | 23,204 | 22,730 |
| County (portion) | 18,776 | 19,352 | 19,732 |
| Total | 40,674 | 42,556 | 42,462 |
Other HD26 items of note:
Over the last week, Wilt's campaign received $21,000 in cash, the majority of it from other Republican delegates. Finnegan received $7,083 last week – about $5,000 in cash and the rest as in-kind donations.
Including the $21,000 he just pulled in, Wilt has raised about $264,000 this campaign cycle. Finnegan raised about $147,000. Those totals are significantly higher than what they raised last cycle.
Statewide, the pundit consensus is a Wilt win. According to analyst Chaz Nuttycombe, HD26 leans Republican; Rachel Bitecofer of Christopher Newport University does not list it among a group of 29 competitive districts across the state.
And a State Senate rematch…
Sen. Mark Obenshain (R) has been in office since 2004 and chairs the Senate Courts of Justice committee. In 2015, he defeated Democratic challenger April Moore by a large margin, earning 68.7 percent of the vote.
Senate District 26 includes Harrisonburg and five counties stretching north and east: Rockingham, Shenandoah, Page, Warren and Rappahannock. In 2015, Obenshain won in all of those localities except his Harrisonburg, where Moore won by just under 100 votes.
In this election cycle, Obenshain vastly out-raised Moore, bringing in more than $781,000, including a $25,000 donation from the National Rifle Association and another $20,000 from Dominion Energy within the last week. His campaign has spread much of that money around to Republican colleagues in the Senate, with donations totaling $180,000 to the Virginia Senate Republican Caucus and more than $150,000 to individual senators' campaigns.
Moore, meanwhile has raised a total of about $81,000.
Other Rockingham Co. districts
While the 26th District is expected to be the most competitive race in the Harrisonburg area Tuesday, voters in other communities across Rockingham County will be weighing in on other House races because the county is split among four districts.
Republicans represent all four districts. All are contested this fall and one — the 25th District — will be guaranteed to have a new person elected in the wake of Del. Steve Landes's decision not to run again.
Here's a quick rundown of the other districts:
The 25th District is split roughly equally between the southern part of Rockingham County (including Bridgewater) and Augusta County and slice of Albemarle County. It's is an open seat after Landes decided to run for Augusta County Clerk of Circuit Court instead of seeking re-election. Businessman and Republican candidate Chris Runion, who won a three-candidate firehouse primary in April, looks to have an edge in the GOP-heavy district. And with his $228,000 war chest, he's raised about five times as much as Democratic candidate Jennifer Kitchen. An independent candidate, Janice Allen, also is running in the 25th District.
Elkton voters and others in the southeastern part of the county are part of the 58th District, which includes Greene and Fluvanna counties and part of Albemarle County. Del. Rob Bell, a Republican who has served in the House since 2002, faces Democrat Elizabeth Alcorn, a dentist from Greene County. Bell has raised about a half-million dollars for this race, although he's donated roughly half of that to other candidates and political committees. Alcorn has raised more than $100,000.
Northeast Rockingham voters, like those who live in Mayland and Tenth Legion, are part of the 15th House District, which is represented by Republican Del. Todd Gilbert. Gilbert was first elected in 2005 and is finishing his first term as House majority leader. He faces Democrat Beverly Harrison in the district that also covers Page and Shenandoah counties and a piece of Warren County.
Meanwhile, one other State Senate District – the 24th – covers southern and eastern Rockingham County, including Elkton, McGaheysville, Mt. Crawford and Grottoes. The district, which stretches from Augusta County east to Culpeper, is currently represented by Sen. Emmett Hanger, who has served in the Virginia Senate since 1996, following a decade in the House of Delegates. Earlier this year, Hanger, co-chair of the Senate Finance Committee, defeated primary challenger Tina Freitas with 57.6 percent of the vote. In today's general election, Hanger faces Annette Hyde of Madison County, whom he has outraised by a more than 10-1 margin.
A new role for the delegate in the 26th?
Should Del. Tony Wilt hang on to the 26th House District seat, there's a chance he'll return to Richmond in a new role — as a member of the minority party. Democrats have outraised Republicans — including incumbents — in key districts across Northern Virginia, Richmond and Hampton Roads. That Democrats are on the offense in so many districts only raises the odds that the party could flip the two seats needed to take control of the lower chamber.
If you're looking for other districts with interesting storylines to watch Tuesday night, here's a look at a few other districts around Virginia that will help decide which party controls the House of Delegates:
73rd District — Richmond area: Democrat Debra Rodman, won this Henrico County district in 2017 but is now running for the 12th state Senate District. Both parties are investing heavily to win the open seat with Democrat Rodney Willett raising more than $1 million and Republican Mary Margaret Kastelberg just shy of the $1 million mark, as of Oct. 24.
---
Journalism is changing, and that's why The Citizen is here. We're independent. We're local. We pay our contributors, and the money you give goes directly to the reporting. No overhead. No printing costs. Just facts, stories and context. Thanks for your support.