Story and photos by Bruce Stambaugh, contributor
A single phone call made all the difference for Skyline Literacy and the educational programs they provide. The non-profit organization, headquartered in Harrisonburg, focuses on providing instruction for literacy skills and assisting legal immigrants in applying for U.S. citizenship.
In September, Nelly Moreno Shenk, executive director of Skyline Literacy, participated in a conference call with the United States Citizenship and Immigration Services (USCIS) about a funding request from the Harrisonburg organization.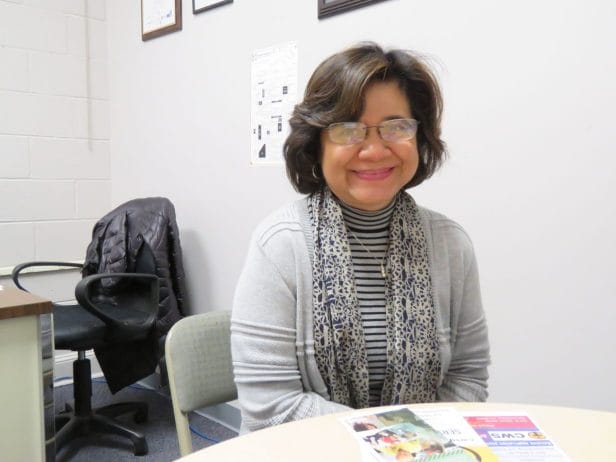 "The conference call went well with general questions asked," Shenk said. "After the call, we received an email on September 29 confirming the awarding of the $250,000 grant."
Given its recent history of limited funding, it is an understatement to say everyone connected with Skyline Literacy was overjoyed.
"Without this grant," Shenk said, "we wouldn't be here."
Skyline Literacy partnered with Church World Services Harrisonburg in applying for the grant, and the two groups co-manage the funds received.
"I was so happy and relieved," Shenk said.
The grant award comes after USCIS, an agency of Homeland Security, had turned down similar requests on two consecutive federal funding cycles. That forced Skyline Literacy to cut four of its five staff and significantly curtail its services to the community.
"The staff was down to one person, me," Shenk said.
During those lean years in 2017 and 2018, the organization's board of directors also cut costs by reducing its rented office space, and called on community members, businesses, and corporations to help keep its programs afloat. Fortunately, the community responded generously, enabling the multi-faceted programs to continue thanks to several volunteers.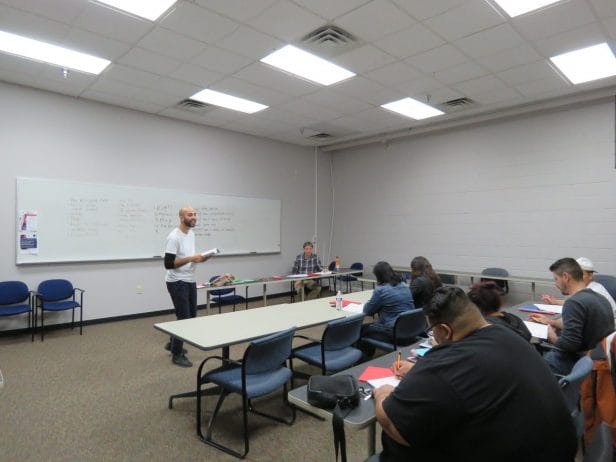 Joy Loving of Grottoes is a long-time volunteer tutor, trainer, and a current Skyline Literacy board member. She emphasized the importance of ongoing support, both in the form of donations and volunteers.
"The receipt of this recent grant doesn't mean Skyline Literacy can continue to offer its range of services indefinitely," Loving said. "So while it's a great short-term help and will enable a lot of folks to get assistance to help them become citizens, Skyline Literacy remains a community non-profit and needs continuous community donations to remain viable."
An upcoming fundraiser is proof of that fact. Harrisonburg ensemble group VOICE will present a "Peace on Earth" benefit concert on December 7 at 7 p.m. and December 8 at 3 p.m. at First Presbyterian Church, 17 Court Square, Harrisonburg. Admission is a suggested $10 per person donation at the door, with all funds going to Skyline Literacy.
"As a long-time volunteer as a tutor, trainer, and donor, I know about its (Skyline Literacy) immense value to the community it serves," Loving said.
Improving English skills and passing citizenship tests, she continued, substantially assists newcomers' assimilation into local culture and civic life.
"Such help can make building a stable new life happen more smoothly and more quickly," Loving said.
For an organization that now has two full-time and two part-time employees, Skyline Literacy covers a lot of ground in the types and locations of programs they offer. Shenk credited the 43 community volunteers, who complement the small staff.
"We couldn't do what we do without the dedication of the volunteers," Shenk said.
Skyline Literacy offers basic literacy classes, citizenship preparation, English language learning, computer literacy, GED test preparation, and courses on healthcare topics. Most classes are offered at the organization's offices at 160 North Mason St., Harrisonburg.
A citizenship preparation class is also being held held twice a week at Harrisonburg Baptist Church on South Main St, with some other classes at Thomas Harrison Middle School and Harrisonburg High School.
"An English class is also being held at Perdue in Bridgewater for their employees," Shenk shared. "We are very grateful that Perdue provides the classroom and pays the $50 charge for each employee." She said Perdue also pays employees their hourly rates for taking the class.
The application service for classes is $200. The recently-awarded grant helped subsidize the fee to make it more affordable for students.
"An important element of the current grant was for us to reach out beyond the Harrisonburg and Rockingham County areas," Shenk explained. "We are considering classes in Edinburg, Augusta County, Winchester, and Moorefield, West Virginia, to extend our capacity."
Shenk said they aim for 125 students per year. All students must have their green cards to qualify for the Skyline Literacy programs.
Skyline Literacy partnered with the Harrisonburg office of Church World Service five years ago for such grants. Church World Service works at placing refugees in the United States, according to Shenk.
Shenk has a personal affection for the work that she does. Born, raised, and educated in El Salvador, Shenk met her husband, Harold Shenk, when he was a volunteer service worker for Mennonite Central Committee. They married, had two children, and returned to Harold's hometown of Harrisonburg in 2002 for her to improve her English skills.
Instead of returning to El Salvador as initially planned, the Shenk family decided to stay in Harrisonburg. Nelly Shenk had a green card, which enabled her to travel back and forth to visit her family. But she chose to study for her U.S. citizenship and passed the test. She became a U.S. citizen in 2006.
"I went through the process," Shenk said. "It was the most nervous time of my life."
She joined Skyline Literacy 10 years ago as program director before becoming executive director, and has been leading the way ever since, successfully guiding the non-profit through its financial ups and downs.
"Skyline Literacy is a second home to me," Shenk said. "We have a lot of wonderful people who make these programs the successes that they are."
Since Skyline Literacy depends so heavily on volunteers, Loving encouraged community residents to become involved with the organization.
"If helping new arrivals learn English and understand American customs and values appeals to you, please contact our office," Loving said.
Skyline Literacy is located in the Virginia Career Works building at 160 North Mason St., Harrisonburg. For more information or to donate, call 540-433-0505, or you can visit the organization's webpage.
---
Journalism is changing, and that's why The Citizen is here. We're independent. We're local. We pay our contributors, and the money you give goes directly to the reporting. No overhead. No printing costs. Just facts, stories and context. Thanks for your support.