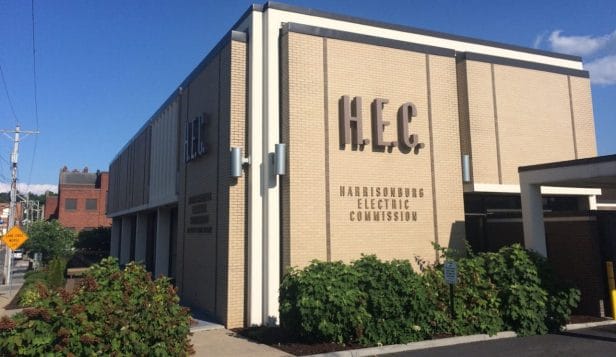 By Eric Gorton, senior contributor
For the second time in six months, rising natural gas prices have prompted the Harrisonburg Electric Commission to increase the fuel charges on each customer's bill.
On each bill, fuel charges are added to charges for metered electricity use and various taxes.
HEC's latest bills include a 2.26-cent charge per kilowatt-hour for fuel. For the average residential customer who uses 1,000kWh a month, that amounts to $22.64. From October through March, HEC customers were charged 1.439 cents per kWh for fuel, or about $14.39 a month based on the average customer's use.
The average customer is now paying about $8.25 more per month in fuel charges compared to the past six months, while the other parts of the bill remain stable.
In September, HEC was charging less than half a cent per kWh for fuel, resulting in a monthly charge of about $4.39 for average users. That means the average customer's electric bill is now $18.25 more per month than it was in September, all due to increased fuel charges.
HEC purchases its power from Dominion Energy and passes along cost increases, including fuel costs, to its customers.
The fall adjustment from .439 cent to 1.439 cents was the first time HEC adjusted the fuel charge mid-year, said General Manager Brian O'Dell.
HEC bases its budgets on estimates and makes annual fuel cost adjustments in April.
"Every year is going to have an over- or under-recovery attached to it," O'Dell told the HEC Board of Commissioners at its most recent meeting on April 26. "We anticipated about a $4 million under-recovery. It turns out it was about $7.5 million."
The latest fuel adjustment will enable HEC to recover the losses from the past year and, it hopes, pay for fuel costs from now through March 2023. O'Dell said he didn't want to speculate on whether another mid-year adjustment might be necessary.
Due to the war in Ukraine and other factors, the cost of natural gas continues to climb.
"Everything is working against the price of natural gas," O'Dell told the board on April 26. "There are a lot of factors in play for the price of natural gas as far as imports, exports, demands, storage is down."
He also said it does not appear the price will be coming down for at least the next year.
The New York Times reported on Tuesday that natural gas is selling for about two to three times as much as it did two or three years ago and that the price has surged as producers have sent more fuel to Europe, which wants to use less Russian gas.
O'Dell said the last time natural gas cost more than it does now was in 2014. "During the polar vortex, prices escalated quickly," he said in an email last week.
In the past, Dominion could switch its power plants from natural gas to coal when natural gas prices spiked, but that is no longer an option as coal is being phased out.
Shenandoah Valley Electric Cooperative customers are also paying higher electricity bills due to rising natural gas costs.
In an April 27 email, SVEC told its customers the average residential member using 1,000 kWh per month will see a 6.5% increase in their average monthly bill over 2021. The email states the average bill was $113 and beginning May 1 would be $121.
Slightly more than 2% of the increase is being passed on from Old Dominion Electric Cooperative, SVEC's wholesale energy provider.
"As for ODEC's costs passing through to SVEC members, natural gas is a significant source of electric generation, even if you do not have natural gas at your home," the letter states.
Contributing factors to the increasing cost of natural gas include high demand and cold temperatures in winter along with the war in Ukraine, the letter states.
"Since Russia accounts for 11% of world crude oil output, current energy embargos and the resulting reallocation of European gas imports, along with other global economic factors, further exacerbate price increases and volatility."
O'Dell offered a few tips to help people manage their electric bill during the warm months of the year, such as making sure heating and cooling systems are tuned up and working properly, keeping filters clean, using ceiling fans, setting the thermostat to 78 degrees and keeping blinds closed.
More energy saving tips can be found on the HEC website.
The city has a few options for HEC customers who need help paying utility bills, such as:
People Helping People – 540-433-7286
The Salvation Army – 540-434-4854
The Department of Social Services – 540-574-5100
HEC offers free home energy audits to assist customers in identifying ways to reduce energy use year-round. The audits include using infrared camera imaging to detect areas of heat loss around windows, doors and in attics, which accounts for the majority of wasted energy in most homes, second only to lack of insulation.
SVEC spokesman Preston Knight said the utility will work with members to try to accommodate those unable to make timely payments.
"We understand that there are unforeseen circumstances and hardships for individuals and businesses at times that make timely payment for electric service difficult," Knight said. "We can connect members with resources in the community that have established relationships with us in terms of assisting with utility bills."
SVEC also offers a levelized program that will average the current bill with those of the previous 11. Members who enroll can then pay about the same amount each month year-round, avoiding higher bills from extreme hot or cold months.
---
Journalism is changing, and that's why The Citizen is here. We're independent. We're local. We pay our contributors, and the money you give goes directly to the reporting. No overhead. No printing costs. Just facts, stories and context. We're also a proud member of the Virginia Press Association. Thanks for your support.