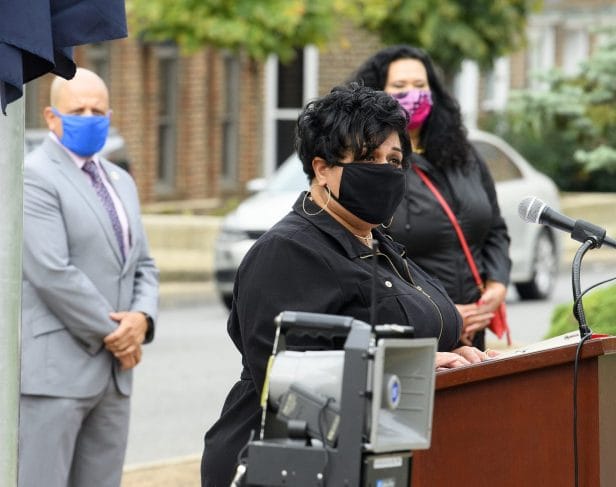 By Ryan Alessi, publisher, and Charlotte Matherly, contributor
More than 40 community organizations will receive city funds — including 11 first-time recipients — after the city council made changes Tuesday to the draft of the city's next budget.
The council must finalize the budget by the end of the month. Because Virginia lawmakers are still wrangling over the state budget, the council might need to amend the budget later if school funding or the grocery tax rates change.
As it stands now, the proposed budget calls for more than $330 million in spending and includes a 3-cent increase in property tax rates to help pay for debt payments on the Rocktown High School complex. The proposed property tax increase would move the city's rate to 93 cents for every $100 of assessed property value, which works out to be about a $60 increase on a $200,000 home.
Four of the five council members met in a work session Tuesday to hash out the amounts and recipients for community organization grants for the 2022-23 budget that takes effect July 1.
Mayor Deanna Reed, Vice Mayor Sal Romero and council members Chris Jones and Laura Dent
agreed to select 43 organizations to receive portions of the $500,000 allotted for those grants. They later approved the first reading of the budget by a 4-0 vote. Council member George Hirschmann, who is recovering from back surgery, was absent.
Child services organizations will receive the most funding at around $200,000. Other key categories included housing organizations, which will receive collectively just under $100,000, and community organizations — an umbrella term, Dent said — which will receive a total of $74,000.
"That's just a way of showing after we've processed the applications, what our community organizations are providing, and it does really match our city's priorities, and that's what's good to see," Dent said.
The council awarded some organizations more than what the city staff initially recommended, including:
Blue Ridge CASA for Children would receive $10,350.
The Harrisonburg Little League Association is slated to get $6,000.
Blue Ridge Free Clinic would receive $4,750, up from a proposed $1,900.
Strength in Peers, a mental health nonprofit, would get $15,900.
First Step, an organization that seeks to help survivors of intimate partner and relationship abuse, would get $29,750, as recommended by the city manager's office.
The council also tabbed $5,000 for Harrisonburg Downtown Renaissance (HDR) for its Fourth of July fireworks show. Romero proposed increasing it from the recommended $3,000 because the event hasn't happened since 2019 as a result of the pandemic.
"I feel like it's one of the few events that actually brings people together," Romero said. "People look forward to it."
Reed abstained from that specific discussion and vote because she works for On The Road Collaborative, one of the child services organizations that will receive funding from the city.
Reed pointed out that several new organizations made the grant list this year, a feat she said isn't easy. Eleven organizations that didn't apply for funding last year applied for funding for the 2022-23 fiscal year, including the Blue Ridge Free Clinic.
Other organizations, Reed said, are now doing well enough to forgo city funding and didn't apply. This is in part because of federal funding from the American Rescue Plan Act and the Coronavirus Aid, Relief and Economic Security (CARES) Act as well as local efforts, such as the Great Community Give. Amy Snider, assistant to the city manager, told Reed that this could also be because several organizations missed the deadline for applications.
Dent proposed a formal classification system for grants, to be applied next year. She said having categories like child services, community, health, housing, immigration and others would help organizations classify themselves when applying for grants.
Romero and Jones also expressed interest in establishing a system for check-ins so either city staff or the council can keep tabs on how this money is being spent by organizations and ensure that it's used efficiently. Romero said that although he won't be running for reelection, he wants future councils to pay attention to spending patterns and be aware of any "red flags."
Director of Finance Larry Propst also requested that the council consider decreasing the personal property tax rate by 35 cents, from $3.50 to $3.15. However, he said, if value goes down, this tax rate could potentially increase again.
Council approves first pay raise in 18 years
While it won't take effect until July 2023, council members approved by a 4-0 vote the first salary increases for their positions since 2004. 
Harrisonburg council members, starting next summer, will make $18,000, up from $12,000, and the mayor will earn $20,000.
City Attorney Chris Brown brought the proposal after discovering Virginia law allows for city council members and mayors to earn up to those levels, so the proposal would bring Harrisonburg in line with officials in cities like Fredericksburg, Charlottesville and Richmond.
"I do realize that it's awkward to vote yourself a pay raise," Brown said as he prefaced his remarks about how he stumbled upon the state rates for city officials while looking up another statute.
It was, indeed, awkward when it came time to vote. Reed's call for a motion was met with a long pause. Ultimately, Dent made the motion and Romero, who isn't seeking re-election in the fall and won't be on the council when the raise takes effect, seconded it.
Brown said he and Propst had to dig to find out that the council's last raise came in 2004. Since then, the city's population has grown by 27%, he added, while elected leaders' duties and challenges the city faces — especially during the pandemic — have increased during that span.
"Literally a generation" has gone by, Jones said. "There are people who were born then who are 18 now."
Alley dogs?
City council meetings are where the rubber meets the road with politics and policy — quite literally sometimes, as was the case Tuesday with a debate about turning over an alley to JMU.
Issues regarding alleys have seemed like the third rail of local politics at times, as residents have wondered about who is responsible for maintaining a particular alley (short answer: it depends on whether the city has ever agreed to maintain it) and who technically owns an alley (it depends on when the deed was drawn up).
In the case of the alley between Port Republic Road and East Fairview Avenue, the city owns the alley and had previously paved it, putting the city on the hook for its future maintenance.
JMU officials called Tom Hartman, the city's director of public works, last year to ask when the alley would get repaired and repaved next. The university owns the land around the alley, which provides access to a student parking lot.
But Hartman said the alley wasn't on the priority list, and the city would have to find the money to cover it.
Still, the alley is city property and transferring ownership of property usually means money changes hands. But when Jones asked how much JMU would be paying, Brown — the city attorney — said in this case, the city would transfer ownership without selling it because the city had initiated the transfer. And city ordinances say, if the city initiates, it can be transferred at no cost.
That seemed to catch council members off guard.
"I would hate for someone to think that we are moving at a different pace because it's them," Jones said, referring to JMU.
In response to Jones' question about how much the alley would cost the city to maintain, Hartman said it would take about $25,000 to resurface the alley, which he said doesn't serve a purpose for the city and is only used for access to the JMU lot. Saving the city from having to find that $25,000 seemed to assuage council member's concern.
"You got $25,000, Mr. Vice Mayor?" Jones jokingly asked Romero.
"We can split it," Romero deadpanned.
The council unanimously approved the measure to relinquish control of the alley.
Water rates expected to go up with big digs ahead
Mike Collins, Harrisonburg's public utilities director, said water and sewer rates will need to go up as the city replaces a series of century-old pipes across the city over the next 10 years.
People who use about 5,000 gallons per month would see their water and sewer bill go up to $50.40 from $48.80, according to the proposal.
That's because the city has more than $30 million in pipe replacement projects coming due as some of the original pipes laid in the early 1900s reach the end of their lifespans, including some around Court Square, Collins said.
In 2019, pipe and utility line replacement from Court Square to Mason Street dragged on for months because of the complexity of the project.
Collins told the council that even with planned rate increases over the coming decade to cover the projects' costs, the rates are still lower than other municipalities, which also have similar big bills coming due.
"Our rates are very, very good. I don't think we'll lose our position," he said. "If you look at what everybody else is doing, they're facing the same thing."
At Tuesday's meeting:
The city decided to move forward with a contract with Momentum Earthworks, LLC, on a restoration project of nearly a mile of Blacks Run Stream that runs behind the Public Works Department, the city's recycling convenience center and under I-81. The project's maximum cost will be $3.4 million, but state funding is covering $1.4 million of the cost.
In what city leaders said was a first of its specific kind, the council approved a special use permit for Brad Cohen to convert a detached garage into a short-term rental at his home at the corner of Newman and Ott streets downtown. The council previously approved homes renting out rooms as short-term rentals, as well as a separate housing unit on a property — but not a converted detached garage before.
---
Journalism is changing, and that's why The Citizen is here. We're independent. We're local. We pay our contributors, and the money you give goes directly to the reporting. No overhead. No printing costs. Just facts, stories and context. We're also a proud member of the Virginia Press Association. Thanks for your support.