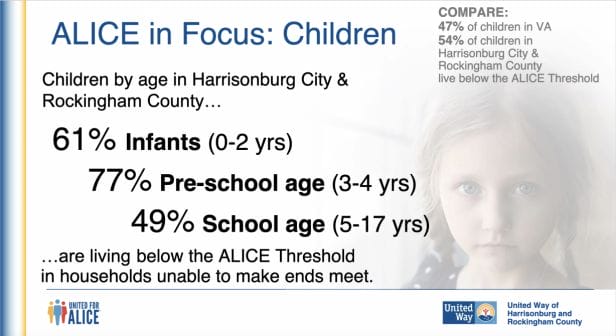 By Charlotte Matherly, contributor
More than half of the children in Harrisonburg and Rockingham County live in households that struggle to make ends meet even though family members are employed, according to the local United Way's analysis of economic data.
Jo Benjamin, director of community impact for United Way of Harrisonburg and Rockingham County, crunched numbers behind the United Way "ALICE in Focus" data, which sheds light on those residents who are in financially precarious positions. ALICE stands for Asset Limited, Income Constrained and Employed households.
There are 6,301 ALICE households in Harrisonburg, meaning they live above the federal poverty line but below the standard of living. That's 38% of Harrisonburg households. This data is based on the 2020 ALICE report and was collected in 2018, Benjamin noted, meaning all these numbers are from a pre-pandemic world. Now, she said, these statistics are "probably worse."
Benjamin told the city council Tuesday that 54% of children in Harrisonburg and Rockingham live below the ALICE threshold. There are disparities within those figures as well, she said. For instance, 67% of Black children and 69% of Hispanic children are among the ALICE population, compared to 36% of white children. In Virginia, there's also a disproportionate number of ALICE families with children who have disabilities and households that speak limited English.
Of all the children in Virginia who live in rental housing, 99% of them live in what Benjamin called rent-burdened households — those in which more than 30% of income is spent on housing. And 75% of all Virginia children live in rental households with income below the ALICE threshold.
With all this in mind, Benjamin said the biggest need is affordable housing — an issue the council members have debated and focused on over the last several years.
"The ability to find an affordable place to live with the amount of money that folks have in the bank is the largest difficulty," Benjamin said. "When you get a roof over your head, everything else becomes easier."
Benjamin said ALICE isn't self-identifying — it's more used to talk about data and numbers, she said — but council member Laura Dent proposed the potential benefits of normalizing the term to help people realize they're in that situation and can seek support.
"As awareness is raised in the community, there might be some merit to having people recognize that they are ALICE in order to access some of the community services that we do have available," Dent said.
Benjamin said other community organizations have begun using the ALICE framework as well — something she said she's encouraged by and hopes to see more of.

Signing off on the city budget
Harrisonburg City Council voted unanimously to approve the 2022-23 budget at Tuesday's meeting.
After weeks of multiple work sessions, reviews and discussions of the drafts brought forward by Interim City Manager Ande Banks and the city staff, the budget was passed with only a few minor last-minute changes, including a few changes in the allocations for community grants as discussed in the May 10 work session and a reduced property tax on vehicles from $3.50 to $3.15 per $100 of assessed value.
The budget amounts to an overall $335.8 million. Aside from about $145 million in general funds, which covers government administration, public safety and community development, the second-largest expenditure goes to schools and education. That spending includes the construction of the new Rocktown High School, which will open in fall 2024 and will lessen the overcrowding strain off of Harrisonburg High School. About $2.9 million in increased debt service payments will help cover payments toward the new school.
Also included in the budget will be:
$1.9 million to cover 3% wage increases for city workers and an additional 2% for frontline workers and emergency responders.
and more than $500,000 will be spread to local nonprofit civic and community organizations.
According to Harrisonburg's charter, the budget must be approved by the council each year by May 31. Because the Virginia General Assembly hasn't yet passed the state budget — the legislature will reconvene June 1 — there could be some changes to the budget, Banks said. The General Assembly, for instance, could make decisions affecting taxes, such as the grocery taxes, or the level of education funding, which would affect the city's budget.
If Harrisonburg receives less money than anticipated, the first items on the chopping block will be some capital projects, or infrastructure and maintenance projects, Banks said.

Real estate tax increase: 'Not really another path'
But before approving the budget, the council held a public hearing on the 3-cent raise to Harrisonburg's real estate tax, which the council members defended — albeit with some reluctance — as being necessary to cover the new high school's construction.
The increase would bump the rate to 93 cents on every $100 worth of assessed property, which works out to be about $30 more on a $100,000 home.
Council members had planned to increase that rate since they laid out the plan two years ago for how to cover the roughly $100 million cost of the new high school.
The council isn't allowed to use American Rescue Plan Act (ARPA) funds for that purpose, but Vice Mayor Sal Romero said he hopes the community knows that the council looked for other options to subsidize the new high school.
"There's not really another path," Romero said.
Mayor Deanna Reed agreed. Because overcrowding at Harrisonburg High School has been an ongoing issue, she said, the council knew an increased tax rate would be necessary to build the new school, but she stressed that "this was not taken lightly."
Council Member Chris Jones said if that rate didn't increase, money would have to come from somewhere else in the budget, potentially weakening services like police protection and maintenance of city infrastructure.
"People can say, 'Hey, I don't want to see taxes go up,' but what they don't want to see is their trash sitting on the road a little bit longer, their snow piling up and things of that nature," Jones said. "Folks are upset, maybe, to see taxes go up. When services go down, that's when they move."
To offset this tax increase, the city will waive the $40 vehicle decal and registration fee, as proposed by Finance Director Larry Propst at a previous city council meeting.
Just one community member offered a comment. He expressed concern for people living below the ALICE threshold — 61% of Harrisonburg households — who might be affected by the increase. 

Art project for the north end of downtown
Council members offered public support for transferring $50,000 from the Community Development Block Grant's administrative funds to go toward an art installation at the intersection of North Main Street and North Liberty Street. Harrisonburg Downtown Renaissance has committed $20,000 in funding, and the Arts Council of the Valley will coordinate community collaboration on the project.
The May 24 city council meeting marked the start of a 30-day public comment period for the project's funding.

Student service learning projects highlighted
Students from Harrisonburg High School presented their service learning projects to the council. The projects, each designed to help the community in some way, included a funding request to increase Harrisonburg's tree canopy, which is lower compared to surrounding areas; an effort from students to bring prom celebrations downtown; a collaboration with Harrisonburg Tourism and Visitor Services to increase access to information about disability accommodations at local hotels; and a project with the Harrisonburg Fire Department to improve communication with children on the autism spectrum during emergency situations.
---
Journalism is changing, and that's why The Citizen is here. We're independent. We're local. We pay our contributors, and the money you give goes directly to the reporting. No overhead. No printing costs. Just facts, stories and context. We're also a proud member of the Virginia Press Association. Thanks for your support.