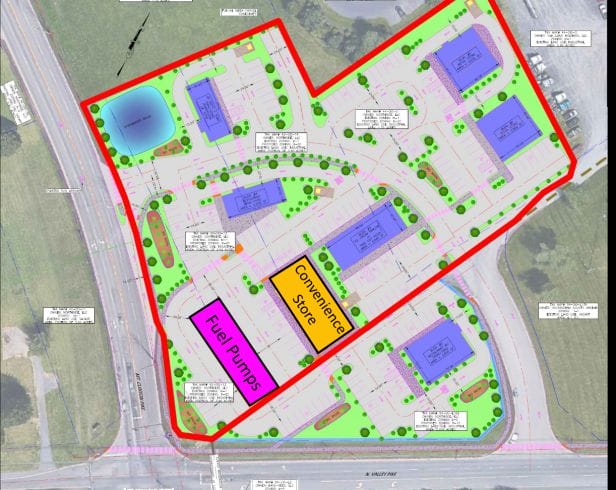 By Ryan Alessi, publisher
In the latest in a series votes on developments, council members on Tuesday unanimously approved zoning changes for a commercial development at the edge of town on North Main Street and an apartment complex on Chicago Avenue.
Plans for the Northside Gateway development include starting with a gas station and convenience store operated by Mt. Jackson-based Holtzman Oil Corp. Eventually, the four-acre site could include other stores and restaurants now that the council has approved a zoning change.
"It looks like that whole north end is an economic boom waiting to happen," said council member Laura Dent.
Dent, who has advocated for environmental protection measures, said even she could get behind a development with a gas station if it meant allowing more people who work and live in the area to walk there.
"I would love to say no to new fossil fuels, period. But I recognize we're not there yet," she said.
Instead, Dent said she was persuaded to vote for the zoning change to allow the project, in part, because Holtzman has proposed installing a high-speed direct electric vehicle charger.
The city's planning and zoning staff had recommended against allowing the project unless the developers agreed to place the convenience store closer to the sidewalks than the gas pumps. But in the end, the council members said they were OK with what the developers put forward.
"It seems like they have done a great job ensuring that the space is walkable," Vice Mayor Sal Romero said, but added that the city needs to invest in sidewalks along the roads nearby. "We have to commit as a community to make our streets walkable."
Romero told The Citizen after the meeting that he plans to follow-up with city staff to find out where the city is with plans for sidewalks in that area.
"People are going to walk in the street, the grass – it's just not the safest," he said. "I certainly want us to address this prior to this facility being built."
As for the new housing development on Chicago Avenue, the council approved a zoning change and a special permit allowing for denser housing on the 2.5-acre plot next to La Morena. The restaurant's owner, Angel Rodriguez, plans to build an apartment complex with 48 three-bedroom apartments aimed at families.
Rodriguez and Fred Bosserman, president of the architecture firm APR Associates, told The Citizen that construction likely will begin in the next two to three years. Rodriguez said the going rate to rent three-bedroom apartments like those he's looking to build would be $1,600-$1,800 per month.
That project joins a growing list of developments the council has approved in 2022, including an affordable housing apartment complex on Lucy Drive, an upscale development on the site with the Harrisonburg Regal and a 156-unit complex at Franklin and East Market streets, with potentially more to come.
"It's going to increase density. It's going to increase traffic. But it's definitely going to create more spaces for people to be able to live in," Romero said of the recent approvals of those developments. "We know housing is needed. We know we need to be strategic, but we also know we need to be flexible."
For instance, Romero said he and other city leaders might prefer to see more affordable housing developments proposed, but that decision is up to the developers. And additional housing, regardless of the targeted income of owners or renters, will have a ripple effect across the market and increase availability for everyone, he said.
Both Romero and Mayor Deanna Reed said they believe creating more opportunities for people to rent and buy homes in the city will be a legacy of this council.
"We were committed to affordable housing, whatever that may look like," Reed said. "We've had several conversations about what affordability is. But we know that we have a housing challenge here."
And on the north end of town, the need isn't just housing but retail, restaurants and access to groceries, which Reed said will be served by developments like the Northside Gateway.
"We have a side of town … that needs these types of developments and so we want to continue to grow," Reed said. "I think in three years we're going to be that city that people are talking about, want to spend time in and want to live in."
Council members extensively debated both the Northside Gateway and Chicago Avenue projects at the April 12 meeting but delayed voting on them so that Councilman George Hirschmann could participate. Hirschmann, who returned Tuesday after missing the previous meeting, has been recovering from back surgery.  

Police and city employee pay remains an issue
The meeting started with Chief Kelley Warner introducing the newest Harrisonburg Police Officer and two promotions within the force. But the police department is down about 20 officers out of 112 positions.
The salaries and compensation for police, as well as all city workers, will be the focus of a study the city is preparing to start.
"I feel like we're low in starting pay, and I would like to see that increased," Reed told The Citizen after the meeting.
The city is in the process of hiring a consulting firm to conduct the study, which will also compare Harrisonburg's city employees' compensation to other communities. Ande Banks, the interim city manager, said he expects a firm to be hired in two or three weeks, and the study will likely take about nine months. 

Taxi regulations approved
The council also unanimously signed off on a rewrite of the city's rules for taxis, in part, to allow them to compete on a more level playing field with ride-hailing services such as Lyft and Uber.
City Attorney Chris Brown outlined to the council last month the key changes, which include allowing taxi companies to set their own rates but to clearly display those rates. And taxi companies also can give discounts to frequent customers, which isn't allowed under the current ordinance.
In addition, Brown said after further discussions with taxi owners, the revised ordinance would allow taxi companies to charge a surcharge for certain high-traffic events, including JMU games, graduations and any occasion that required a special event permit that the city council must approve.
Budget process continues
Before debating the proposed city budget starting at the May 10 meeting, several council members said they want to meet for a work session — but need to select a date and time.
The city must provide three business days of public notice for such a meeting. 
---
Journalism is changing, and that's why The Citizen is here. We're independent. We're local. We pay our contributors, and the money you give goes directly to the reporting. No overhead. No printing costs. Just facts, stories and context. We're also a proud member of the Virginia Press Association. Thanks for your support.