By Bridget Manley, publisher
Updated at 6:16 p.m. with information about the June 2 special council meeting to discuss the vacant seat.
Harrisonburg City Councilman George Hirschmann, the lone independent on the council, announced Thursday that because of health concerns, he has resigned from city council effective immediately. 
By Thursday afternoon, the city council had announced a special meeting at 7:30 p.m. Thursday, June 2, in the council chambers to discuss "issues arising from the resignation," as the city's meeting announcement put it.
In a statement released Thursday morning, Hirschmann said that while his "heart was heavy" at no longer serving the community, he was grateful for the opportunity to make Harrisonburg a better place as an elected official. 
Hirschmann missed the last two city council meetings after undergoing back surgery in March. He did attend a meeting in April in order to cast votes on permits for key projects, including a plaza with a gas station and retail developments at North Main Street and Mt. Clinton Pike.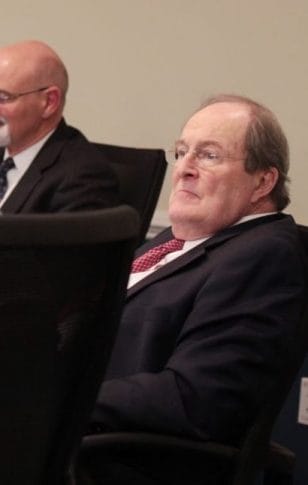 City spokesman Michael Parks told The Citizen that Hirschmann made the decision after the realization that he could not serve to the best of his ability and at full capacity.
"He's stated that if he can't 100% be there for his residents and serve to the best of his capacity, he knows that it's best for the community that he step aside and let city council put someone in that seat that would be able to do so," Parks said. "That is the the direction that he has decided to head in, and we certainly respect that."
In a follow-up statement signed by the remaining four council members, they said, "we know George's decision to resign is likely the hardest choice he has had to make as your elected official, but we applaud him for placing the community he has worked so hard for first and recognizing that his health would no longer allow him to commit the hours necessary to carry on in the position he loves so much."
While the announcement was made Thursday, the city received Hirschmann's resignation late Wednesday afternoon.
Parks confirmed that Hirschmann had publicly talked about back surgery in recent months but could not speak to current health issues.
Hirschmann's resignation is the second shake up for the city this month. Councilman Sal Romero announced his intent not to seek another term on city council earlier this month but will serve out his remaining term this year.
The city council has 30 days to appoint someone to Hirschmann's seat. Parks said the council members will begin to have conversations in the next few days about possible candidates and could either have those discussions at the next council meeting on June 14 or call a special council meeting for the purpose of selecting a candidate.
Once the council has appointed someone to the seat, that person will serve until a special election can take place in November for voters to elect someone to serve the remaining two years of Hirschmann's four-year term.
Candidates can apply for the remaining two-year term in the coming weeks. That will be in addition to the two seats that are up for election — seats currently held by Romero and council member Chris Jones.
City staff is not involved in the process of selecting a candidate for the interim council member, other than the city attorney and voter registrar, who will provide council with answers to any questions they may have with the process.
Hirschmann has been on council for six years, and has served on the Central Shenandoah Planning Commission and the City/County Liaison Committee, among others. In the release, he highlighted his advocacy for the Harrisonburg Police and Fire Departments, the creation of Harrisonburg 2039 vision plan, and affordable housing for senior citizens as his proudest accomplishments.
Hirschmann was also the Chief Meteorologist for WHSV in Harrisonburg.
Parks said that city staff will miss him at community events that Hirschmann took pride in attending, and said Hirschmann was a "true supporter of city staff."
"First and foremost, George is someone who cares very much about our city, obviously even prior to being a member of city council," Parks said. "He's been a very familiar face for a long time now, and people are very comfortable with him and they appreciate him. He is certainly a person on our city council we are very respectful of and we appreciate what he is is brought to city business. So we will miss his input from from that aspect."
---
Journalism is changing, and that's why The Citizen is here. We're independent. We're local. We pay our contributors, and the money you give goes directly to the reporting. No overhead. No printing costs. Just facts, stories and context. We're also a proud member of the Virginia Press Association. Thanks for your support.