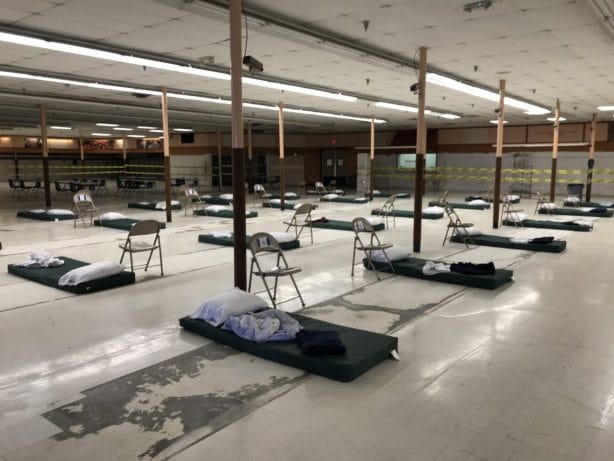 By Charlotte Matherly, contributor
The city's announcement that Harrisonburg has found a permanent site for a homeless shelter will eventually put an end to years of shifting from one temporary facility to another for Open Doors, the organization that runs the shelter.
Harrisonburg announced Wednesday it would purchase nearly four acres of land and a 6,730-square-foot building at 1111 N. Main St. to be used by Open Doors. The city will use $700,000 from the American Rescue Plan Act (ARPA) to buy it from Shenandoah Presbytery.
The city hasn't announced when it will open, so until the new property is ready, Open Doors will continue to use temporary housing — including a return to JMU's campus this summer.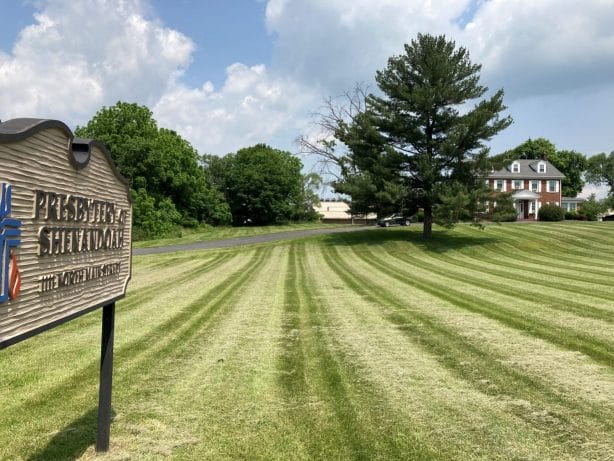 Ashley Robinson, director of operations for Open Doors, said the shelter moved on May 23 into JMU's D-Hub — originally built as a temporary dining hall while the university's main dining facility on the bluestone side of campus was being rebuilt. The shelter will remain at D-Hub until Aug. 15, which is just before students return to campus for the fall semester.
Open Doors needed a new shelter site because the owners of the former Red Front Supermarket building, which had served as the overnight and low-barrier shelter site since November 2020, were attempting to sell the property.
"We were there a little bit longer than we anticipated," Robinson said. "I wanted to respect [the owners'] time and what that process might take from them."
The low-barrier shelter status means people staying there don't have to meet any requirements, such as being sober, but they must be at least 18 years old.
Before the pandemic, Open Doors ran an overnight shelter from October to April to offer a place for people to sleep out of the cold. That shelter rotated among more than a dozen places of worship across the city.
Robinson said that with the pandemic came a need for year-round service. Soon after many businesses and agencies shut down because of the pandemic in spring 2020, JMU allowed Open Doors to use Godwin Hall, the building next to the football stadium, to provide emergency shelter for people experiencing homelessness during that spring and summer. The shelter reopened at the old Red Front building that fall, several months after the grocery store closed. And now the shelter is back at JMU.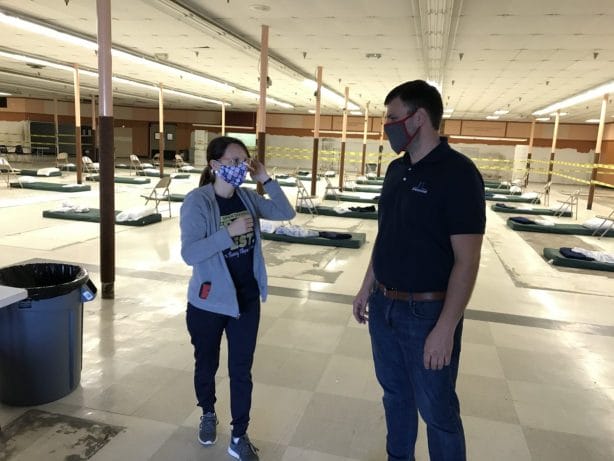 The university's previous partnership with Open Doors two years ago made it easier for JMU officials to arrange for the shelter's return to campus.
Mike Davis, executive adviser to JMU President Jonathan Alger, said from his initial conversation with the shelter to move-in day, it only took about three weeks to figure out the logistics.
On JMU's side, this required coordination from several different angles and departments.
Misty Newman, JMU's associate director of community service-learning, who's worked with Open Doors before, asked Davis about potentially finding a place for the shelter on campus. Davis reached out to leadership in the student affairs and financial offices and worked to find a space that would suit the shelter's needs.
"It's a really great example, I think, of crushing a collaboration on campus," Davis said. "We kept bringing together different groups of people who would see different pieces of it."
Davis and Newman said D-Hub made sense as Open Doors' home base for many reasons: It has consistent bus access, several bathrooms and flexible space; it's removed enough so it wouldn't disrupt other summer activities on campus; and it has enough parking and space around it for Open Doors to bring mobile shower trailers for guests to use.
"We had this empty building, and it seemed like the right thing to do for our community, so we're really happy to be able to host," Davis said.
Open Doors is using the space free of charge but is responsible for other costs, like bringing in the shower trailers. JMU covers small maintenance fees — "nothing considerable," Davis said — so it isn't bringing any extra expenses to the university.
As of June 25, JMU Police Department had responded to 20 incident reports from the shelter at D-Hub. Half of those have been calls for medical assistance, and several others for assault.
Mary-Hope Vass, JMU's director of communications, said JMU Chief of Police Anthony Matos is in direct contact with Open Doors officials and that the department is prepared to respond to calls for service at D-Hub "now or any other day of the week."
"Our student population is much lower right now," Vass said, "so [JMUPD is] still readily available to support any needs on campus."
Newman said JMU hasn't encountered many challenges in this process, but rather "little bumps" in deciding how to coordinate every aspect of Open Doors' stay on campus. Even so, Davis and Newman both said it's important for JMU to be active and engaged with its community.
"I think that universities have both human and financial resources and physical resources in terms of buildings that allow them to provide more to their community than they ever have in the past," Davis said.
He said that although JMU will consider how to help out in the future, he hopes that JMU won't need to house the shelter again once Open Doors can operate in a permanent site.
The debate over how Harrisonburg could best provide shelter for those experiencing homelessness has been going on for years. And the city council, last fall, selected the creation of a permanent shelter as a top priority for how the city should use some of the $23.8 millon the city is receiving in federal ARPA funds, which Congress approved, in part, to help cities make up for lost revenue during the pandemic. In addition to the $700,000 for the site's purchase, the city can use ARPA funds for any renovations or construction necessary for the space.
Robinson said the main goal for the relocation was to find a space central to downtown Harrisonburg, one that could serve the needs not just of Open Doors and its guests, but of other organizations in the community.
And Newman said after having volunteered with Open Doors, she's enjoyed seeing the shelter's partnership with JMU while it awaits its permanent location.
"This may sound cheesy, but I'll just say, like, when the university responds like this, as an alum, it makes me proud," Newman said. "We're deconstructing the way that we work with communities, and every time we deconstruct that, even just one little action more, it makes me very proud."
---
Journalism is changing, and that's why The Citizen is here. We're independent. We're local. We pay our contributors, and the money you give goes directly to the reporting. No overhead. No printing costs. Just facts, stories and context. We're also a proud member of the Virginia Press Association. Thanks for your support.