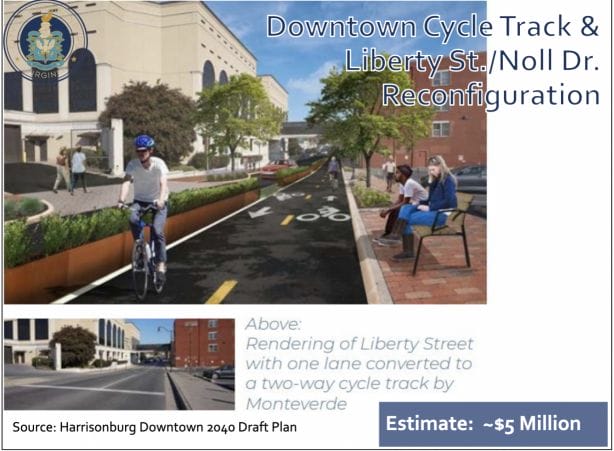 By Charlotte Matherly, contributor
Harrisonburg plans to apply for state grant money for seven transportation projects, including adding bike lanes on some major thoroughfares and some work on South Main Street near the new Rocktown High School that's under construction.
Tom Hartman, the city's director of public works, outlined for the city council at Tuesday's meeting the seven projects in the city's Smart Scale Grant application. Also among those proposals are a plan to extend the Bluestone Trail to land at Rocktown High School.
The most vocal concern came from Mayor Deanna Reed, as Hartman proposed adding a crosswalk to South Main Street. Because there's a planned "median refuge," Hartman said, pedestrians will only have to cross two lanes of one-way traffic at a time — with the chance to stop and wait at the median.
The crosswalk is proposed in anticipation of increased pedestrians with the opening of Rocktown High School. But Reed said she remains concerned for pedestrians' safety and asked Hartman to ensure that some sort of crosswalk light or monitor would be installed.
"We got to put something there to flash or, I don't care what you do, but we got to," Reed said. "We can't just have kids running across the street like that."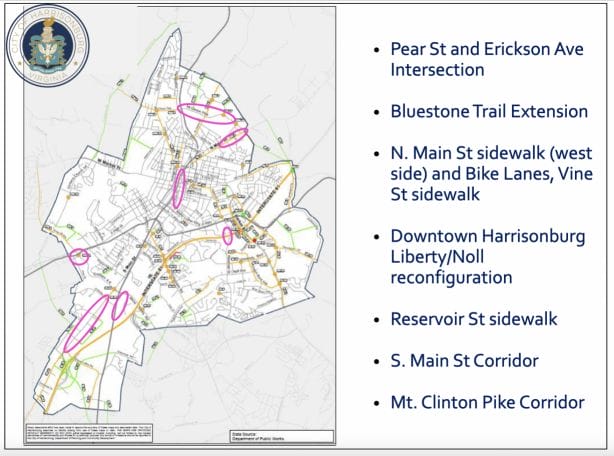 Bike lanes, sidewalks and shared use paths will be constructed throughout downtown, according to the proposals. The city plans to add sidewalks to North Main Street and Vine Street and bike lanes to North Main Street.
Working from the outside in, Hartman said, the plan is to have a 5-foot sidewalk, 2-foot planter with grass, 2 ½-foot median, a 4-foot bike lane, a 2-foot buffer and an 11-foot traffic lane on each side of the street, separated by a center turn lane.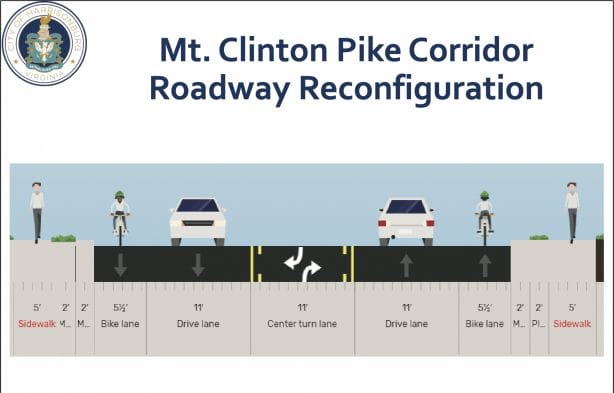 The other proposals include repurposing the southbound left lane on Liberty Street as a set of bike lanes, separated from the traffic by some kind of buffer, and to add sidewalks on Martin Luther King, Jr. Way from Dutch Mill Court to Harrisonburg Crossing.
The city plans to reconstruct Mt. Clinton Pike to add bike lanes and shared use paths as well.
Councilmember Laura Dent said buffers are essential when adding bike lanes and referred to a recent "terrifying experience" when a car careened off South High Street and cleared the curb into the Greenberry's parking lot.
She said she's happy to see that the Public Works Department plans to implement as many of those safety measures as possible.
"I am now a big proponent, even more so, of things like the barriers that I see between the traffic and the bike or around pedestrian zones," Dent said.

Next steps for the University Boulevard relocation
The city plans to host a public meeting this fall get get comments on the design for the reconstruction of a stretch of University Boulevard.
Harrisonburg and JMU plan to split the roughly $10 million cost of redirecting that winding section of the road to create a more direct route between Port Republic Road and Reservoir Street. The realignment, which will add sidewalks and shared use paths as well, will affect a stretch starting at the Carrier Drive intersection down to Port Republic Road.
The city council gave interim City Manager Ande Banks the go-ahead to enter the agreement with JMU, to transfer 11 land parcels from JMU to Harrisonburg. The transfer will be effective July 1, 2023, and the city will use those parcels to construct the new road, then will return the land to JMU at no cost for future use once the road project is completed.
In addition to over $215,000 in leftover funds from the Grace Street Extension Project, JMU will contribute an additional $4.7 million to reach a total of $5 million, to be used for design, construction and other project needs.
Come July 1, 2023, the city will begin to clear the parcels for roadway construction, which it plans to begin in early 2025.

Further plans to debate spending federal funds
The council also decided it would meet 5 p.m. Aug. 23 for a work session to discuss the use of the remaining American Rescue Plan Act (ARPA) funds. Reed called for the meeting, saying she didn't want to push the work session to September, as she hopes to have another one that month to continue discussing ARPA funds.
With impending November elections that will determine who will sit in three of the five council seats, Reed said she didn't want to run out of time deciding how to spend the city's share of $23.8 million in ARPA funds, especially after the current council members have spent numerous meetings over the last year discussing it.
"If this council wants to be the council to deal with ARPA funding, then we need to get on the same page," Reed said.
At the June 28 meeting, the council received a summary of the work the Institute for Constructive Advocacy and Dialogue (ICAD) at JMU did to conduct a survey with approximately 3,000 Harrisonburg residents about how they thought ARPA funds should be used.
Two residents spoke during the public comment period at Tuesday's meeting to share their concerns about the methodology of the study, saying that the respondents were overwhelmingly white — which the ICAD presenters said was indicative of Harrisonburg's population and needed to be viewed in context. The presentation had highlighted the ranked needs given by respondents, organized by white respondents, non-white respondents and respondents with a household income of under $40,000.
Steven Thomas said because 75% of the respondents were white, it ignored disproportionate effects on people of color in the community.
"As always, it was largely the desires of these [white] respondents and the nonprofit organizations, agencies and businesses with which they were are affiliated, that ICAD would ultimately request city council to prioritize," Thomas said.
---
Journalism is changing, and that's why The Citizen is here. We're independent. We're local. We pay our contributors, and the money you give goes directly to the reporting. No overhead. No printing costs. Just facts, stories and context. We're also a proud member of the Virginia Press Association. Thanks for your support.