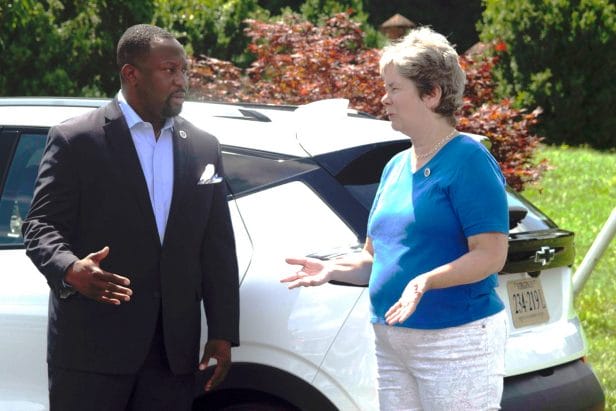 By Zia Faqiri, contributor
Updated 10:43 a.m.: The two newest cars joining the city of Harrisonburg's fleet are so silent you could hear the drivers' voices from the other side of the parking lot as they tested them out Wednesday.
City council members Laura Dent and Christopher Jones did some pre-road testing of the city's two new Chevy Bolt Electric Utility Vehicle cars in City Hall's parking lot. Dent said a shift to electric vehicles is a step to cut down on fossil fuels and encourage others in the community to go electric.
"It's the beginning of the best efforts we make that we have to make to reduce our climate impact," Dent said.
The vehicles cost $34,828 each and were paid for by city funds, but Harrisonburg is looking for grant money to cover future electric vehicle purchases, said Michael Parks, the city's communications director.
"We are considering soon moving forward on purchase orders for a number of other electric vehicles that would be for different departments, but we have not moved forward on that yet," Parks said.
The cars are white with a black interior and a "City of Harrisonburg" logo on the sides. When turned on, the cars emit little to no noise — or greenhouse gasses that internal combustion engines do. Because EVs aren't spewing out exhaust, they don't have tailpipes.
"It was very soothing, it was very comfortable. Lots of features," Jones said. "I'm excited about the step forward to more efficiency."
Keith Thomas, the sustainability and environmental manager for the city's Public Works Department, said these cars will be mainly for staff to drive.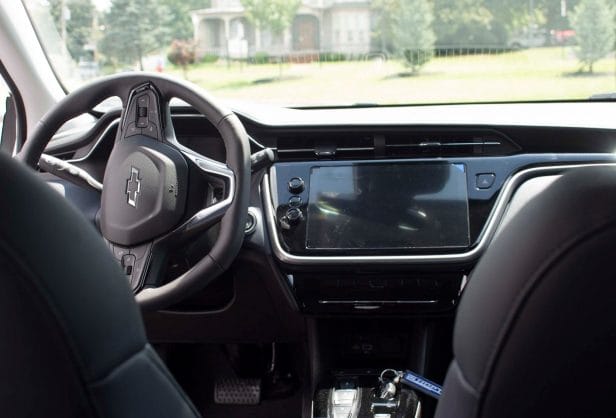 "Instead of using a gas powered vehicle to run an errand, or go to a conference, we have the electric option now," he said.
The move to have electric vehicles join the fleet has been in the works for a while. The city's Environmental Performance Standards Advisory Committee (EPSAC) has urged city leaders to invest in electric vehicles and related infrastructure, like charging stations. And city council members spent a bulk of their June 14 meeting discussing potential strategies through the city's Environmental Action Plan to reduce greenhouse gasses that can exacerbate climate change.
"Our Environmental Action Plan is kind of the starting place of this, we've been looking at different areas where we have emissions," Thomas said. "Buildings and energy is one, but we also have transportation that contributes to that, so we've been looking to see what we can do to reduce emissions in that category."
Dent said next steps in cutting down Harrisonburg's carbon footprint includes shifting "the entire city fleet, and transit buses, and school buses" to become electric.
Gerald Gatobu, the city's director of transportation, secured grant funding for a pilot program for two electric school buses and having "the infrastructure built out for the first 10 electric school buses." Dent also says she is working on energy next, specifically having solar panels placed on the city building and the farmers market.
"If our electricity source is still fossil fuels, even electric vehicles as efficient as they are only go part way to solving the problem," Dent said.
Dent said the city government is responsible for a total of 4% greenhouse emissions of Harrisonburg. She said it's going to take the whole community coming together "to stave off the worst of climate change that's already happening."
"We're running out of time," Dent said, noting that even if humans stopped additional greenhouse gas emissions, it would take many decades for them to dissipate.
"It's going to take the whole city," she said, "but we're starting with leading as city government."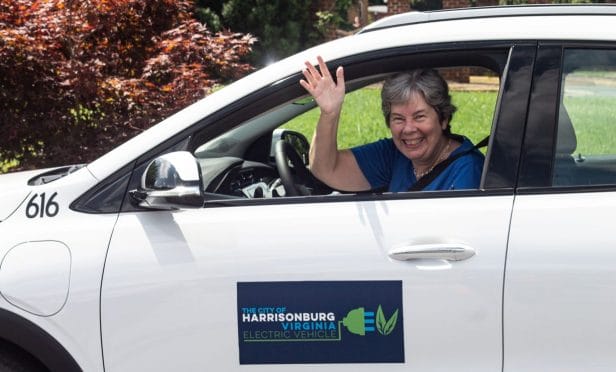 ---
Journalism is changing, and that's why The Citizen is here. We're independent. We're local. We pay our contributors, and the money you give goes directly to the reporting. No overhead. No printing costs. Just facts, stories and context. We're also a proud member of the Virginia Press Association. Thanks for your support.