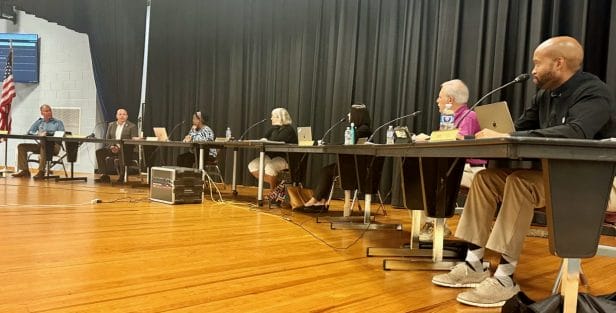 By Bridget Manley, publisher
The Harrisonburg City School Board moved further along Tuesday in selecting which one of three candidates should fill the vacant seat left by its former chair Nick Swayne as board members invited residents to offer their input.
A majority of community members who spoke at the work session at Skyline Middle School— as well as those who submitted written comments — said they favored either of the two candidates that have previous school board experience.
Diane Foucar-Szocki, a professor in JMU's College of Education, spent eight years on the school board, and Thomas Domonoske, a lawyer, has twice served on the school board.
The other theme to emerge from those who supported Corin Jackson, the CEO of Black Tea Investing, LLC, was to diversify the perspectives on the school board.
All three candidates made their cases for why they want to fill the vacant seat at the board's meeting two weeks ago. The school board will decide who will fill Swayne's seat in a special meeting set for 5:30 p.m. Tuesday, Sept. 27, at the district's central office. The vote will be the only action on the agenda. The person selected will serve for a little more than a year until a special election in November 2023 decides who will serve out the last year of Swayne's term after he left Virginia to become president of North Idaho College last month.
Three people spoke in support of Jackson during Tuesday's meeting. Resident Barbara Knupp said that while the board focused on the importance of diversity in city schools, they needed to focus on a "diversity of thought and opinion" on the board.
Will Maldonado, a pastor who said he was the father of children who were homeschooled, asked the board to take into consideration someone who can "discern between good and evil" before endorsing Jackson.
Jeff Heie, the director of non-profit Give Solar, voiced his support for Domonoske, saying his experience with legal matters might be helpful to the board in the coming months.
The board is being sued by six teachers and parents over their interpretation of the board's policy regarding transgender students.
Two other community members joined dozens of write-in endorsements from parents and teachers, endorsing both Foucar-Szocki and Domonoske as good choices.
Many written comments, which School Board Chair Deb Fitzgerald read aloud at the meeting, focused on the experience both had on the board, noting that either could "jump right in" and understand the work.
Of the three candidates Jackson is the only one who is running for one of the three school board seats that are up for election during this November's election. Several commenters pointed out that if she were to be appointed to Swayne's seat and also won a seat in November, the board would have to engage in the process of selecting another interim member after that election.
"You have the opportunity to let the voters of Harrisonburg speak directly to our confidence in Ms. Jackson's candidacy this November," wrote Stephanie Sorge. "If Ms. Jackson garners the votes needed to secure a seat, she will have the opportunity to serve a full term as an elected member of the board."
Other comments referred to endorsements that Jackson has received. Jackson has received the endorsement of Matt Cross, a member of the Rockingham County School Board.
"While her policy positions are unclear, it is concerning to me the endorsements she has received from local public officials," Broadway resident Michael Stemple said.
Following the meeting, the board recessed to go into closed session specifically to talk about the open school boards seat.
Board starts forming legislative priorities for 2023 session
School Superintendent Michael Richards asked the board Tuesday night to consider priorities, action items, and positions the board should take when legislators reconvene for the 2023 session in Richmond.
Specifically, Richards asked the board to think about three to four legislative priorities that would work as "elevator pitches" — items that board members can bring to Virginia House and Senate representatives for funding.
Some of the action items that Richards suggested the board continue to focus on were funding for better broadband services, supporting legislation that funds state mandates that are required of school systems, and "local control," giving boards more say in how they run their systems.
In addition, Richards made some new recommendations for priorities for the board to consider. More funding for mental health programs, funding for digital tools to be used in the classroom, and legislation for empowering student voices were among suggestions Richards said could help city schools.
The board members plan to outline their priorities during the next regular board meeting at 7 p.m. Thursday, Oct. 6. 
Journalism is changing, and that's why The Citizen is here. We're independent. We're local. We pay our contributors, and the money you give goes directly to the reporting. No overhead. No printing costs. Just facts, stories and context. We're also a proud member of the Virginia Press Association. Thanks for your support.