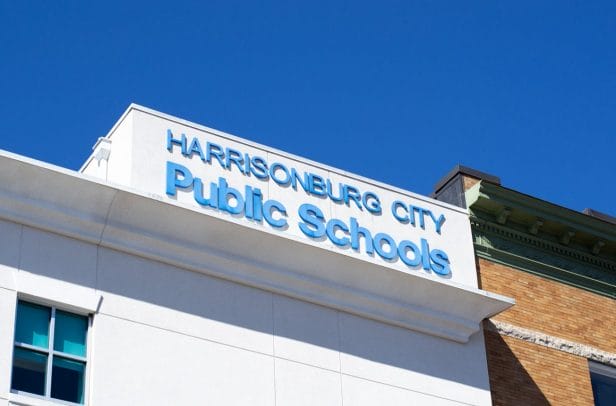 By Haley Thomas, contributor
Two former school board members and one newcomer fielded questions from the Harrisonburg City Public Schools' board Tuesday as each made a case for being the one to fill the seat of Nick Swayne, who resigned last month after taking a job in Idaho.
The candidates included: Thomas Domonoske, a lawyer who has twice been on the school board; Diane Foucar-Szocki, a professor in JMU's College of Education who spent eight years on the school board; and Corin Jackson, the CEO of Black Tea Investing, LLC, who is also running in the Nov. 8 election for one of three seats that are on the ballot this fall.
The board plans to appoint someone to fill Swayne's seat at a special meeting Tuesday, Sept. 27.
Swayne, who was serving as the school board's chair, officially stepped down Aug. 15 after becoming president of North Idaho College. The timing of his resignation required the board to appoint someone to fill the empty seat until a special election is held next year. The board received three applications and interviewed each of the candidates at Tuesday's business meeting.
School board members posed six questions, written and approved by each member, to each candidate. The questions required the candidates to offer broad views about the role and direction of the school board and to specifically weigh in on a specific controversy — a policy regarding transgender students that has sparked a lawsuit.
Most important task for the board to accomplish
Domonoske said it is necessary for the board to manage and execute its duties "in a transparent manner that complies with Virginia law." He said it is important to let staff members do their jobs while board members simply ensure "the ship is pointed in the right direction."
Domonoske, a consumer lawyer, served as both an interim appointed position and again following a special election in 2015. In his application, he wrote that he also had "many years of teaching experience" and is "regularly thinking about the education process, the different types of learning that exist, and what conditions create more effective learning."
Jackson said she's been coming to school board meetings since the beginning of the year and her priority is to build integrity on the school board, particularly ensuring that teachers can connect with the board members.
Jackson said while she has never served on the board, she is a graduate of the school system, having attended Thomas Harrison Middle School and Harrisonburg High School. In her application, she wrote, "It's my focus to promote a positive environment for all of the children in our community, support our hard working teachers, and continue to build communication with our families."
Foucar-Szocki said maintaining the fiscal health of the system with the funding they're provided is crucial. She said that from there, promoting access to educational equality for students, staff and all residents of Harrisonburg is the most important task for the board.
She served on the board from 1994 to 2002, holding vice chair and chair positions during her tenure. She wrote in her application that she has "ongoing professional and personal commitment to the highest quality education for all of our children and families."
Thoughts about transgender student protection policies
The city school district faces a lawsuit from a group of six parents and teachers, who claim the district's policies regarding transgender and non-binary students tramples on parents' rights by cutting them out of discussions regarding the students' preferred name and pronoun. The Alliance Defending Freedom, a conservative Christian organization based in Arizona, helped the group of parents and teachers file the lawsuit.
The district has argued that school counselors do communicate with parents when a student requests to change their name and/or pronoun, but that school officials handle each situation on a case-by-case basis.
The district's policy came about in the wake of legislation the Virginia General Assembly passed in 2020, which codified protections for transgender and non-binary students in Virginia public schools. These protections were aimed at creating a learning environment free from harassment and discrimination against any and all students, supporters of the bill said.
The candidates offered slightly different views Tuesday night.
"I know this is a very touchy subject," Jackson said. "But I think it's good that we continue to make sure that we communicate with parents and communicate with the students, and make sure that our students who are transgender still have support and aren't treated any differently."
Foucar-Szocki said the board needs to act as the "stewards of and the guardians of" laws passed by the Virginia legislature.
"I understand change is hard and people can see things in different ways," Foucar-Szocki said. "We need to be thoughtful and consider all the variables as we move forward."
Domonoske said the board did what it was required to do by adopting policies that were consistent with the document "Model Policies for the Treatment of Transgender Students in Virginia Public Schools."
Domonoske specifically referenced the lawsuit.
"I think everyone first needs to understand that a law was passed and school districts followed the law," he said. "If people object to the law that was passed, that's not an objection to what the school system is doing."
Making their final pitches
Foucar-Szocki said she believes her eight years of experience on the board gives her the capacity to "step in quickly and understand what the role of a school board member is." She is also a professor of Adult Education Human Resource Development at the College of Education at JMU.
"I literally eat, breathe, and live education on a variety of levels," Foucar-Szocki said. "I appreciate education and all that we do to enhance the experience."
Jackson said growing up in Harrisonburg City Schools has fueled her passion to make a difference in her community.
"I'm very passionate about our families. I'm very passionate about our teachers that work so hard in our community," Jackson said.
Foucar-Szocki and Domonoske said they agreed that teachers and staff in HCPS deserve the utmost respect.
"I hope [policies] always seek to support teachers, admin, and staff to the highest level possible," Foucar-Szocki said. "I'm an advocate of higher pay … especially in these times where so much is being asked of teachers."
Domonoske said he "did not apply for this position because I had a certain policy or procedure that I thought should be changed at this school system." Instead, he said, "I think as a board member, as a citizen, as a parent and grandparent, my job is the same, which is simply to support what's happening in the institution that has been built here and that continues to educate our children."
---
Journalism is changing, and that's why The Citizen is here. We're independent. We're local. We pay our contributors, and the money you give goes directly to the reporting. No overhead. No printing costs. Just facts, stories and context. We're also a proud member of the Virginia Press Association. Thanks for your support.