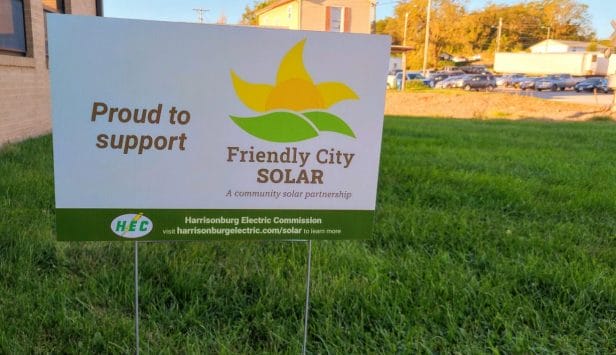 By Eric Gorton, senior contributor
Starting this week, the HEC grid could start getting energy produced at Dominion's Acorn Drive solar plant. But so far, fewer HEC customers have signed up to get their electricity from that solar plant than the utilities' leaders anticipated.
The plant has been able to produce electricity for more than a week, but a computer system Dominion will use to monitor the plant has had problems.
"We have seen some of their testing when we go back and look at our meter, we can see they've had 1.5 megawatts generation on the plant, testing certain phases," said HEC General Manager Brian O'Dell at Tuesday's HEC board meeting.
But he said because of a glitch in the control and data system that Dominion uses, Dominion employees couldn't "turn this thing loose for operation," O'Dell said. "They need to have certain parameters they can view."
HEC has not been billed for the power generated to test the plant, O'Dell said.
In an email in response to The Citizen on Friday, O'Dell said the technical issue had been resolved and that testing had resumed. He said he was hopeful the plant would be operational this week.
Because of a number of delays in getting the Acorn Drive plant operating, billing for the Friendly City Solar program has been delayed. Billing for that program could begin this week.
HEC opened registration for the program in mid-August, expecting to start billing customers who signed up in September.
On Tuesday, O'Dell told the HEC board that about 200 customers have signed up to purchase energy through the program, supporting the utility's effort to provide some energy from a renewable resource. No fuel charges will be added to the energy from Friendly City Solar, but the solar energy costs 3 cents more per kWh than regular grid energy because it costs Dominion more to produce it, O'Dell said.
While the energy through Friendly City Solar will cost a little more, the cost will be fixed for the next 25 years.
Customers can purchase up to 25% of their energy through Friendly City Solar. The program was designed so up to 1,000 residential customers using an average of 1,000 kWh per month could get 25% of their energy through the program.
O'Dell, responding to a question from board member Chris Weaver about the number of subscribers, said some changes could be made to the program's subscription rules if it does not get fully subscribed. But he recommended giving it until spring under the current rules.
In an email to The Citizen on Sunday, Weaver, who is an HEC customer and a Friendly City Solar subscriber, said he was a little surprised that more people hadn't signed up so far but that he was satisfied with waiting until spring to reevaluate the program.
"I don't have an opinion beyond trying to keep the participation opportunity open long enough for all HEC customers to have a fair and reasonable opportunity for participation," he wrote.
Fuel prices may boost HEC bills again
HEC customers could perhaps see another increase in electricity bills because of high natural gas prices.
In an email response to The Citizen on Friday, O'Dell said the Virginia Municipal Electric Association, of which HEC is a member, will meet Monday to review the latest fuel figures from Dominion Energy and discuss possible action.
Those fuel costs have been driving up HEC customer's electric bills for more than a year. Since September 2021, the average customer's monthly bill has increased about $18.25 due to increased fuel charges.
At an HEC board meeting Tuesday, O'Dell said Dominion might have purchased natural gas at higher prices than anticipated during the past six months. HEC purchases its power from Dominion and passes along cost increases, including fuel costs, to its customers.
Dominion, and thus HEC, pays for fuel based on a forecasted price. O'Dell told the board there's always a mid-year review of fuel costs, incurred from April through September, to see how actual costs compare to the forecast.
A year ago, HEC raised the fuel adjustment cost per kilowatt hour (kWh) 1 cent because the actual cost was so much higher than the forecasted cost. The price went from .439 cent per kWh to 1.439 cents, adding $10 per month for the average residential customer using 1,000 kWh per month.
That was the first time HEC adjusted its billing for fuel mid-year, O'Dell said, and was necessary to avoid an even steeper increase at the start of the next year. In May, HEC added another .8 cent per kWh for fuel, bringing the fuel adjustment charge to 2.26 cents per kWh. That translates to $22.64 per month for a customer using 1,000 kWh.
Perhaps there's some good news on the horizon regarding fuel costs. On Sunday, The Wall Street Journal reported natural gas prices have dropped 40% in the last two months due to increased inventories since the end of the air conditioning season. But, the article reported, a cold winter, especially in the Northeast, could send prices up again.
---
Journalism is changing, and that's why The Citizen is here. We're independent. We're local. We pay our contributors, and the money you give goes directly to the reporting. No overhead. No printing costs. Just facts, stories and context. We're also a proud member of the Virginia Press Association. Thanks for your support.