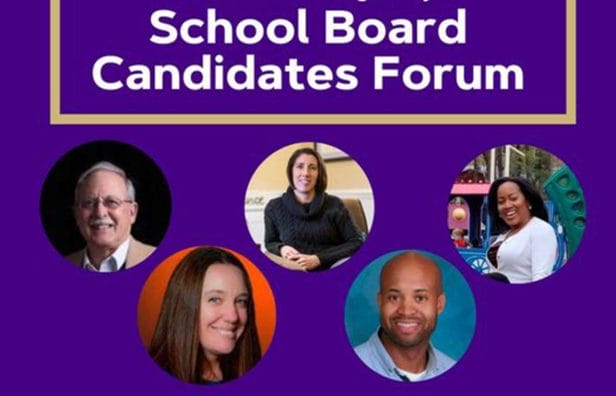 By Ryan Alessi, publisher
As it has in school board races across the country, the notion of parental rights served as a key distinction among the five Harrisonburg school board candidates, who faced one another Wednesday in the campaign's only forum.
Incumbent school board members Kristen Loflin and Andy Kohen, joined by newcomer Emma Phillips, defended the Harrisonburg City Public Schools' approach to handling instances when a transgender student wishes to be called a different name or use a different pronoun. Those three candidates also said they opposed Gov. Glenn Youngkin's proposed policy that, among other provisions, calls for parents to give written permission for students to go by a different name or pronoun.
"I don't support the policy put out by Gov. Youngkin. I think it puts our trans students directly at risk, and I think it's important to support this group of students," Phillips said. "I think that it's important to recognize that each student is dealt with on a case-by-case basis, and that no one is trying to cut parents out of the process."
Lawyers for the school district were in Rockingham County Circuit Court Tuesday to defend against a lawsuit brought by six teachers and parents, who say the district's training materials suggested that staff could keep that information about students' desired names or pronouns from their families. The district has responded that school counselors would be involved in facilitating communication with families but there could be instances in which disclosing a transgender student's preferred name or pronouns could put that student at risk.
Both Obie Hill, who is running for his second term, and first-time candidate Corin Jackson said they have concerns with the district's approach.
Jackson said it's problematic "to say we support all parents … and then block information from the families."
"We want to be welcoming and we want to have that good communication and have that trust.
It's important for us to communicate with our families in regard to all care in regards to their child," she said, prompting applause from some in the audience.
Hill said he wants to restore trust between families and the school district and that it would be "very disrespectful of us" to not consider adopting Youngkin's policy or an altered version of it.
"It's very important that as we are helping our students, we're also helping our families," said Hill, a counselor with Hill Valley Counseling. "I am always working to pull the families into the process of bringing about the safety and health of our students."
Hill, Kristen Loflin and Andy Kohen — the three incumbents who four years ago were all pushing to build the new high school — have found themselves on opposite sides during this campaign. And Wednesday evening's forum, held at JMU's Memorial Hall Auditorium, was sponsored by JMU's Madison Center for Civic Engagement, The Breeze and The Citizen, and it showed those differences between the philosophies of Hill and Jackson and those of Loflin, Kohen and Phillips, who are running as a ticket. The five candidates are vying for three seats on the school board.
Hill and Jackson repeatedly mentioned throughout the one-hour forum their commitment to ensuring parents are looped into decisions related to their children.
"Keeping parents out of their child's care is a dangerous thing to me," Jackson told The Citizen in a brief interview after the forum. "And if we have that consistently, we probably are going to have more lawsuits. We are probably going to have more angry parents."
She said in the interview she has heard from multiple parents who "wanted to know more about their child's care and felt like they were locked out." And she said, as a school board member, she would look into such instances.
Loflin, though, said during the forum that she was admonished during her orientation with the Virginia School Boards Association when she talked about who she should be most focused on serving.
"I raised my hand to answer a question … saying 'Well, we are responsible to our constituents.' And they said, 'Oh, no, ma'am, you are not. You are responsible to students and the teachers you have hired,'" Loflin said.
Book challenges
The ideological split was also clear from the candidates' answers to questions about book challenges, another topic that generated heated comments from more than 20 parents and residents at the previous night's school board meeting. One parent brought a list of 153 books that he said would be "dangerous" to children and leafed through several books while making his points to the board. 
Jackson said it was a powerful to hear from parents of different cultures, speaking different languages through translators, as they spoke to the board about content they found objectionable in books at the city schools' libraries.
"Parents are concerned for their children," said Jackson, who runs Black Tea Investing, LLC. "I think that parents have the right to be concerned as far as books that are in the schools. When there's a book that has images of sexual acts being performed, that raises concerns, rightfully so." 
Hill alluded to last fall's controversy over a book that was challenged and reviewed. He said he was most concerned that he didn't know how the committee that reviewed the issue was formed or who was on it.
Kohen and Phillips pushed back, saying they feared that many parents who spoke during Tuesday's board meeting aren't getting accurate information or the full context about the contents of the books.
"It seems to me that there's a whole body of lies going around in our society," Kohen said, prompting some applause. "Books being banned is a scary prospect to me."
And Loflin, a licensed professional counselor, urged parents who are concerned about a book to reach out to school librarians. She said she did that when she found her daughter reading a book about Barbie, which Loflin said made her uncomfortable because of unrealistic body image expectations.
"Parents have so many connections to our schools," she said. "We don't actually need to come into school board meetings and wave books around and show banned book lists."
Supporting teachers
There were points the five candidates largely agreed upon. For instance, all said raising teacher pay could help attract teachers, although several candidates said salary increases aren't enough.
Loflin said time for lesson planning is a scarce resource for most teachers.
"They also need communication, and they need support," Loflin said. "They need support all the way around, from the school board all the way down … and they need it from families, too … When parents call and yell at you, that's a job you don't want to do."
Phillips, who has taught science courses at JMU and Blue Ridge Community College, said increasing professional development and chances to "recharge and reset" can help with job satisfaction by "giving them an opportunity to flex their creativity."
Jackson said providing more help from substitute teachers is another measure the district could take.
"We lost some really qualified, high-quality teachers" in the wake of the pandemic, Hill said, before bringing his answer back to his overarching point of wanting to establish a culture in the district that is welcoming to families. "Because how are we going to attract if we are repelling?"
Kohen, a retired economics professor who has lived in Harrisonburg for 46 years, said he would like to see the city government kick in more money to support education.
"Harrisonburg citizens, forgive me, you're undertaxed because the services are well beyond the taxes that you pay," he said, in response to a question about the adequacy of the city's financial support. "I think the city government could do a much better job of supporting education." 
---
Journalism is changing, and that's why The Citizen is here. We're independent. We're local. We pay our contributors, and the money you give goes directly to the reporting. No overhead. No printing costs. Just facts, stories and context. We're also a proud member of the Virginia Press Association. Thanks for your support.