By Eric Gorton, senior contributor
Since beginning his new job on Nov. 7, Zachary Elder has checked out an audio book to help pass the time on an eight-hour car ride, picked out a printed guidebook on the 50 best day hikes in the Shenandoah Valley and started taking a course to improve his Microsoft Excel skills.
All those resources were free and conveniently located at Elder's new place of employment, Massanutten Regional Library.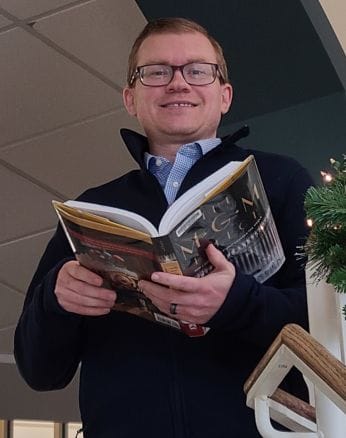 The library announced Oct. 21 that it hired Elder, 42, as the regional library system's new director, filling a vacancy created in mid-June when former director, Rochelle Carr, resigned after just five months.
No reason was given for Carr's resignation, which the library said was a personnel matter, and several attempts by The Citizen to reach her were unsuccessful. Carr had started the job in February, replacing long-time director Lois Jones, who retired in August 2021.
Before taking the job at MRL, Carr was director at the Shasta Public Libraries in California.
Elder comes to MRL from much closer, having previously been deputy director of Chesapeake Public Library in Chesapeake, Virginia.
"We are thrilled to welcome Zach as MRL's next leader and are excited to see what his experience and passion for libraries will bring to our system," stated Laura Thomas, MRL Board of Trustees President, in a press release. "Additionally, Zach's professional network with the American Library Association and Virginia Library Association will strengthen MRL's resources as we chart the future of our regional library system."
Other than talking to Lois Jones a few times at conferences, Elder said he did not know a great deal about MRL before seeking the job. However, he said he knew the staff had a solid reputation and that the job would provide a good career move.
"Dedicated staff is why I took this position," Elder said. "They understand the mission of public libraries in 2022 and I think I can guide the team to be even more beneficial to the community."
In addition to familiarizing himself with some of the library's resources, Elder has been busy getting to know key partners of the nonprofit system that consists of seven branches and operates on a budget of about $2.7 million, money that comes from a combination of local government funding and donations. In addition to the main library in downtown Harrisonburg, MRL has six branches: four in Rockingham County and two in Page County.
"It's been a whirlwind, but it's been really exciting," Elder said, noting he has already attended his first meeting with the library board of directors, met with the Page Library Association, met with a pair of area Rotary clubs and even participated in a Rockingham County comprehensive planning forum.
Elder said he has been pleased to learn that the library has dedicated boards and friends' groups.
"A lot of my job is going to be pulling all of those advocates together toward a singular purpose," he said. "In 2023 we will be working on a new strategic plan; it's going to be very community-centered."
Much of that work will likely take place during the summer, which is one of the library's busiest times.
"We'll be considering everything from operational hours to new services to partnerships," Elder said. "Libraries get in this trap of wanting to be everything to everybody and it comes from a place of good, but we really have to focus on things where we can do the most good in the community, not overlapping with things other groups are doing."
He also said the plan will need to be tailored to each of the branches and the communities they serve.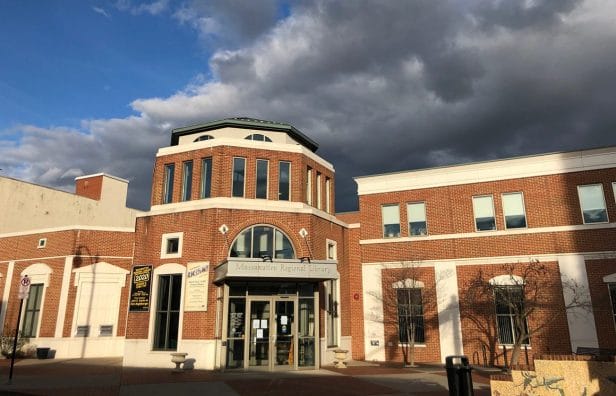 Leading a nonprofit library system is breaking new ground for Elder, whose experience includes positions at Central Library in Chesapeake, Pearl Bailey Library in Newport News, and academic library positions at George Washington University and Duke University.
"It's an interesting challenge. You're working with multiple governmental organizations and we're a nonprofit. That makes it a fun and unique challenge to take on, that's a new wrinkle in my career," he said.
In the wake of calls to ban certain books and other library materials around the country, Elder is not shy about facing such challenges.
"A great library is going to have something for everyone but most likely going to have at least one thing that is going to offend some and that's just part of bringing together a diverse collection of materials and services," he said.
Elder arrives at his new position as circulation numbers start to get back to pre-pandemic levels. On his first day, a family came in and checked out a wagonload of books, he said. But the library has much more to offer.
"We have a ton of online resources that we need to publicize more," he said. "You can take an entire class on professional development. If you want to be an entrepreneur and you don't know how to do it, you can do all of that for free through our online resources. If you are in a professional position and you want that promotion, you can take classes, it could be on Excel, it could be on managing people. You can learn all of that in the library."
He also wants to reach people who don't use the library.
"That's always the hardest thing to do when you're gathering that feedback but sometimes it's the most rewarding. Whatever reason they give, you get to work on that."
Aside from providing books, online resources and other materials, libraries offer spaces for people to meet and spaces where people can find quiet time on their own.
Having grown up on a farm near Pleasantville, Ohio, Elder said he found himself more at home in book stacks than in barns.
His first library job was as a student assistant in the rare books and special collections area of The Ohio State University Library.
Following college, he worked in software for a bit before finding himself back in a library job.
"I love the public service aspect of it," he said. "The ability that we have on a daily basis to improve the quality of someone's life, or family's life, helps lift up the entire community."
Not surprisingly, Elder likes to read and sets a goal for the year when he makes his New Year's resolution. He plans to join an area book club or two in the near future.
Other interests include hiking, kayaking and birdwatching.
"I probably have too many apps on my phone to identify birds right now," he said, adding that the rarely work when he needs them because he's in areas that don't get cell service.
Elder's wife, Lauren, teaches in the English department at Hampton University, where she also advises the student newspaper. A JMU alumna, she will be moving to the area with their two daughters after Christmas.
---
Journalism is changing, and that's why The Citizen is here. We're independent. We're local. We pay our contributors, and the money you give goes directly to the reporting. No overhead. No printing costs. Just facts, stories and context. We're also a proud member of the Virginia Press Association. Thanks for your support.