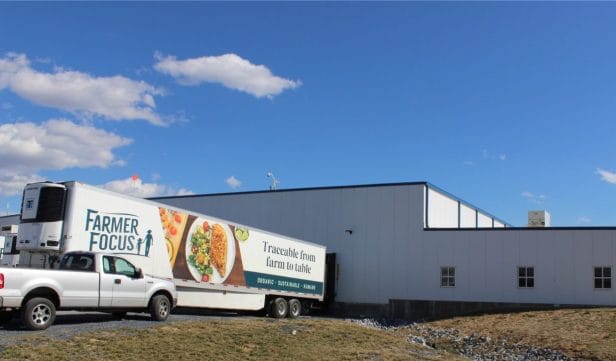 By Bridget Manley, publisher
The U.S. secretary of agriculture and U.S. Sen. Tim Kaine delivered the news in person Tuesday that Farmer Focus, a local organic chicken supplier, received a $3.6 million federal grant to expand its chicken processing facility in Harrisonburg.
U.S. Agriculture Secretary Tom Vilsack and Kaine also toured the facility and met with employees before the announcement.
Farmer Focus supplies organic and humanely raised chicken to more than 4,000 stores east of the Mississippi and partners with more than 80 farmers within an hour of Harrisonburg.
Construction of the expansion is slated to begin this fall and is expected to add 300 jobs to the company's 875-person workforce. The improvements will help the facility "alleviate processing bottlenecks and nearly double the processing capacity to 630,000 birds per week," said CEO Corwin Heatwole.
Heatwole told Vilsack and Kaine during the meeting that money constraints continue to be their biggest challenge to growth, and that the grant money will help with purchasing equipment, new wastewater treatment upgrades and building modifications.
Tuesday's stop was part of a larger USDA effort to bolster the country's food supply chain. The agency is distributing $59 million in grant money to meat processors across the US using funding through the American Rescue Plan Act, which Congress passed in 2021.
Farmer Focus partners directly with each farmer. The business model empowers farmers to raise their own flocks and own equipment, while providing fair pay for their products.
Each farmer must follow strict protocols for how their birds are raised, and consumers can see where their chicken came from using QR codes on the packaging.
Vilsack highlighted the need for small and medium-size producers on the market, and the importance of those farmers earning a living.
Vilsack said that while 2022 was one of the most profitable years for American farming, more the 50% of farmers didn't make money, and many ended the year with their finances in the red. Vilsack said Farmer Focus' model puts more money in the pockets of local farmers.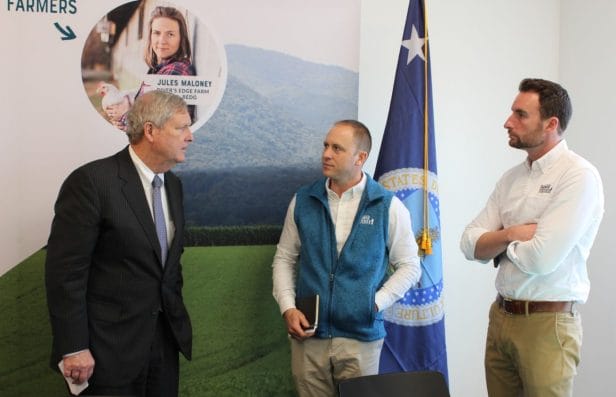 "It is incumbent upon the Department of Agriculture to focus on the 90% of farmers [who do not make money] so that at the end of the day we are not looking at income for a few, but income for many and most," Vilsack said.
Peyton Fravel and Jules Maloney-Smith both run small to medium size poultry farms in the Valley and work with Farmer Focus to process their chickens.
Maloney-Smith moved her family from England to take over the family farm. She said growing with Farmer Focus has allowed her to raise her flocks in a way that aligns with her values.
"We wanted to raise our kids the way that I had been raised — on our family farm," Maloney-Smith said. "Growing for Farmer Focus enables us the flexibility with a young family to raise the birds how we want to raise the birds, in a sustainable and humane way that aligns more with our family's beliefs."
Fravel, who purchased the farm from his grandparents, runs the farm with help from his girlfriend. Fravel said he can make a living as a young farmer with Farmer Focus and not have to "go work a job off site."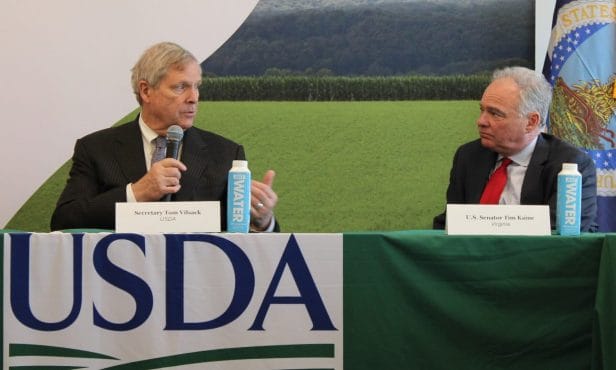 Kaine also praised the company for its ability to pay employees living wages and offer benefits, resulting in a fully-employed facility when many are struggling to find workers.
Stephen Shepard, president of Farmer Focus, said because of the company's emphasis on livable wages — including three pay increases this year, health care programs and training opportunities — the facility has remained 100% staffed and has kept up with production.
"It's an exciting future," Vilsack said. "It's a future that says to young people in particular that there is a reason to get into farming, there is a reason to stay in farming, there is a reason for generations to pass the farm on to the next generation."
---
Journalism is changing, and that's why The Citizen is here. We're independent. We're local. We pay our contributors, and the money you give goes directly to the reporting. No overhead. No printing costs. Just facts, stories and context. We're also a proud member of the Virginia Press Association. Thanks for your support.