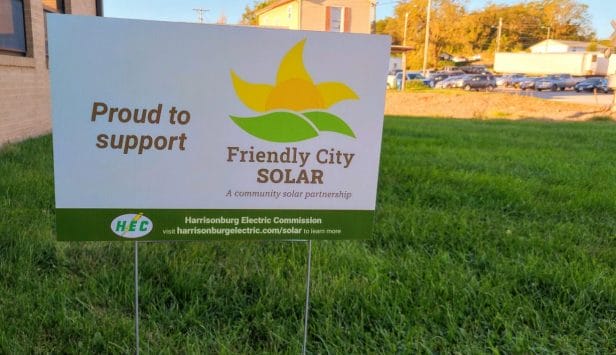 By Eric Gorton, senior contributor
Sometime this spring, subscribers to Friendly City Solar could increase their participation in the program and invest more in the local solar power generation program that is having difficulty attracting customers.
The Harrisonburg Electric Commission marketed the program as a way for customers to support solar energy without having to install solar panels on their homes. The program was designed so up to 1,000 residential customers using an average of 1,000 kWh per month could get 25% of their energy through it.
HEC opened registration for Friendly City Solar in mid-August, and 153 participants signed up in the first month. But it hasn't sustained that level of interest.
So far, the program has about 300 subscribers, said HEC General Manager Brian O'Dell.
"I don't see a mad rush to sign up for it," O'Dell said Tuesday at the HEC board's monthly meeting.
As a first step at trying to increase the amount of energy purchased through Friendly City Solar, O'Dell suggested allowing customers to subscribe for up to 50% of their energy, a recommendation the board could vote on at its March 28 meeting.
O'Dell said most participants signed up for the maximum amount allowed, and he anticipates a good number of them would subscribe to get even more if given the opportunity.
Friendly City Solar subscribers pay 3 cents more per kWh on the amount of energy they purchase through the program because it costs more to produce than regular grid energy, O'Dell has said.
The solar energy comes from Dominion's Acorn Drive solar plant, which began operating in November. All energy produced at the Acorn Drive plant goes on the HEC grid, and HEC shoulders the cost of the energy that is not purchased through Friendly City Solar.
Board chairman Chris Weaver, an HEC customer and a Friendly City Solar subscriber, said in an email Thursday that he wasn't sure how the program would be received when it was offered.
"I was expecting more subscriptions initially than what was realized," he said. "That expectation wasn't based on anything specifically. Maybe it was solely an overly optimistic hope, especially since I was, and continue to be, in support of the Friendly City Solar project."
As for increasing the amount of energy subscribers can sign up for, Weaver said he wants to make sure all HEC customers have a fair opportunity to participate.
"Unlike flipping a light switch at home, some things take time to develop and some folks, myself included, don't react as quickly as others," he said.
HEC evaluating base energy rate
O'Dell also told the board Tuesday that consulting firm GDS has begun a cost-of-service study for HEC and results could be available for the board's April 25 meeting.
The study was prompted by a forecast from Dominion of higher power costs in fiscal year 2023-24, which begins July 1.
"It's prudent to anticipate that if we do see a 12% increase in power costs that we would want to look at our own financial health," O'Dell told the board at its January meeting.
O'Dell said numerous factors go into Dominion's projected increase.
"There is a rather large increase in their construction-work-in-progress accounts," he said at the January board meeting. "It's up by about $4 billion from where it was last year and the primary drivers of that are going to be offshore wind and solar. So that's starting to roll into our formula rate."
O'Dell said Dominion provides the forecasts each January and discrepancies should be expected. "We hope in this case their forecast is high," he said. "There's a lot of estimation that goes into that process."
In November, electric bills increased for a third time in 18 months, all because of higher natural gas prices. HEC hasn't raised its base power rate since July 1, 2016. The last increase before that was July 2012.
"Numerically, our base rates have only increased 5.9% since July of 2012, which equates to $5.22 a month for the average residential customer using 1000 kWh per month," he said in an email Thursday.
Lower fuel costs, which O'Dell said are projected in April, could reduce the sting of a rate increase.
It has been about five years since the last time HEC had a cost-of-service study, he said.
HEC gets high marks from the American Public Power Association
Also Tuesday, the board learned that HEC received a gold rating from the American Public Power Association through its "Reliable Public Power Provider (RP3) Program."
Utilities must apply to the program and are graded on industry-leading practices for reliability, safety, workforce development and system improvement.
Only 275 of more than 2,000 public power utilities hold the RP3 designation, according to the APPA website. HEC is one of three Virginia utilities with the designation, along with BVU Authority in southwest Virginia and the City of Danville.
Zach Nyce, HEC's manager of engineering, told the board this was the second time the city utility applied for the designation, which is good for three years. The city also was rated gold in 2020.
There are two levels above gold: platinum and diamond.
Nyce said the APPA provides recommendations on how HEC can reach the next levels, which could be accomplished by getting a few more points in each of the categories.
---
Journalism is changing, and that's why The Citizen is here. We're independent. We're local. We pay our contributors, and the money you give goes directly to the reporting. No overhead. No printing costs. Just facts, stories and context. We're also a proud member of the Virginia Press Association. Thanks for your support.