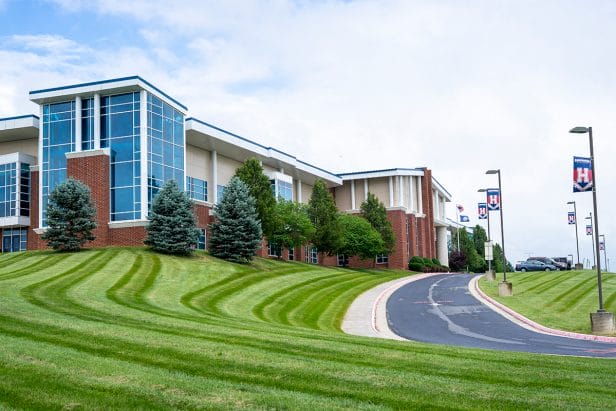 By Haley Thomas, contributor
Harrisonburg educators are seeking to provide more flexibility for older teenage immigrants and refugees to navigate school or pursue other options. 
Laura Feichtinger McGrath, director of English language services and language instruction for English learners & immigrant students, said those students deserve agency when it comes to choosing a path for their future.
This school year, 140 new students have enrolled in Harrisonburg High School and are learning English as their second language. Approximately 40 of these students are age 17 or older.
McGrath said this age group concerns her most. These students come to Harrisonburg and, once enrolled, are expected to meet all the state's standards — such as passing Virginia's Standards of Learning (SOL) tests and meet graduation requirements — in a compressed amount of time and often after undergoing traumatic circumstances incomparable to most other students.
These 140 students are students with limited and/or interrupted formal education, a group educators sometimes refer to by the acronym SLICE. In Virginia, they are defined as students who have missed two or more years of formal education and are 8 or older. They must also be identified as a Level 1 or Level 2 — very limited or early intermediate — English learners.
McGrath said many younger students who enter the education system in Harrisonburg graduate after benefitting from additional support and succeed. But older students, particularly 17-year-olds with a two-year gap (or sometimes more) in education are at a massive disadvantage.
"For a student who has arrived without formal education consistently through their lives — arrive here from traumatic experiences, a traumatic journey, oftentimes unaccompanied — oftentimes they get here and they think they want to go to school," McGrath said. "They want the social experience, they want to belong, they want to learn English, and then we immediately begin pushing and pressing them to complete all of our graduation requirements, which is not always the thing that they really want and need."
What students need, McGrath said, is an option for an "off-ramp." She said they should be informed of every option, from choosing to enroll and commit to Harrisonburg High School, pursuing a GED program or finding another way to be an involved member of the community.
McGrath said that often, these students enroll in HCPS, stay for a few weeks and decide that school isn't for them.
She said this year, 25 out of the 140 students sought a waiver from Superintendent Michael Richards to opt out of high school and attend adult education — usually, a GED program. Others decided to drop out of school entirely.
McGrath said the district educators should rightly be concerned with students passing SOLs and graduating high school, but SLIFE students have a massive hill to climb. Many of these students, McGrath said, haven't had formal education in more than five years and have instead been working to provide their families with fiscal resources.
Another disadvantage these students face is that when they turn 22, Harrisonburg schools can no longer provide resources for them.
Their "off-ramps" disappear, and at that point, they're considered drop-outs.
McGrath said her goal is to stretch the amount of time students have before they have to make the decision of whether to enroll in HCPS or pursue other options — and that would be purely the district's practice, not mandated by the state.
"It would be a logistical overlay to programming that already exists," McGrath added. She said a potential solution to this problem would be to let students with limited and/or interrupted formal education visit Harrisonburg High School, have access to all resources — breakfast and lunch, computers, etc. — and participate as active students without being formally considered active students in HCPS until they decide to commit to enrollment. These students would have biweekly meetings with administration to discuss their progress, struggles and other options, if they're interested.
These students, McGrath said, deserve a more "comprehensive program" than what exists now. Currently, these students are entered into the curriculum with "extensive resources" for their success, but still, this hasn't worked for all of them.
"It's hard to make those things meaningful when we don't have the capacity to feel like we can make the foundation meaningful," McGrath said.
Students with limited and/or interrupted formal education first came to Harrisonburg in 2014, McGrath said, and she immediately realized a different approach needed to be taken with these students. The federal government lets students know that they need to register for school, and then they're left to figure the rest out alone. While HCPS has great resources for these students, she said, there's still that hill for them to climb that could be much less daunting if they had more time to decide whether or not to enroll in HCPS and were informed of their other options.
"If you're coming from Honduras, and you haven't been in school for 6 years, you've been working," McGrath said. "You have been providing your family with fiscal resources, or you've been caring for somebody. Those are adult responsibilities."
Allowing options for these students, McGrath said, would give them agency.
Richards said this would not require curriculum changes or an additional academic program the school board would need to approve. Instead, it would do away with the "one-size-fits-all" model imposed by the Virginia Department of Education.
"We want to embrace their kid-ness, but we also want to honor their adultness," McGrath said.
---
Journalism is changing, and that's why The Citizen is here. We're independent. We're local. We pay our contributors, and the money you give goes directly to the reporting. No overhead. No printing costs. Just facts, stories and context. We're also a proud member of the Virginia Press Association. Thanks for your support.