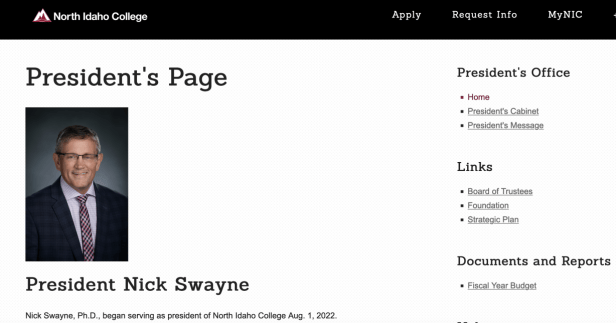 By Bridget Manley, publisher
Nick Swayne, the former Harrisonburg School Board chair and former director of JMU X-Labs, has been embroiled in a months-long fight to save a community college in Idaho from losing accreditation after a right-wing takeover of the college's board of trustees.
Since Swayne left Harrisonburg last August to become president of North Idaho College in Coeur d'Alene, he has become the target of a misinformation campaign, has been put on leave for asking the college's board of trustees to follow Idaho law and has faced harassment and threats for trying to do the job for which he was hired.
Swayne is suing the college for permanent reinstatement. 
Update: On Friday, June 2, Kootenai County District Court Judge Cynthia Meyer granted Swayne permanent reinstatement to his office as president of NIC. The judge granted Swayne's request for a summary judgement, which will forgo the civil trial that was scheduled for October. NIC will also have to pay Swayne's attorney fees. 
At the heart of the conflict has been turmoil on the college's board of trustees, which culminated with three conservative hard-liners winning a majority of seats on the board last fall. Decisions the board made over the ensuing months set into motion a string of events prompting many in Coeur d'Alene to worry about the college's future. Since December, North Idaho College has lost its insurance, and the Northwest Commission on Colleges and Universities arrived on campus to review the college's accreditation status.
If the college loses accreditation, students can't transfer their credits to other institutions, can't receive federal financial aid and can't obtain professional licensures for their studies.
People in the town say that could spell doom for the college and Coeur d'Alene.
North Idaho College is the "heartbeat" of the city, said Christie Wood, a former trustee of the college and now a Coeur d'Alene city councilwoman.
The college not only helps students obtain less expensive general education credits they can transfer to other universities, but many adults earn job certifications and higher education degrees to help them in their careers.
As the only community college in that area, the school boasts 42 career technical programs, 47 transfer programs, 86 credit programs and community services, such as Head Start.
"It's the gem of the community," said Christa Hazel, a founding member of Save NIC, a non-profit organization focused on preventing the college from losing its accreditation. "It's a cultural hub and one of the largest employers in our community."
While trustees sought to remove Swayne, he has had some victories throughout the ordeal.
In March, a judge reinstated Swayne to his position as president while his legal case to remain in the post and have his contract honored continued to work its way through the courts.
While the college complied with the judge's order, lawyers representing the college trustees also filed a motion for reconsideration. The judge again upheld her original order requiring the college to reinstate Swayne.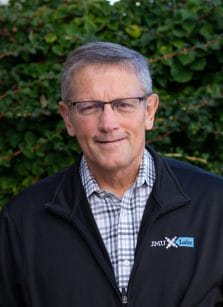 So the trustees used a different tactic. In April, the board voted 3-2 to nullify Swayne's contract. The board took that vote after the college's recently installed attorney Art Macomber — a political ally of the trio of trustees — presented his review into Swayne's contract.
Still, Swayne has continued to serve as president, even as some critics sought to spread misinformation about him.
Some misrepresented Swayne's work with JMU's X-Labs and his participation on the Harrisonburg School Board by seeking to weaponize diversity and inclusion programs instituted during his time in Harrisonburg. And Swayne is not the only person who has faced harassment and threats – his wife Nicky has also been the target of online and in-person harassment.
Swayne declined comment to The Citizen, citing the ongoing litigation.
The three trustees who have sought to remove Swayne — Todd Banducci, Greg McKenzie and Mike Waggoner — did not respond to requests for comment.

The storm before Swayne
In the early spring of 2022, while Swayne and the Harrisonburg School Board were hammering out details of a budget that increased teacher salaries and nailing down the naming of Rocktown High School, a storm was already manifesting on the other side of the country — one that would soon swallow him.
While internal politics are common in academia, North Idaho College's recent controversies stem from external politics, in part because the five members of its board of trustees are elected by voters to four-your terms.
Christie Wood, a lifelong resident of Coeur d'Alene and former police sergeant, was one of the five elected trustees. She worked with Trustee Todd Banducci on the board for many years, along with three others.
Wood said while the board worked well together, Banducci could be combative.
"He has always been hard to work with, and has always been disrespectful to faculty, staff and students," Wood said. As a result, the other board members limited his involvement on committees, she said.
In November 2020, Banducci, working with members of the Kootenai County Republican Central Committee, ousted two board members with decades of education experience and replaced them with two people who had little-to-no experience in education.
This new majority took steps over the next six months that stirred controversies, Wood said, including interfering in the civil rights of students and firing the then-president and replacing him with a wrestling coach as interim president.
After it came out that one trustee lived in North Dakota and not Coeur d'Alene, he resigned. That left a 2-2 vote on the board, and nothing got done, Wood said.
The two pairs of trustees with opposing ideologies then had to find a replacement but couldn't agree on a candidate to appoint.
Out of frustration, Wood and her ally on the board, Ken Howard, resigned in hopes that the Idaho Board of Education would step in to fill the three open seats.
It worked. The Idaho Board of Education appointed three members in May. That new board then began its search for a new president for the college.
In July, North Idaho College announced it had hired Swayne, an Idaho native and U.S. Army veteran who served in command roles and had been deployed to Iraq and Bosnia during his military career. By the end of August, Swayne had resigned from JMU and the Harrisonburg school board so he and his wife Nicky could move to Coeur d'Alene.
Then came the 2022 elections. Out of the three new trustees the Idaho Board of Education had appointed,only one ran for election for a permanent seat on the board.
In the end, three Republicans won a majority on the board: Todd Banducci, Greg McKenzie and Mike Waggoner.

A storm becomes a circus
Wood said those three trustees — Banducci, McKenzie and Waggoner – started "running the institution into the ground."
During a December board of trustees meeting, the majority decided to hire a new attorney on the spot. Swayne told the members that contracts worth more than $10,000 must be put out for bid because of state law.
"I do believe you are violating state law on contracting," Swayne said, according to reporting from the Coeur d'Alene/Post Falls Press.
At the next meeting, the same majority voted to place Swayne on administrative leave.
"He is such a professional. He's served his country, and they treat him like dirt," Wood said. "And they don't even know him, right? They were just so angry that they didn't get to keep the wrestling coach."
Trustee meetings have lasted for hours because of community-led protests against the three trustees, and multiple groups within the college, such as the NIC Faculty Assembly and the Associated Students of North Idaho College, have taken votes of no-confidence.
Wood said there's a greater understanding that the community could lose the college at any time, and people are protesting and preparing for the 2024 elections.
"The community is just now waking up," Wood said. "They are feeling it personally now because we are about to lose a community college, where their kids go to school."
Hazel, of the Save NIC group, said activists are trying everything to save the college. People are angry, and even neighbors are putting pressure on board members, she said.
"Our community is being torn up," Hazel said.
Hazel said community support for the Swaynes is high. She said they get applause at local meetings and received a standing ovation at the April 26 State of the City address.
While there is an option for voters to recall college trustees, Wood said community members would have to collect the same number of signatures as the number of votes the three trustees received in the election. And because each ran unopposed, they got a lot of votes, making it especially challenging.

A warning to communities
The counties surrounding Coeur d'Alene have seen an increase in Christian nationalists who have exhibited a preoccupation with the "American redoubt movement," which puts forth a particular vision of Christian America that is often antivax, prepper-friendly and features lots of guns.
"A lot of them are retirees, so they don't want to pay for public education whatsoever," Wood said.
The increasing popularity of that ideology came at the same time public education has found itself squarely in the center of political fights nationally, particularly over cultural issues, such as approaches to teaching students about racism and policies regarding students' gender identities.
Swayne dealt with those issues as a member of the Harrisonburg School Board, which has continued wrestling with them.
Before the new board of trustees took office, North Idaho College had been working with a county-led task force for decades that promoted human rights, civil rights and "dignity for all," Wood said.
"NIC was always known as a beacon for human rights," Wood said. "They're not know that way anymore."
She said she believes the majority on the board isn't concerned about the college losing its accreditation.
"Their ideology is anti-public education," Wood said. "And it is 'if we can get rid of the college, then maybe we have gotten rid of a few liberals.'"
Wood said when communities are "asleep at the wheel," it creates a dangerous power vacuum.
"The community is learning the hard way, that old adage that 'elections have consequences,'" Wood said. "We are all praying that we can survive this and get these guys out of office and get our college back."
Further reading: The MAGA-fication of North Idaho College
How big Christian nationalism has come courting in North Idaho
An Idaho community college faces closure due to criticism from conservative trustees
---
Thanks for reading The Citizen, which won the Virginia Press Association's 2022 News Sweepstakes award as the top online news site in Virginia.
We're independent. We're local. We pay our contributors, and the money you give goes directly to the reporting. No overhead. No printing costs. Just facts, stories and context. Thanks for your support.