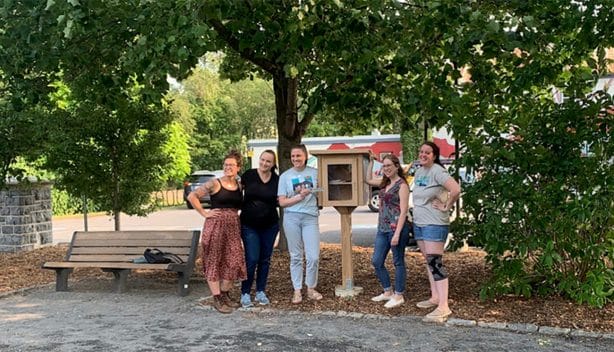 By Sukainah Abid-Kons, contributor
Five years into the city's 10-year environmental stewardship plan, Harrisonburg extended its annual Pollinator Week celebration into Pollinator Month, which will conclude this week with a workshop to build "bee hotels" at Purcell Park on Tuesday.
The goal is to educate residents on pollinators and their importance, create spaces — like those bee hotels — for the busy pollinators, and showcase work the city has done to make Harrisonburg a pollinator-friendly city.
A coalition of organizations have hosted a variety of events this month, including Harrisonburg Public Works, Harrisonburg's Department of Parks and Recreation, and Harrisonburg Downtown Renaissance, among others. 
On June 16, for instance, an event at Liberty Park started with the unveiling of what has been dubbed "The Butterfly House Free Library," which is a combination of a book lending cabinet and butterfly shelter. The event ended with a workshop during which participants learned to make their own butterfly house.
A butterfly house, similar to a birdhouse, has narrow slit-shaped entrances that allow the insects to enter and seek shelter, and also provide a space for chrysalises to hang while a caterpillar's metamorphosis takes place. In the Butterfly House Free Library, the back end of the structure acts as the shelter, while the front portion has been structured into bookshelves with a door.
The house is made from locally-sourced white oak wood and was built in partnership with Rocktown Urban Wood. Members of Harrisonburg Downtown Renaissance with the help of Amberlee Carlson, owner of Sagebird Ciderworks, painted the mural on the structure.
Brittany Clem-Hott, Harrisonburg Public Works outreach and communications specialist, said she hopes the city will continue to celebrate Pollinator Month in the future to emphasize the pollinators' importance and what people can do to help bees, butterflies, bats and even spiders.
"We definitely want to build upon this year and continue our current partnerships and also bring in new ones in the following years," she said.
Jeremy Harold, the greenspace manager for Harrisonburg Public Works, has been heavily involved both in Pollinator Month and the city's 10-year plan. Harold said one of the plan's tenets is to take areas that were traditionally landscaped, such as mostly grassy spaces with a few plants, and convert them into areas with lots of perennial plants, which are beneficial to pollinators.
"The whole idea is to have plants in your yard and space [so] when pollinators travel through your yard and Harrisonburg, they have a place to stop and rest and get nectar and pollen," Harold said.
He added that these spaces are especially important now, as pollinators have experienced habitat loss and have fewer places to find nectar.
Multiple spaces in Harrisonburg have been converted into perennial-filled, pollinator-friendly spaces over the past five years. Liberty Park now features purple cornflowers and milkweed, both of which can be found hosting bees and butterflies. Nearby the park next to Matchbox Realty, a formerly grassy area is now covered in perennials.
Harold said the city is also converting grass medians on roads into perennial gardens, essentially giving pollinators a "highway" of their own for when they migrate through the city.
Mike Hott, the owner of Hott Apiary, said that by creating pollinator-friendly spaces, individuals can help their local ecosystems. Pollinators, he pointed out, are crucial to many aspects of our day-to-day lives, not just honey.
He said bringing awareness to pollinators educates people on why planting pollinator-friendly plants is so crucial, especially in the Shenandoah Valley that hosts numerous species of bees, bats, butterflies and other pollinators.
"People go to the grocery store to get something like vegetables, and they assume it'll always be there," Hott said. "But what a lot of people don't know is that without pollinators, things like apples, peaches, fruits, vegetables, they won't be there."
---
Thanks for reading The Citizen, which won the Virginia Press Association's 2022 News Sweepstakes award as the top online news site in Virginia. We're independent. We're local. We pay our contributors, and the money you give goes directly to the reporting. No overhead. No printing costs. Just facts, stories and context. We value your support.