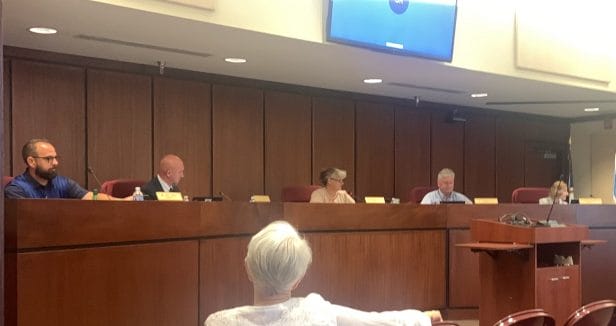 By Eleanor Shaw, contributor
Instead of choosing between one of the candidates running in November for an open school board seat, the Rockingham County Public School Board on Monday appointed the candidate who isn't on the ballot this fall.
During its regular Monday meeting at Rockingham Academy, the board selected Jack Dixon, a former firefighter from Elkton, as the interim District 5 representative on the board. He will serve through the end of this year until the person elected this fall joins the board Jan. 1, 2024.
Board member Charlette McQuilkin nominated Dixon after "earnest review and consideration" of all three applicants — who included Hollie Cave and Paula Lam. Cave and Lam are competing against each other in the November election to represent District 5 for a full four-year term. District 5 covers the Deep Run, Elkton, McGaheysville, South Fork, Stony Run and Swift Run precincts.
During his public interview with the board last Wednesday, Dixon said he doesn't intend to participate in the election and pledged to remain nonpartisan.
Board member Matt Cross, who endorsed Cave in the November election, seconded McQuilkin's nomination of Dixon for the interim appointment.
Lowell Fulk, a fellow board member, said he appreciates all three candidates' efforts.
Dixon said Wednesday he was inspired to put forward his resume for consideration to help maintain "election integrity" and would avoid "wide-sweeping policy changes" as interim appointee.
During Monday's meeting, Jackie Lohr, the school board chair, said the board hadn't met privately to make the decision, however, she said she is aware of "public concern" about the board picking a side between one of the candidates who is running this fall for the District 5 seat.
"I think it is best to go ahead and let this be decided by the voters in November," Lohr said.
After the meeting, Dixon said he "meant what he said" Wednesday about remaining nonpartisan and is excited to acquaint himself with the district.
He said he hopes to make changes that will leave a positive impact and isn't aiming "to score points."
"I don't care who … gets credit, you know, as long as we're doing substantial changes that can potentially have positive outcomes," Dixon said. "It's got nothing to do with politics."  
---
Thanks for reading The Citizen, which won the Virginia Press Association's 2022 News Sweepstakes award as the top online news site in Virginia. We're independent. We're local. We pay our contributors, and the money you give goes directly to the reporting. No overhead. No printing costs. Just facts, stories and context. We value your support.