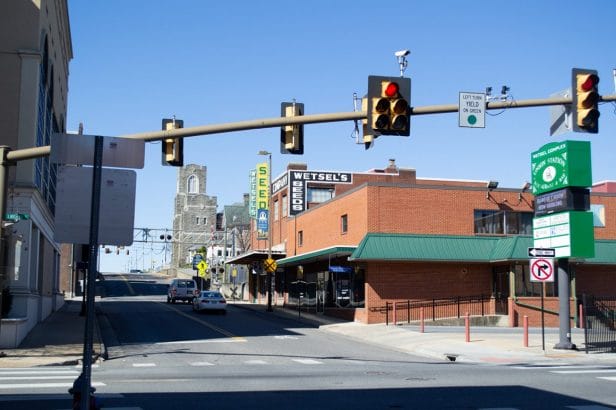 By Michael Russo, contributor
For Clara Metzler and her nonprofit Project GROWS, the Staunton Innovation Hub didn't just act as a base of operations — it was a place for connection.
Project GROWS works to improve the health of children and youth in the community through garden-based education and access to healthy food, Metzler said, and held membership with the hub from its opening in 2018 until 2021. Metzler, who began at the nonprofit as a farm assistant and is now its executive director, would come to the hub for team meetings with her colleagues, often bringing surplus produce and feeling welcome to take over the central kitchen space.
"The fact that we came in with dirty clothes didn't seem to bother anyone as long as we cleaned it up," Metzler said. "[We] got to know a little bit more of the local business and nonprofit community by virtue of working in some of the same spaces there, even if we weren't working there all the time."
These kinds of organic moments between Project GROWS and other hub members and nonprofits aren't singular. Rather, they reflect a vibrant sense of community the hub's leaders — its founder, Peter Denbigh, and director, Hannah Cooper — say they strive to cultivate in Staunton. Now, business leaders are hoping for the same effect when a new hub opens in the coming months in downtown Harrisonburg's historic Wetsel's Seed building.

From the Queen City to the Friendly City
Development of the Harrisonburg Innovation Hub comes amid a larger push by the city of Harrisonburg to appeal to its growing community of remote workers and will take over the Wetsel's Seed building on North Liberty and West Market Streets. 
Brian Shull, Harrisonburg's executive director of economic development, said the new coworking space will provide more options for remote workers in Harrisonburg and align with his office's mission to foster entrepreneurship while attracting, retaining and expanding businesses in the area.
"We've been able to see that it certainly filled a need down there [in Staunton], and it's been very successful," Shull said.
As a JMU alumnus with a background working with many small businesses and start-ups, Denbigh said replicating the Staunton model by bringing a hub to Harrisonburg "made so much sense."
"Harrisonburg is a very vibrant community," Denbigh said. "This just feels like home, so a lot of things came together at good moments to help bring that to life."
Denbigh said the team has faced some challenges with starting construction, but they expect to open at least one phase of the new Harrisonburg location by the end of the year, with the rest of the space being completed in 2024.
Like the Staunton project, the new hub in Harrisonburg will assume a renovated space. Cooper said the aesthetic of both facilities combines elements that honor the history of each location with modern design features that make for a comfortable environment to work in.
As for the amenities, Cooper said many features from Staunton will carry over to Harrisonburg, including essentials like high speed internet for video chats, fresh coffee and free printing in addition to private focus rooms and conference spaces for groups to gather. Most memberships also include 24/7 access to the building where patrons can enter with their phone, Denbigh added.
In both locations, there's ample space for remote workers, Cooper said. The hubs offer a variety of membership options that start with day or night passes to pop in the main coworking space a few times a week. That can be upgraded with the option to have a dedicated desk space to settle in with, and there are plans that accommodate more consistent use of the facility for those working in academic or corporate settings.

A community of support
A pivotal aspect of the Staunton hub and forthcoming Harrisonburg hub is the partnerships its leaders and community managers establish with other businesses and organizations in the area, which typically take up a bigger footprint in the facility with "anchor space" to match a larger commitment to the community, as Cooper described.
Project GROWS was one of the first community partners at the Staunton location. During its time at the hub, Metzler said, the nonprofit grew and was able to invest in a capital infrastructure project to build its own workspace on its farm.
Even though Metzler and her team no longer needed a regular spot at the hub, she said the connections she and her colleagues made with other members remain. They occasionally attend a nonprofit support group held at the hub for both members and outside organizations. The chance to share experiences in a setting with different kinds of experts is one Metzler said was — and continues to be — valuable.
"I've got my ear to the ground, and when I hear of something that I think we might benefit from, then I pass it along to our team or go myself, so it's really great that that's still something that we can take advantage of today," Metzler said. "I've certainly referred a lot of other folks to it as well. So, I think that's just like a really cool community engagement effort that they clearly invest time in … We've certainly benefited from that."
Another example of the community environment found at the Staunton hub is its relationship with Mary Baldwin University, one of its anchor tenants. Through this partnership, Cooper said, student interns at the hub receive memberships and are paired with businesses that operate out of the facility. One intern, she added, engaged with other members while visiting the hub, which helped fuel her own entrepreneurial ambitions.
"It was just this beautiful relationship," Cooper said, "seeing her as a student in this space [and] going from that to starting her own business until working with a couple of the people in the hub currently."

'To each their own'
Almost three and a half years after the COVID-19 pandemic forced a worldwide shift to remote work, some companies, like Farmers Group insurance and the Walt Disney Company, are expecting employees to return to in-person work back in a typical office. Workplace trends suggest companies want to keep employees connected under the same roof, especially amid cutbacks and layoffs in the tech industry, according to the New York Times.
However, Cooper said some companies' return to traditional in-person work doesn't impact the hubs' business model. She said the hubs exist between the fully in-person and remote extremes, and with its multitude of options for drop-ins, permanent work spaces or satellite offices for companies based elsewhere, they can accommodate many members' needs.
Likewise, rather than focusing on where one's working, Denbigh said the debate should take a look at the flexibility of the varying circumstances. He's not on one side or the other for where employees should be working, he said, but his priority is empowering people to have choices within a place that sparks success and builds a community.
"You get to have the freedom from and freedom to do things," Denbigh said. "You get freedom from a lot of the normal distractions of life, particularly if you're working from home. You don't have the laundry in the corner, and you don't have the grass that's still growing and the dog that's barking … As a result of that, you have the freedom to really focus in and make the most of the time that you're actually working someplace."
Having experienced remote work, a flexible coworking facility and an independent workplace, Metzler said she appreciates being in person with her team, especially after apprehension to do so during the pandemic.
"You can't really put a price on the experiences of meeting around a water cooler or heating up your lunch together and chatting and connecting about what you did over the weekend," Metzler said. "I think maybe as an organization, we tend to work better when we're seeing one another in that way, but to each their own, and every organization and business is different. And I think supporting that — seeing what your team needs — is the most important thing."
Many of Project GROWS' initiatives — like its mobile farmer's market and partnerships with school systems in the Staunton, Waynesboro and Augusta County area — involve going out in the community. Some volunteers who assist in these projects come from the network of people Metzler and her colleagues built at the hub, perhaps while sharing produce and gathering together in the kitchen, she added.
As Project GROWS continues to evolve and serve others, Metzler attributes part of its progress to the resources and environment at the hub that helped the organization thrive and make the impact it does today.
"The hub really was a launchpad for us … Given our growth over the years, we came to a point where we could eventually build a barn like this for us, making space, we hope, for another organization to come in or another business to come in who can also similarly use it as a launchpad," Metzler said. "So I think they've done their mission of creating an incubation experience that allows for that growth to take place, as you hope it would, to continually generate the innovation and the experiences for new businesses and new organizations to take root."
---
Thanks for reading The Citizen, which won the Virginia Press Association's 2022 News Sweepstakes award as the top online news site in Virginia. We're independent. We're local. We pay our contributors, and the money you give goes directly to the reporting. No overhead. No printing costs. Just facts, stories and context. Thanks for your support.