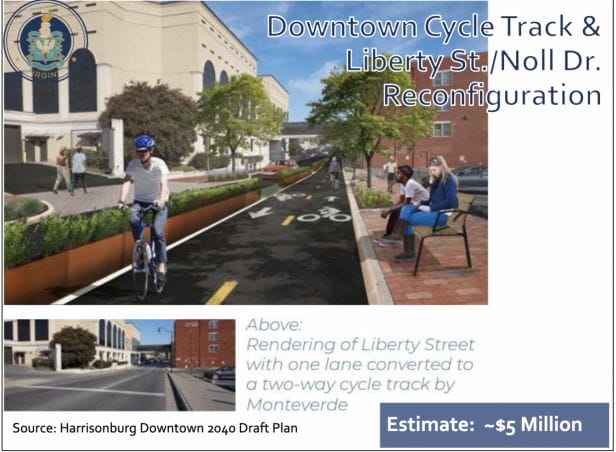 By Sukainah Abid-Kons, contributor
The stretch of Liberty Street running through downtown Harrisonburg will look and feel much different over the next five years thanks to more than $14 million in federal grant money aimed at improving cities' environmental sustainability and public health.
This reconfiguration will convert one of the car lanes on the one-way stretch of Liberty into a two-way bicycle lane. The bike lane will be separated from the main roadway with a median.
In addition, walking routes will be improved. The project will replace crosswalks and signal poles, as well as install a connecting path to the Bluestone Trail that connects JMU's campus to Purcell Park and the Stone Spring Road neighborhood. Construction is set to begin in 2027, with a tentative completion set for 2028, according to the city's website.
City leaders floated the idea for applying for federal grant money for this project last summer. Harrisonburg was selected after going through a competitive application process, through which three cities and two counties were awarded infrastructure grants. Harrisonburg also received the second-highest grant at $14.3 million, just after Northampton and Accomack counties, which were awarded $23.3 million.
In total, the Rebuilding American Infrastructure with Sustainability and Equity — or RAISE — grant program awarded $2 billion to projects across the country that seek to improve infrastructure in ways that prioritize environmental sustainability, such as by including pedestrian walkways or bike paths. The U.S. Department of Transportation made the selections, and the funding was part of the bipartisan infrastructure deal that Congress passed and President Joe Biden signed into law in 2021.
Tom Hartman, director of the Harrisonburg Public Works Department, has been heavily involved both in the Liberty Street plan as well as the grant application for RAISE funds. After submitting the grant application in early February 2023, Hartman learned in late June that Harrisonburg would receive funds.
The Liberty Street reconfiguration was first introduced in Harrisonburg's Downtown 2040 Plan. Hartman said the city began by conducting area studies of the downtown roadways to see which areas could be renovated to be more bike and pedestrian friendly without affecting the flow of traffic.
"From that [study], we determined that would be able to remove a lane of traffic from Liberty Street with minimal consequences to both Liberty and the surrounding network," Hartman said.
It was while looking for funding that Hartman found out about the RAISE Program and subsequently applied for a grant.
During an Aug. 10 press conference formally announcing the funding, U.S. Sen. Tim Kaine noted that the design's forward-thinking vision of decreasing car traffic and allowing for more bicycle and pedestrian space could have been what helped Harrisonburg's application stand out and ultimately be selected.
"It's not every day that your city receives $14.3 million in federal funding," Mayor Deanna Reed said at the press conference. She added that while much work is still ahead, the grant was something to celebrate.
The median-protected bike lane will help prevent collisions between cyclists and cars in that area. Cyclist safety has been an increasing issue in the United States, as more cyclists take to the street — and can pay the price for lack of safety infrastructure. The CDC estimates more than 1,000 cyclists die and 130,000 are injured in automobile collisions each year.
Chris Michaels, shop manager at Rocktown Bicycles, said he's looking forward to the Liberty Street changes and how they will help make downtown more bike-friendly. He said he's seen an increase in people using bikes, e-bikes and electric scooters around town, so adding a protected lane will help keep safe those commuters on two wheels. 
Looking toward the future, Michaels said focusing on protected bike lanes is important in making Harrisonburg a city in which people can commute on bikes.
"I think if a major roadway is going to get renovated or changed or reconfigured, it should get some sort of protected bike lane," he said. "Optimally, that would be the best thing."
The other intended biproduct of the Liberty Street plan is to encourage Harrisonburg residents to be more active, which can significantly improve mental and physical health. Using new pathways and sidewalks to walk or bike — whether it's for commuting, exercise, or leisure — can offer cardiovascular health benefits.
Similarly, spending 20 minutes outside three days per week has been shown to improve people's overall mood and help relieve feelings of stress and anger.
Kaine said the Liberty Street plan will give "folks options" when it comes to transportation, which could ultimately lead to more people choosing zero-emission options when commuting.
"I just think that giving people choices is what's key to having really good transportation infrastructure," he said, "which this is."
---
Thanks for reading The Citizen, which won the Virginia Press Association's 2022 News Sweepstakes award as the top online news site in Virginia. We're independent. We're local. We pay our contributors, and the money you give goes directly to the reporting. No overhead. No printing costs. Just facts, stories and context. Thanks for your support.