By Randi B. Hagi, contributor
Kurt Miller cuts a distinctive figure: bushy, graying beard, a walking cane, an "I Voted" sticker on his coat button and a watch that hangs from a lanyard around his neck — its band replaced by neon orange duct tape with the name "Chops" written on it. The nickname is a relic from his 35-year-career in the automotive industry, specifically when he worked at Advance Auto Parts. He would end his requests for parts by saying "chop-chop!" — like a television ER doctor would punctuate a request with "stat!"
Currently, though, Miller is unemployed. This winter he is staying in the Open Doors thermal homeless shelter.
"I can't say enough for it," said Miller. "They're very fair, very kind, and very tolerable."
Open Doors operates during the coldest months of the year, from November to April.
Before November, Miller would sleep outside. But the main challenge during those nights is the lack of public bathroom access, he said. One of his friends was fined $170 for urinating in public earlier this year.
Miller said some police officers are more understanding, such as the one who let him off with a warning and returned with a hoagie and cup of coffee after an encounter in the wee hours of the morning.
During business hours, especially Monday through Friday, there are a few options scattered around downtown where one can use a bathroom without having to purchase anything. During the night, though, there's nothing.
Miller and other homeless people have found an avenue to address this problem: Occupy Harrisonburg, the democratically run community group birthed from the national Occupy movement that began in New York City's Wall Street district in 2011. Miller said he started attending the open meetings about six months ago, when he noticed them gathering every Tuesday evening at the springhouse on Court Square.
The group hopes to have some sort of public restroom installed as soon as possible – especially before the spring, when many of the city's homeless will be sleeping outside again.
Harrisonburg Mayor Deanna Reed has agreed to attend Tuesday's Occupy Harrisonburg at 5 p.m. to listen to this and other issues the homeless population faces.
"I am concerned, and I plan to meet with our citizens in need at the Occupy Harrisonburg meeting on Tuesday," Reed said. "It is my hope that we are able to come together and come up with a plan to address the . . . lack of public restrooms downtown."
One possible solution the group has discussed is portable toilets, which could be placed downtown on an indefinite rental. Another idea has been to reopen public restrooms on the courthouse's lower level, although those — like portable toilets — aren't accessible to those with disabilities.
Miller acknowledged that downtown property owners might be concerned about littering around the toilets.
"If they put the porta-cans out, I will get a force to come pick up bottles and make sure the area is respectable," Miller said. Metaphorically speaking, he added, "You've got to meet the bus halfway."
Occupy Harrisonburg continues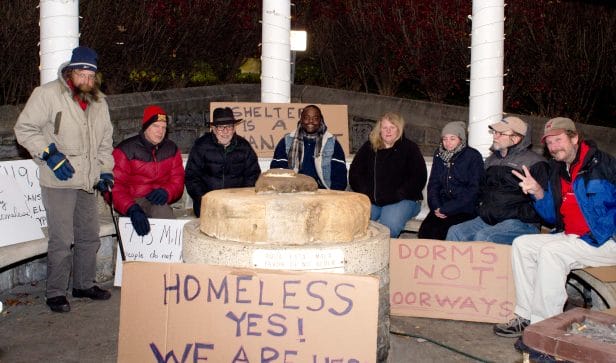 Michael Snell-Feikema and Bruce Busching are two of the longest-standing participants in Occupy Harrisonburg. Each joined a few months after the movement reached the Friendly City in September 2011. By the time Feikema began attending in November of that year, he said an average of 20 to 30 people came to each Tuesday evening's "general assembly," as the meetings are called.
Busching said "there's a tension in talking about Occupy as a 'thing.'" Like the national movement, Occupy Harrisonburg has "no constitution or mission statement" but instead is governed by a democratic approach in its general assembly meetings.
"Occupy is basically whoever shows up that night," Feikema said. "Elements of Occupy can change significantly" from one general assembly to the next. The methodology, designed to engender high participation rates in a public space without a sound system, grew out of anti-globalization protests against the G20 (Group of Twenty) summits.
"I'd say this was the major achievement of Occupy … to organize people in the streets effectively," said Busching, who frequently facilitates the meetings.
Anyone can volunteer to facilitate a meeting using this approach, starting with establishing an agenda. First, people raise their hands to signify that they have an announcement or report for the group, then they propose discussion topics.
Once the agenda is built, they start from the top. Anyone can speak by raising a hand and waiting to be recognized. All decisions are made by consensus, following discussion.
One of the earliest actions taken by Occupy Harrisonburg participants was to organize "flash mobs" of 15 to 20 people who would show up at a new business, some of them started by new immigrants, to bolster their income for the day.
Other notable actions over the last seven years include supporting strikes by Verizon and poultry plant workers, assisting with anti-Keystone Pipeline organizing and presenting a Biblical skit in a Holy Week procession downtown of Jesus confronting the money changers in the Jerusalem temple.
Feikema said the Occupy movement was "repressed around the country" towards the end of its first year – both by media portraying it as a fringe movement or even a threat, and in larger cities, by forcible removal of encampments. This waning manifested in Harrisonburg, too, and many participants eventually focused their political energy on other movements, such as the local Bernie Sanders campaign, which began in Busching's basement in summer 2015.
Still seeking to provide 'empowerment and dignity'
However, Occupy Harrisonburg has always continued to meet in the springhouse on Court Square. They have a history of "periodic involvement" from homeless people, some of whom regularly use the springhouse for shelter.
In the last two months, though, Busching noticed more homeless people regularly participating in the weekly meetings. Currently, anywhere from eight to 20 people attend the general assemblies, with homeless people sometimes constituting half of the group.
Miller said he was drawn to the group because "they're trying to do good things, trying to stand up for the 'little man' . . . They want to speak out and point out problems with the local government and all-around government. We want our say-so back!"
That's one of the reasons that even as Occupy movements in other cities have fallen away, Harrisonburg's lives on. Feikema said success for movements like Occupy might be "invisible," or indirectly linked to objectives of the movement, such as providing a space for the common citizens' voices to be heard.
"Empowerment and dignity are significant for all of us," Busching said, "especially those subject to the loss of them."