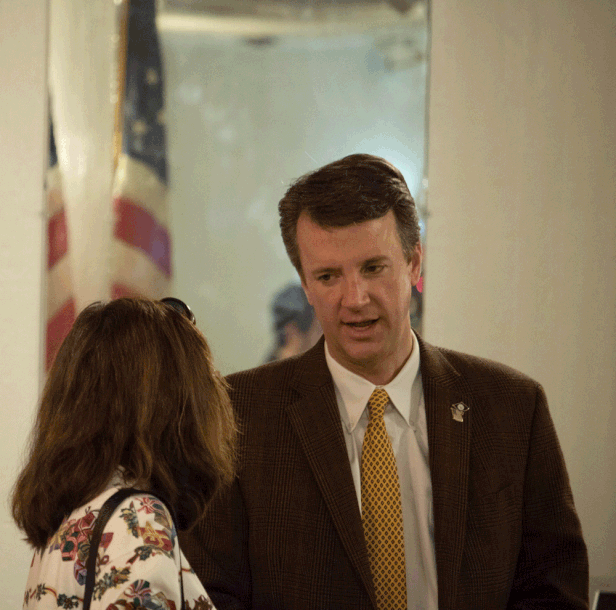 By Ryan Alessi
Just a few weeks after rolling to a nearly 20-point victory in the 6th Congressional District race, Ben Cline won the lottery.
Not that kind of lottery. There was no money involved. Cline drew the first pick in the congressional office lottery for the 91 incoming U.S. House freshmen.
"I won the worst lottery on earth," Cline deadpanned to a crowd of more than 50 people who attended his Harrisonburg town hall meeting Dec. 20.
It meant he got to select his digs from the available vacant offices before the other new legislators, who either knocked off incumbents in the Nov. 6 election or who, like Cline, won an open seat.
Cline, with the first draft pick, selected space on the ground floor of the Longworth Building "one floor above the Dunkin' Donuts," he said. The office even has a window — a rare perk for congressional newbies — with a view of a tree.
It was a hopeful start for the longtime Republican state delegate from Lexington. But the Washington experience will likely get tougher for Cline after he gets sworn in Thursday.
For the first time in his political career, Cline will be part of the minority party caucus. He first won a seat in the Virginia House of Delegates in 2002, early in the chamber's Republican era of control. And he rose through the majority party ranks to sit on several key committees, including as chairman of the Militia, Police and Public Safety Committee.
Starting Thursday, Democrats call the shots in the U.S. House. That means they control which bills get hearings and come to the floor for votes. Even committee assignments, which will be announced after the members are sworn in, must be signed off by Democratic leaders. (Cline's committee requests, he said last month, were: 1. Agriculture, 2. Judiciary, 3. Transportation, 4. Budget, and 5. Government Reform and Oversight.)
In addition, the 116th Congress convenes on the 13th day of a government shutdown caused by a stalemate as President Donald Trump has insisted that any budget deal includes $5 billion for construction of a wall along the U.S.-Mexico border.
Cline campaigned this fall, in part, on backing Trump on his approach to immigration.
"We do want to end illegal immigration, and I'm a strong supporter of measures to do that, including the wall," Cline said at the Dec. 20 Harrisonburg town hall meeting. He made that comment hours before Trump announced he wouldn't sign a budget bill without the wall funding, which led to the government shutdown.
The town hall meeting at American Legion Post 188 on Waterman Drive was Cline's second that day and fourth that week. He held those meetings in each of the four localities he lost in the November election, out of the 6th Congressional District's 19 counties and cities. Democratic candidate Jennifer Lewis beat Cline in Harrisonburg, Roanoke City, Staunton and Lexington, Cline's hometown.
"It's important to find out where do we not agree — where do we disagree — and where can we find common ground because we've got divided government in Washington, and we're going to have to find common ground if we're going to get anything done," Cline said.
Holding those town hall meetings even before being sworn in represents a contrast to Cline's predecessor, Bob Goodlatte, who took public criticism for not holding public meetings in recent years.
Cline told The Citizen that making town halls his first order of business wasn't meant as a rebuke of Goodlatte's approach.
"This is something I've always done," he said, noting that he held a public meeting in each of the four localities in the 24th House of Delegates District during his 16 years in that position. "It's the best way for me to hear from constituents."
Throughout the hour-and-a-half meeting, Cline answered questions and listened to comments that ran the gamut of modern political flashpoints: immigration, the environment, guns, health care, the justice system, federal spending and the economy.
On marijuana: "I do support the reclassification of marijuana" from being a Schedule 1 drug to make it easier for states that legalize it for medical purposes. But Cline was quick to add that he doesn't support blanket legalization for recreational purposes.
On paying for improvements to I-81, Cline was less committal offering, instead, his general concerns. "If there's a toll or there's a tax, how do employers react to that? Do they stop expanding? Do they move away?"
On the criminal justice reform bill Trump just signed: Cline said he's been reading the legislation and supports the rollback of mandatory minimum prison sentencing guidelines to give back judges "a little bit of the leeway they had." But he said he was concerned the bill would allow some who were convicted of violent crimes to be released early.
In response to questions about the environment, Cline was deliberate in his wording, stopping to re-start sentences a couple times and pausing often as if carefully reviewing each noun and verb before speaking them. "I think it's appropriate to have some regulations of industry when it comes to the environment," he said. "I think from what I've come to understand, the climate is changing and some of that is due to man's activities and industry's activities. To what degree, I don't think we can answer that yet."
Immigration came up multiple times. At one point, Karyl Lewis of Harrisonburg asked Cline what he thinks Congress should do about the way the U.S. government has handled people seeking to cross the southern border, including the Trump administration's policy this summer to separate children from their parents.
"What I see happening is we are mistreating human beings at the border, and I don't like that. I don't like how it looks … We are separating kids from their families — that's not the rule of law. Why are we doing it?" Lewis asked.
Cline, again choosing words carefully, said the United States should help address conditions in countries such as Honduras that are causing people seeking access to the United States for asylum.
He listened to long questions, at one point, taking off his sport coat. When one man in the audience tried to interrupt Essa Paterson as she read her letter about gun safety, Cline told the man he wanted to hear her finish.
One back-and-forth resembled more of a conversation than a Q-and-A between Cline and Rob Alexander, associate professor of political science at JMU and co-director of the Institute for Constructive Advocacy & Dialogue.
Alexander thanked Cline for holding the meeting and for appearing to be open to diverse views.
"I think it will get harder for you to do that because of the current political climate," Alexander said.
He also encouraged Cline to "be evidence-based" and cite sources. "Please, please, please, let us know what's informing you even if it's looking at interest groups or lobbyists or think tanks that are producing reports. Please lead us to those reports so we can better understand what data you are using," he said.
Cline told Alexander that the will of the 6th District constituents and what he believes best serves them will take precedence over his party leadership.
"You will see me a lot in all parts of my district," Cline said. "I'm going to be engaging with every part of my community and every part of the 6th District and listening and taking into account all points of view."
Cline told The Citizen later that after this first round of meetings in the areas he lost, he hasn't determined what issue or issues those who didn't vote for him are most upset about. Perhaps, he said, that will become clearer as his office collects constituent feedback on legislation.
But he said the town halls will continue because they are essential to keeping open discussions about the country's future.
"We didn't agree on everything, but everyone was civil and no voices were raised," he said. "We were able to communicate our points of views … As they say, we were able to disagree without being disagreeable. That's the kind of dialogue that has to happen in order to us to solve the problems facing our communities."