By Andrew Jenner
In January, State Sen. Mark Obenshain (R-Harrisonburg) went out on a limb with a bill to begin tolling on I-81 to pay for $2.2 billion in much-needed improvements aimed at making the interstate safer and less congested. Things didn't work out in Richmond like he'd hoped.
The toll idea drew criticism and eventually got scuttled in committee. Instead, the General Assembly decided to create a new committee to study funding options.
That group will hold a series of public meetings along the I-81 corridor and make recommendations by this coming Dec. 15.
"I'm deeply disappointed," Obenshain said. "We had a commitment to a process last year, and, frankly, I did a pretty uncomfortable thing of taking the result of that process and carrying that legislation."
Obenshain was referring to last year's I-81 study, conducted as a result of a bill he introduced last year. That culminated in that $2.2 billion list of improvements to the corridor and presented two options to fund them: tolls or new regional taxes.
Late effort to find funding source falls short
Near the end of the General Assembly session, which officially ended Feb. 24, a conference committee that included Obenshain and several other Valley legislators considered two other possibilities for funding the I-81 upgrades. One would have simply increased the truck registration fee – a measure Obenshain supported, although it would not have generated less revenue than his tolling proposal.
The second option discussed by the conference committee was increasing those truck registration fees and raising taxes on tractor-trailer diesel (passenger vehicle diesel would not have been affected, Obenshain said). Combined, those measures would have raised about 75 percent of the revenue projected for tolling. Obenshain, however didn't support raising the tractor-trailer diesel tax.
Regardless, he told The Citizen he was frustrated by the industry groups that led opposition to tolling – and then came out against the tax and registration fee increases discussed later in the session.
"I really felt like the truckers association and the manufacturers association really came in and sabotaged the process, and I was deeply troubled by that," Obenshain said. "I just question whether they were speaking for out-of-state interests or Virginia interests. People I talk to every day want a safer, more reliable interstate, and right now, out-of-state trucks aren't paying their fair share."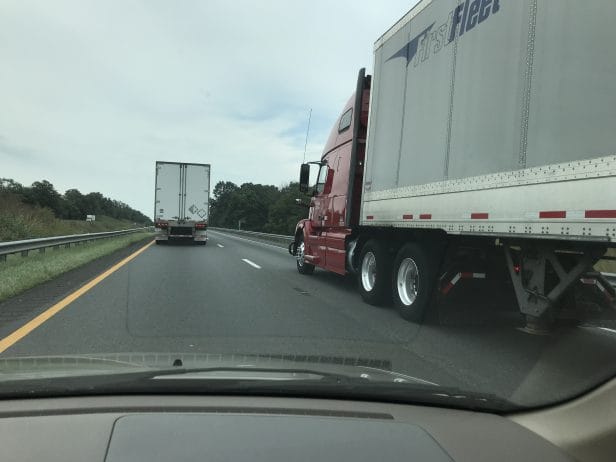 Dale Bennett, president and CEO of the Virginia Trucking Association, said his organization opposed tolling from the start and has supported a diesel tax increase to fix I-81. The group opposed the last-minute proposal to increase that tax, he said, because few details were provided and the increases proposed were too high.
"We were never provided any specifics about what was being discussed, and when you don't have any details, your default position is to oppose," Bennett said. "It's unfortunate it's going to take another year to get this done, but it's also a good idea that we fully evaluate all these proposals … to make sure we get it right."
Del. Tony Wilt (R-Broadway), Harrisonburg's representative in the House of Delegates, said he was prepared to "bite the bullet" and vote for the proposal to raise truck registration fees and increase the diesel tax in order to get something done. Like Obenshain, Wilt expressed disappointment that little tangible progress was ultimately made on the issue.
"It's close to my heart and my constituents' hearts, because we're right here and we live it on a consistent basis," he said. "I will definitely stay in touch with the process as much as I can and try to make sure that we get something positive by next [session]."
Hard decisions ahead
A lack of consensus between area legislators, even from the same party – not to mention other stakeholders – highlights the challenges that remain.
"The initial tolling scheme that was put forward would have done almost nothing for my district and would have fundamentally changed the way people used the road or accessed the road – one they've paid for many times over," said Del. Todd Gilbert (R-Woodstock), the majority leader in the House of Delegates whose district includes Shenandoah County and part of northern Rockingham County. "[That] was problematic for me from the get-go."
(Proposed improvements in Shenandoah County include several miles of an extra southbound lane south of the I-66 interchange, and several extended merge lanes; in Harrisonburg, plans call for one additional lane through the city in both directions)
Before the General Assembly session began, Gilbert told the Page News & Courier he would not vote to raise taxes – the option the Virginia Truckers Association insists on – to fund I-81 improvements.
"We're back to the drawing board," Gilbert said. "The problem is, once you go down a certain road, there's no walking it back… Everybody made a valiant effort to try and address this and it just did not pan out this time. But this is certainly far from over."
Alan Caviness, of Houff Transfer, a Weyers Cave company that runs 150 trucks throughout the Mid-Atlantic, also strongly supports the tax option.
"Everybody gets fuel, everybody pays for it," said Caviness, the company's director of safety and risk management. He added that a regional fuels tax is already being used to raise transportation revenue in Northern Virginia and Hampton Roads.
"We believe that I-81 is in dire need of repair, and the trucking industry is well aware of that," he continued. "[But] we do not support tolling in any way, shape or form. It's just not fair to anyone."
The 15 voting members of the "Interstate 81 committee" created by the legislature to study funding options over the coming year will consist of four members of the House of Delegates and three members of the State Senate, each of whom must live in a different regional planning district. Also included are representatives from each of the five regional planning districts and three VDOT districts along the I-81 corridor.
Other than a December 15 deadline for reporting back to the General Assembly and instruction to "hold public meetings" along I-81, no schedule for the committee's work has been set – although everyone interviewed for this article said they plan to remain engaged in the process.
"We have come a long way in a year," Obenshain said. "I would have liked to generate funds to start construction in 2019, but it's not an effort I'm going to abandon. It's too important for the people … who depend on that highway. We've had some uncomfortable conversations and hopefully broken the logjam. I'd like to think that next year when we come back to Richmond we can broker some solutions."
---
Journalism is changing, and that's why The Citizen is here. We're independent. We're local. We pay our contributors. and the money you give goes directly to the reporting. No overhead. No printing costs. Just facts, stories and context. Thanks for your support.