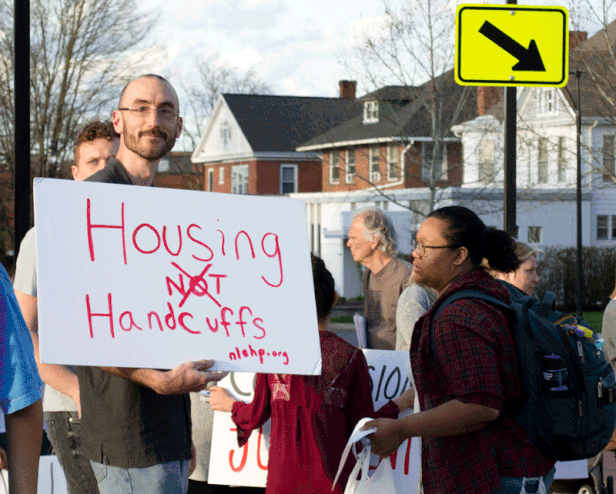 By Randi B. Hagi, contributor
About 25 people, holding signs with slogans such as "homeless rights are human rights" and "housing not handcuffs," marched to council chambers from Court Square Tuesday in opposition of a proposed ordinance that was introduced to city council at their last meeting.
That ordinance would prohibit pedestrians from "standing, sitting, squatting, or lying" in the median areas of seven major intersections, which the Harrisonburg Police Department has identified as high-traffic accident areas.
Protesters said they believed the ordinance to be targeting panhandlers.
"I think that the ordinance … is extremely unfair and apathetic to the homeless," said Lily Elias, a JMU student who attended the rally.
Michael Snell-Feikema, who spoke to The Citizen last year about his organizing work with the homeless population, was one of the protesters who spoke during public comment at Tuesday evening's meeting.
"I interpret this ordinance as being an attempt to create an anti-panhandling ordinance that will pass muster in the courts," Snell-Feikema said.
Eric Olson-Getty, director of administration and development at Our Community Place — a nonprofit community center that serves many of the area's homeless — said people aren't panhandling because they want to "or because they're trying to take advantage of people."
"Those intersections are significant spots" for the homeless "to ask the public for help," Olson-Getty said during public comment. "We as a community, as a society, have a decision about how we're going to respond to people who need help."
The intersections outlined in the ordinance are:
South Main Street and Martin Luther King Way;

East Market Street and Carlton Street;

East Market Street and Linda Lane/Burgess Road;

South High Street and Martin Luther King Way;

South Main Street and Stone Spring Road;

South Main Street and Pleasant Valley Road;

and West Market Street and High Street.
Mayor Deanna Reed responded to the demonstrators, saying it was frustrating to be perceived as "criminalizing" homelessness.
"We have made it known that we want to hear from our citizens," said Reed, confirming that the council would hold a public hearing on the issue at its next meeting on April 23. "Please don't think that we're not concerned."
Reed said she had run for city council on a platform that included addressing homelessness, and homeless issues were a main topic of discussion at the council's three-day retreat in February.
"Just understand that we know, we care, and we're working on it," Reed said.
Proposed budget calls for 6% increase
City Manager Eric Campbell presented the proposed city budget for fiscal year 2019-2020, which begins July 1.
The proposal includes a $3.5 million increase in funding to city public schools to a total of $83.5 million.
Overall, under the budget proposal, the city's total spending would go up by $7.8 million to $123.7 million — a more than 6 percent increase from the current general city fund budget. The general city fund includes everything from public safety, public works, government administration, parks and recreation, and additional education funds.
The budget also includes funding for capital projects, such as renovations to the fire station on East Rock Street and replacement of the Kids Castle at Purcell Park.
And it includes a 3 percent salary increase for city employees.
"This has been a challenging budget," Campbell said. One proposed revenue source that would help balance the increased expenses is a one-cent increase in the real estate tax rate – from 85 to 86 cents per $100 valuation.
Campbell also said the budget includes "funds for a criminal justice position to be shared with Rockingham County," although he did not specify what kind of position.
Recycling coming to a neighborhood near you
While global market forces caused Harrisonburg to stop collecting No. 3-7 plastics, the Public Works Department made it clear Tuesday night it's not backing off recycling efforts.
The department announced its mobile recycling unit – a giant bin with separate bays for different materials – which is set up at the Turner Pavilion during farmer's markets, will be regularly stationed in different neighborhoods throughout the city.
Director of Public Works Tom Hartman gave the update on recycling, saying that it was Campbell's idea to use the mobile unit in this way, to make it more convenient for residents to sort and drop off their recyclables.
"We thought that was a great idea," said Hartman.
The unit will be parked in the following areas:
The Lucy Simm's Continuing Education Center on Mondays;

Westover Park on Tuesdays;

the Park View shops area on Chicago Avenue on Thursdays:

and Purcell Park on Fridays.
The plan for Wednesday hasn't been set. And times of service have yet to be determined. Hartman said he hopes to begin the neighborhood recycling May 1.
Currently, the city sends about 10,000 tons of waste to the landfill each year, and recycles about 500 tons. Hartman hopes the mobile unit will be a step towards increasing that amount of recycled materials.
"I think if we could get to a thousand [tons per year] … that would be amazing," said Hartman.
Campbell added that, despite an ever-changing recycling market, "we're committed to maintaining a recycling program."
Also at the meeting:
City council voted to adopt the Neighborhood Traffic Calming Program for the Sunset Heights Neighborhood, which aims to address speeding on South Dogwood Avenue from West Market Street to South Avenue, as well as too much traffic on that stretch. Phase one of the plan involves reconfiguring the turn lane at West Market and South High Street, installing a speed radar feedback sign on Maryland Avenue, and strategic center line and stop line painting.

The council approved a change order for the annual "Sidewalk, Curb and Gutter Replacement Services" – specifically the sidewalk on East Market Street, from Mason to Main Street, which will be redone with brick pavers, like the sidewalks on Court Square. There will be a public informational meeting about the project on Friday morning at 9 a.m. in council chambers.

The city is starting easement negotiations for a shared use path which will connect Blue Stone Elementary and Harrisonburg High School to Thomas Harrison Middle School and Westover Park. The path primarily uses the city-owned land of Heritage Oaks Golf Course, Hillandale Park, and Westover Park, but would cross privately owned land on Garber's Church Road and Wyndham Woods Circle. Property owners on Garber's Church have already participated in the planning process.

---
Journalism is changing, and that's why The Citizen is here. We're independent. We're local. We pay our contributors, and the money you give goes directly to the reporting. No overhead. No printing costs. Just facts, stories and context. Thanks for your support.