By Randi B. Hagi, senior contributor
Earlier this year, Wes Runion, Harrisonburg's environmental specialist, was taking a sample of water from Blacks Run off of Pleasant Valley Road when he had a surprise encounter.
He held the tube in the clutches of a trash grabber. Then, "I put it down in the water, and a smallmouth bass tried to come up and eat the tube!" Runion said.
Because more than a century's worth of pollution in Blacks Run, "I never thought that I'd see a smallmouth… that's a good sign," Runion said. That inquisitive, or hungry, fish is one indicator that the stream is making a comeback.
Meanwhile, a new program is about to start that will help Harrisonburg property owners pay for improvements to their land to absorb more rainwater and keep dirt and pollutants from washing into waterways — like Blacks Run — that have suffered for decades. That kind of pollution has made it difficult for many species, like the smallmouth bass, to thrive in the waters of Blacks Run.
A dirty history
Blacks Run has a, well, meandering and muddied history. Because it cuts through much of what is now the center of Harrisonburg, early settlers used it as a water source. The Houck Tannery, where the Water Street parking garage now sits, then used it to tan hides in the late 1800s, dumping tannins and other chemicals of the trade in the process – thus beginning the stream's degradation.
Runion said as the city grew, so did its impervious surfaces – roadways, parking lots, and rooftops – that increased water runoff into the stream. With more runoff comes erosion and sediment pollution.
And with urban growth comes a decrease in canopy coverage – about 25 percent of the city is protected by tree foliage, which slows falling rainwater and prevents erosion. Forested streams enjoy 80 to 90 percent canopy coverage.
Another major contributor to the stream's pollution was the lax handling of sewage systems of days gone by. Runion said straight piping, or sewage dumping directly into the stream, was found on Blacks Run into the 1990s. That practice, along with the presence of wildlife, contributed to high levels of fecal coliform bacteria in the waters.
In 1996, Blacks Run was declared an "impaired" waterway by the Virginia Department of Environmental Quality for its levels of fecal coliform and the low numbers of benthic-macroinvertebrates — bottom-dwelling aquatic insects and other critters. The fewer the macroinvertebrates, the sicker the stream is.
In 2004, the stream also contained levels of Escherichia coli, known as E. coli. That's a third marker of an impaired stream.
As of 2016, it still had a score of 4A for all three of these impairment markers, which is
based on a federal Environmental Protection Agency scale from one to five. One indicates a healthy stream. Five means it's in trouble and requires further study and improvement plans.
Blacks Run's classification of 4A means that, while it is an impaired stream, it already has a federally-approved improvement plan to decrease fecal coliform, sediments and phosphorous.
"Blacks Run is improving, just from my own observations," Runion said. According to his research, E. coli levels have dropped by about 30 percent since 2011.
Taking out the trash
Several measures have been taken to improve the quality of Blacks Run.
Each April, a community clean-up day attracts individuals and organizations to pick up trash out of the water. The city reported that this year, on the 22nd annual clean-up day, 700 volunteers removed 3.8 tons of trash and 25 tires from Blacks Run.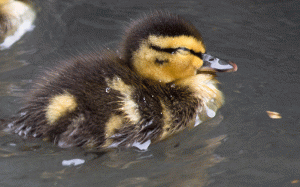 A decade ago, the city completed a stream restoration project at Purcell Park. Runion said that involved manually reshaping the stream's course – rehabilitating it from an open ditch back to a "natural state" with curves and meanders.
Those features don't just provide aesthetic value. Runion said they allow for pools and fast-flowing riffles to form, which combine to oxygenate the water and provide habitat for a wider variety of wildlife.
"We're starting to find a little bit more diversity" of fish and macroinvertebrates in Purcell Park, Runion said.
One example is the longnose dace.
"It's a minnow species," Runion said. "Typically, you associate that with some cold water, high oxygenated water, and the riffles – they prefer fast-moving water. The stream restoration allowed for that, some of those microenvironments."
The project encompassed just under one linear mile of the stream and 17 acres of conservation easement. Runion said the city has planted 3,000 trees in that area. While the saplings have had a healthy 70 to 75 percent survival rate, the city has had to start replanting many of them. Runion explained there was a miscommunication with the nursery supplying the saplings, and the city ended up planting Lombardy poplars – which have about a 10-year lifespan – rather than the long-lived Cottonwood trees they had ordered.
"The stream restoration's awesome. That's sort of the highlight of our environmental projects within the city," Runion said.
Two more stream restoration projects are in the works – one in conjunction with the Northend Greenway, currently under construction, and one by Mountain View Drive, now in the planning process.
The stormwater problem
In addition to combating bacterial pollutants, the city also has to meet state guidelines for stormwater quantity and quality entering the watershed. According to the Chesapeake Bay program, nutrients like phosphorous and nitrogen are found in abundance in stormwater runoff, thanks to sources like lawn fertilizers and pet waste. These nutrients cause massive algae growth in the bay. Too much algae monopolizes available oxygen and kills off other marine life. Additionally, various sediments carried along by the stormwater block sunlight from reaching marine life at the bottom of the bay.
=The stream restoration projects help mitigate that nutrient and sediment pollution and are paid for in part by the city's stormwater utility fee – a line item tacked on to property owners' real estate tax bill, based on the property's impervious surface area.
Residents can also decrease their personal contributions to the nutrient load by limiting fertilizers, motor vehicle fluids and other runoff that enters the local watershed.
To put it in layman's terms, "anything that gets into the street is going to get into Blacks Run or a tributary," Runion said. He recommends washing and maintaining vehicles on grassy areas, where the pollutants can be filtered through the turf.
Stormwater became problematic on a number of fronts last summer when record rainfall levels overwhelmed drainage systems and caused Blacks Run to flood into the streets in some parts of town.
WHSV reported that last June was the one of the wettest on record, with nearly 11 inches of rainfall – second only to June 1901, which saw more than14 inches. From March to August of last year, the city received 85 percent of its average yearly rainfall.
Harrisonburg's environmental compliance manager, Rebecca Stimson, said residents began calling in with backyard flooding issues. And although the city didn't have an immediate solution, officials did have something in the works.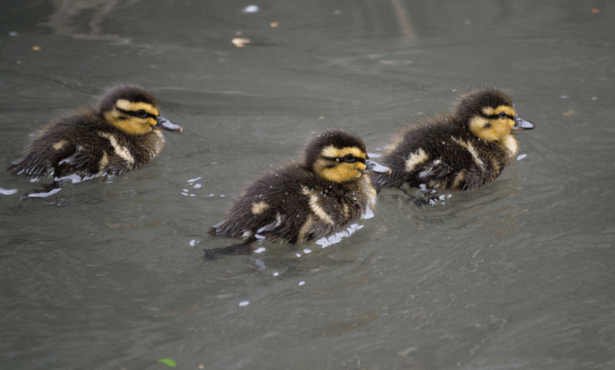 New conservation opportunity
On June 11, the Harrisonburg City Council approved a new partnership with the Shenandoah Valley Soil and Water Conservation District, creating the Harrisonburg Conservation Assistance Program.
It's a city-funded project to encourage Harrisonburg residents and businesses to implement "conservation practices within the city," district manager Megen Dalton said.
Property owners can mitigate their stormwater runoff – and by extension, their fee – by implementing practices such as rain gardens, strategic swales, permeable pavement and meadow areas to absorb precipitation.
Stimson said while these measures wouldn't solve problems of the magnitude of last year's flooding, they will help with "normal, smaller storms."
The conservation assistance program was being designed when that rainfall hit, and Stimson said the many flooded residents who called into the city showed the need for such a program.
The conservation district is a state-funded program that will administer the program. Interested participants can contact the conservation district ([email protected]) during the initial application period of July 1 to August 15.
"If there is additional funding leftover, then we'll just continue accepting applications throughout the year," Stimson said. She invited residents to contact the conservation district with application ideas before July 1. The district's staff will be available to make site visits and advise applicants on which projects are best suited for their property.
Applications will be reviewed and ranked "based on their water quality benefit," Dalton said.
"Many of the projects will require an engineer," and all participants will have to solicit multiple contractor bids on their projects.
Once completed and inspected by an engineer or staff member, the participant will receive a reimbursement check for a percentage of the project cost.
The district has "a long history of implementing conservation programs focusing on water quality," Dalton said.
That includes some state-funded grants through the Virginia Conservation Assistance Program for residents looking to implement best management practices, although Dalton noted that those grants have been prohibitively competitive in the past. Harrisonburg's program is modeled after the state's.
A few local property owners have already improved their lots with grants from the state program, including the Shenandoah Valley Black Heritage Center, which finished installing a parking area with permeable pavers last April. The pavers allow stormwater to collect in a rocky space underground, rather than running off downhill into Blacks Run.
The grant from the conservation district reimbursed the center over $17,000: three-quarters of the project cost, including grading and paver installation.
"As a nonprofit … it would have been a real struggle to come up with it on our own," said Robin Lyttle, president of the heritage center. "It was just a blessing."
While the heritage center decreased its stormwater runoff entering Blacks Run, it also channeled that reimbursement into something else productive: a summer internship program.
Last summer, it had five middle and high school students travel with two instructors throughout the Shenandoah Valley, learning about historic African American schools and interviewing community elders.
---
Journalism is changing, and that's why The Citizen is here. We're independent. We're local. We pay our contributors, and the money you give goes directly to the reporting. No overhead. No printing costs. Just facts, stories and context. Thanks for your support.